Note: Resources with an asterisk (*) are not being maintained and are presented as-is.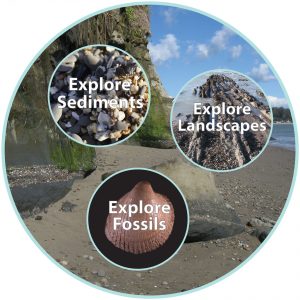 EPICC Virtual Fieldwork Experiences
EPICC virtual fieldwork experiences (VFEs) provide opportunities to virtually visit classic paleontological field sites along the Pacific coast and to explore images and data from specimens that have been collected there. VFEs can combine high resolution and 3-D pictures for exploring an outcrop, images of fossils (snails, clams, sand dollars, and others) in place and in museum collections, geological maps and satellite views, and much more.

Understanding Evolution
A comprehensive online resource developed to meet the needs of K-12 teachers. The site provides an informal online course covering essential science content, as well as a searchable database of resources for the classroom. Introduced in 2004.
Understanding Science
How science really works. Understanding Science gives an inside look at the general principles, methods, and motivations that underlie all of science.
How did plants change our planet? (for grades K-8)
Botanist Dr. Nathalie Nagalingum (California Academy of Sciences) explains how, more than 400 million years ago, early plants played a notable role in adjusting Earth's physical surface as well as our planet's climate.

Explorations Through Time*
A series of interactive, web-based educational modules that address topics such as fossils, the history of life, biological evolution, the science of paleontology and the scientific process.
The Paleontology Portal*
Provides access to high-quality North American paleontology resources on the Internet, including information about particular geographic regions, geologic time periods, and representative fossils.
Learning from the Fossil Record*
A set of articles and classroom activities using paleontology to teach major concepts in science.
Geosciences in Alaska*
Shares the adventures of nine California teachers who participated in a field and research experience in Alaska in 2002.

Our Dynamic Earth*
A course developed for San Francisco Unified School District teachers, this site contains both content and lessons about about the Earth as a dynamic system, composed of the lithosphere (land), hydrosphere (water), atmosphere (air), and biosphere (living things).
California's Landscape*
A course developed for San Francisco Unified School District teachers, this site contains both content and lessons about plate tectonics, Earth's materials, and California geology.