About UCMP : News and events : UCMP newsletter

UCMP's summer adventures 2006

There are no summer vacations for most UCMP faculty, staff, and grad students. The research, writing, and teaching continues, although not always in Berkeley. Here's what some UCMP folk did during the summer:

Tony Barnosky spent time in the Escalante region of Utah prospecting for Quaternary paleontological and archaeological sites. He also attended the American Quaternary Association Biennial Meetings in Bozeman, Montana, where he presented his work "Informing Ecological Forecasting through Use of the Quaternary Mammal Fossil Record." He and Mark Carrasco initiated research on their new project to determine the long-term ecological baseline of mammals.

Bill Clemens and Harley Garbani returned to eastern Montana where they continued to collect screened matrix from a recently discovered Early Paleocene locality. Bill noted that "this locality is of considerable interest because, in comparison to other contemporaneous sites in the area, it is yielding a lot of postcranial bones. So many of the mammals from these sites are known only from fragments of skulls and teeth. In time we may be able to reconstruct the rest of their bodies."
| | |
| --- | --- |
| Leslea Hlusko, codirector of the Tanzania International Paleoanthropological Research Project (center), with members of her field crew. From left, Berkeley grad student Oliver Rizk, codirector Jackson Njau, Hlusko, Antiquities Officer Anthony Tibaijuka, and field assistant Ahadi Msuya. | |
Leslea Hlusko joined Dr. Jackson Njau from the National Museum of Natural History in Arusha, Tanzania, for two months surveying central and southern Tanzania for new sites of paleoanthropolgical interest, focusing on sediments dating from 10­0.5 mya that may contain fossils and/or archaeological artifacts. This field work is part of the Tanzania International Paleoanthropological Research Project, which is co-directed by Leslea and supported by a Hellman Faculty Fund award and the National Science Foundation/ Revealing Hominid Origins Initiative.
| | |
| --- | --- |
| | Jack Horner and Mark Goodwin (right) look for fossils in the Judith River Formation near Rudyard, Montana, with future paleontologist Tyler Limoli. |
Mark Goodwin worked for three weeks in the Late Cretaceous Judith River and Hell Creek Formations in Montana. It was a good summer for Triceratops in the Hell Creek — Mark found a small bone from the frill that covers the neck region of a juvenile skull that was less than three feet long; he also found a disarticulated adult Triceratops skull with the paired nasal bones, postorbital horn and part of the frill preserved. And shortly before Mark arrived, the Museum of the Rockies field crew found a tiny Triceratops skull with horns about four inches long — just slightly bigger than the baby skull recently described by Mark, Jack Horner, Bill Clemens, and Kevin Padian in the Journal of Vertebrate Paleontology (see May 2006 issue of UCMP News). These new fossils will be included in Mark and Jack's ongoing studies on growth and behavior in Triceratops.

Carole Hickman spent her summer in a mix of scientific meetings, field work, writing, and service activities that included presentations at the Annual Meeting of the American Malacological Society and the "Larval 2006" meeting, hosted by the Oregon Institute of Marine Biology in Charleston. During the mid-meeting break, she joined a group to kayak the length of the South Slough National Estuarine Research Reserve, the drowned Pleistocene River Mouth of the Coos Bay Estuary. Carol devoted part of her summer to duties as President of the American Microscopical Society.

Randy Irmis went to Petrified Forest National Park in Arizona to participate in the 100th Anniversary Science Symposium that celebrates the park's centennial. He stayed on to work on various research projects with Bill Parker, the paleontologist at the park, before heading to Ghost Ranch (see Padian below). Randy co-organized the Geometric Morphometrics short course held in Berkeley and cosponsored by UCMP before embarking on a four-week research trip to Europe to visit various museum collections, including London, Berlin, Warsaw, Stuttgart, and Tubingen.

Grad student Karen Osborn (right) prepares to trawl for marine organisms at a certain depth in the water column.


Karen Osborn participated in a 15-day research expedition aboard the R/V New Horizon in the Gulf of California with Chief Scientist Brad Siebel that focused on the ecology and natural history of the jumbo squid that is pushing its range North as the oceans warm. They also conducted midwater trawls to collect animals from the water column down to 1,500 m and Karen collected multiple specimens of an undescribed species of munnopsid isopod whose description will be included in her dissertation work. Karen participated in two cruises aboard the R/V Western Flyer in the Monterey Submarine Canyon off California and the Astoria Canyon off of Oregon using the remotely operated vehicle Tiburon to examine and compare the pelagic fauna of each.
| | |
| --- | --- |
| | Members of the crew excavating a new Late Triassic vertebrate quarry at Ghost Ranch, New Mexico, included (from left) Kevin Padian (UCMP), Sterling Nesbitt (AMNH/Columbia), Alan Turner (AMNH/Columbia), Nate Smith (Field Museum/UChicago), Randall Irmis (UCMP), Amy Balanoff (AMNH/Columbia), and Gabe Bever (AMNH/Columbia). |
Kevin Padian spent several weeks in Paris as an Invited Professor at both the College de France and the University of Paris, where he worked on joint research projects focusing mainly on the bone histology of dinosaurs and their relatives. Padian and colleagues are currently pursuing new directions in quantifying rates of growth in relating them to metabolic rates and body temperature. Closer to home, Kevin was also part of a field crew in the Triassic of New Mexico, excavating a new and important quarry that preserves the earliest remains of dinosaurs, their closest relatives, and crocodile-like reptiles in a single place. The crew, funded by a grant from National Geographic, also consisted of Randy Irmis, former undergraduate Sterling Nesbitt (now at Columbia) and his colleague Alan Turner, and Nate Smith from the University of Chicago. In six weeks of fieldwork, the crew collected some 1,285 specimens, ranging from isolated teeth to nearly complete skeletons. Preliminary results suggest that this fauna is quite diverse, with at least 20 taxa already identified. The field season was enlivened by the presence of an IMAX crew who chronicled the proceedings. Look for the boys starring in an IMAX theater near you early next summer!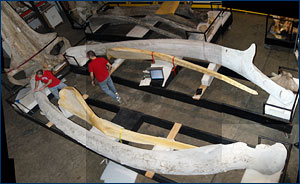 The mandibles of a blue whale (Balaenoptera musculus) at the National Museum of Natural History's off-site storage facility in Maryland dwarf those of an adult sperm whale (Physeter macrocephalus). Jeremy Goldbogen (University of British Columbia) for scale.


Nick Pyenson traveled to Washington, DC, to work with Jeremy Goldbogen (University of British Columbia) on several projects using the large baleen whale element collections at an off-site storage facility of the Smithsonian Institute — the same facility used for defunct Polaris missiles, Apollo-era spacecraft, and other items too large for exhibit and traditional storage. Jeremy and Nick collected skull, mandible, and body size data that will be used to answer questions about the evolution of body size in living baleen whales, as well as the biomechanics of their lunge-feeding behavior. Measuring gigantic whale bones provided its own share of challenges: lifting still-greasy and meaty mandibles; climbing up on ladders or scaffolding several meters up in the air; and being creative about photograph angles. Nick adds, "We also measured what we think might be the largest single bone in any museum collection in the world: a nearly seven-meter jaw bone of an Antarctic blue whale."