About Douglas Long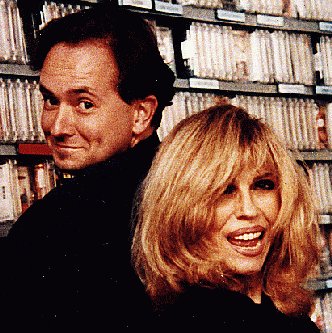 Dr. Long poses with friend (and living rock goddess) Nancy Sinatra
Douglas Long's past research on sharks includes paleontology, phylogeny, geograophical distribution, functional dental morphology, and host/parasite interactions. Also, Doug has published on Antarctic paleoecology, marine biogeography, and studies of trophic ecology on marine mammals. As the shark exhibit here shows, Douglas is particularly interested in shark/mammal predator/prey interactions.
Some of his white shark work presented on the web appeared in Klimley, A.P., and D. Ainley (eds.). 1996. Great White Sharks: The Biology of Carcharodon carcharias. Academic Press, San Diego.
Douglas currently teaches in the Department of Biology at Saint Mary's College in Moraga.
You can contact Dr. Long, but not Nancy Sinatra, at:
St. Marys College of California
Department of Biology
P. O. Box 4507
Moraga, Ca 94575-4507
(925) 631-8208
Besides being a fine scientist, Douglas raises African hornbills and also likes his twenty-one-pound cat Johnson, dark beer, red meat, Little Debbie snacks (snack goddess), burning man, and the Church of the Subgenius.