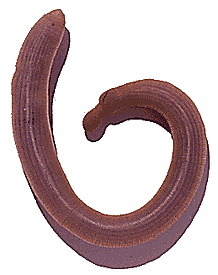 Sipunculan Phylogeny and Systematics -- Sipunculans are sometimes thought to be a group of annelids, and have been classified within them. However, this phylogenetic hypothesis is contradicted by comparing the anatomy of annelids, sipunculans, and other animals. For instance, sipunculans have no trace of important annelid characters such as segmentation and chaetae (bristles). The characters they do share with annelids (e.g. worm shape, introvert, trochophore larva) are not restricted to annelids and sipunculans, but are much more general.

An alternative hypothesis places the sipunculans closer to the molluscs -- the snails, clams, squids, octopuses, and so on. This seems unusual at first glance; sipunculans do not look anything like most molluscs, at least outwardly. However, sipunculans and molluscs share several characters in early development; for example, after fertilization and division of eggs, both molluscs and sipunculans have a characteristic arrangement of cells in the embryo, known as the "molluscan cross."

A third hypothesis considers the characters shared by molluscs and sipunculans to be primitive characters for a larger group known as the Trochozoa, which also includes the annelids.