Online exhibits : Special exhibits : Fossil footprints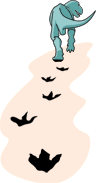 Produced in collaboration with

Fossil footprints through geologic time
V. Martin Lockley and the history of the University of Colorado Fossil Tracks Collection
By Karen Chin and Allison Vitkus
How did the University of Colorado come to have such a large and diverse collection of fossil footprints? The collection was largely built through the efforts of one man, Professor Martin Lockley. Prof. Lockley has been studying fossil tracks for more than 30 years. He is so well known for studying fossil footprints that many people are surprised to learn that he began his career in paleontology in Great Britain studying fossil brachiopods (marine shells superficially resembling clams). Prof. Lockley's research interests changed from brachiopods to fossil footprints shortly after he moved to Colorado from Wales to begin his long tenure at the University of Colorado Denver. Back in the 1980s, he investigated some dinosaur tracks in a Colorado coal mine and has been studying fossil footprints ever since.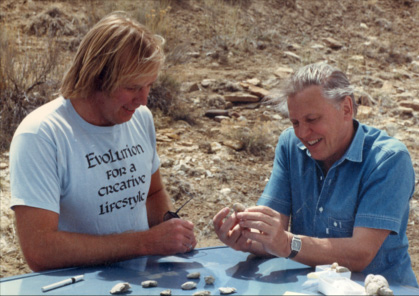 Left: Martin Lockley (left) showing fossils to Sir David Attenborough in 1987. Right: Investigating fossil bird tracks in Colorado.
Approximate geographic distribution of fossil tracks now at the University of Colorado Museum of Natural History.

Although many people now understand that fossil footprints can tell us quite a bit about ancient life, relatively few people were interested in fossilized tracks thirty years ago. Since then, Prof. Lockley has studied a host of different types of fossil footprints and has published hundreds of scientific papers and several books on this subject. His work has helped raise paleontologists' appreciation for the importance of fossil footprints in learning about past life. As Prof. Lockley continued his research, he gradually added specimens to the University of Colorado's fossil track collection. Some specimens are original impressions of ancient footprints, and others are casts made of sediment that filled the original tracks. The collection also includes latex molds and plaster or fiberglass casts of footprints and trackways as well as more than 1600 full-size tracings of trackways that show the exact relationships of individual tracks to others. Many of the specimens were collected on public lands, so the University of Colorado holds and protects the fossils for such agencies as the U.S. Army Corps of Engineers, the U.S. Bureau of Land Management, the U.S. National Park Service, U.S. Department of Agriculture and the State of Colorado.

Much of Prof. Lockley's research has focused on tracksites in the Rocky Mountain region. However, he has also examined fossil footprints and collaborated with colleagues at far-flung sites all over the world. Thus the University's growing collection came to include casts of fossil footprints from countries such as China, Korea, South Africa, Spain, and Mexico. Prof. Lockley's research group also developed exhibits about dinosaur tracks for museums in North America, Europe, and Asia. In 1996, the University of Colorado Denver responded to this outreach activity by helping create the Dinosaur Tracks Museum on the Denver campus. Prof. Lockley worked with Prof. Karen Houck to integrate the growing collection with the tremendous amount of information associated with the specimens. In 2000, the University opened the Dinosaur Tracks Museum to the public, allowing visitors to enjoy educational exhibits of fossil tracks installed in the basement of St. Cajetan's church on the University of Colorado Denver campus. This Museum remained open to the public from 2000 to 2012. The thousands of visitors to the Museum included many university students and local school groups who were delighted to see fossilized footprints left by a wide variety of ancient animals.

Prof. Lockley retired from his professorship in 2010, but is continuing active research at the University of Colorado Denver. Before retirement, he wanted to make sure that the important Denver Tracks Museum collection would be well cared for and available for study by other scientists in the future. The more than 100-year-old University of Colorado Museum of Natural History in Boulder was pleased to accept the fossil tracks collection and incorporate the specimens into its existing paleontological collections. The National Science Foundation funded a grant to help transfer the specimens from the University of Colorado Denver to the University of Colorado Boulder, and researchers from the two campuses work on the collections.
We are fortunate that so many of the tracks that Prof. Lockley and his colleagues studied are protected in the University of Colorado collection and in other collections around the world. However, thousands more fossil tracks remain in the field. In some cases, the rocks hosting tracks or trackways are simply too large to be collected. In other cases, scientists want to leave fossil trackways in place so the public can see the tracks in their natural setting. Such tracksites need protection from damage and loss, because they preserve our fossil heritage and information about past life. In addition to collecting thousands of fossil tracks and trackways, Prof. Lockley has worked hard to protect important in situ fossil tracksites. One of his major projects has been to research and help preserve important outcrops of dinosaur track-bearing layers near Denver at a site called Dinosaur Ridge. There, visitors can see fossil tracks that were left along the shoreline of the ancient sea that bisected North America around 100 million years ago. Dinosaur Ridge is one of the key areas of paleontological interest in the Morrison-Golden Fossil Areas National Natural Landmark.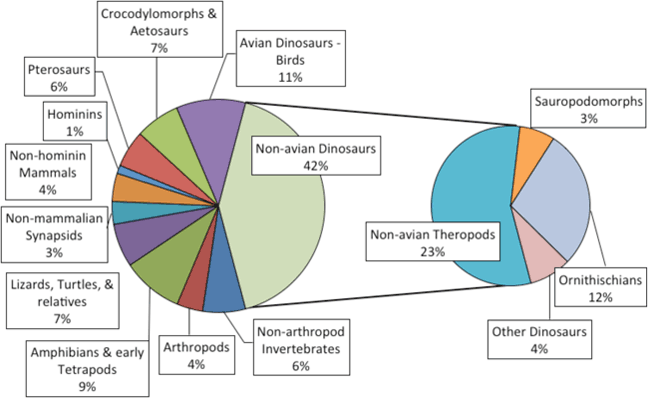 Because of Prof. Lockley's efforts, the University of Colorado's Fossil Tracks Collection is exceptional in having specimens that represent tremendous temporal, taxonomic, and geographic breadth. It includes around 3,000 original or replica specimens of footprints and trackways, as well as about 1,600 full-size acetate footprint and trackway tracings. These specimens come from over 20 countries on five continents (including 21 states within the USA). Most of the specimens (~80%) are from the Mesozoic, when large dinosaurs dominated ancient ecosystems (~252 to 66 million years ago). However, the collection also includes close to 200 Paleozoic specimens (including tracks that are around 400 to 252 million years old), plus more than 250 specimens from the Cenozoic (which lasted from ~66 million years ago to the present). Dinosaur tracks make up over half of the collection: ~42% are non-avian dinosaur tracks and 11% are bird tracks. Crocodylomorphs (~7% of the collection) and pterosaurs (~6%) are well represented, and tracks from arthropods, turtles, rodents, hominins, and other animals round out the collection. Some 400 research papers relating to the collection have been published — most by Prof. Lockley and his colleagues from Colorado and around the world! The University of Colorado Museum of Natural History is proud to care for this important fossil footprint collection that was largely built by Professor Martin Lockley.