Escape the UCMP!
"Your family enters the moss-covered trailer to find a deserted field station filled with specimens and lab equipment. A branching diagram is scrawled on a chalkboard. Anatomical drawings hang over a microscope on the lab bench. You and your daughter use a magnifying glass to peer at a set of skulls next to a notepad with a series of symbols and scribbles. Your son opens a laptop, finding a video message from Dr. Leticia Lopez. She needs your help identifying the treatment that will save her life and recover her research from the evildoer behind it all. You begin searching for clues together and puzzling over mysterious objects found in a drawer. Now the game is afoot!"
Thus begins the University of California Museum of Paleontology and University of Kansas Natural History Museum's planned odyssey into the world of escape games, funded by the National Institute of Health's (NIH) Science Education Partnership Award (SEPA). This 5-year, $1.1 million dollar grant will support development of innovative educational projects that share health and biomedical science, train the next generation of scientists, and enhance the diversity of the scientific workforce.
Escape rooms are a popular new immersive game format in which a team is "locked" in a room and challenged to solve a series of narrative-embedded puzzles encoded in the room's artifacts in order to "escape" within a set period of time.
Over the next 5 years, the UCMP, University of Kansas, California Academy of Sciences, and Berkeley Public Library will develop and evaluate the escape room model.The game will pop up in museums and libraries across the country, engaging diverse families in solving a biomedical mystery. Players will use critical-thinking and collaboration to solve puzzles using basic concepts regarding evolutionary relationships. The wheelchair-accessible room will serve English- and Spanish-speaking family groups with two to six active participants at a time, age eight and up.
Ready to grab the kids and escape? Unfortunately, you'll have to wait. STEM Escape won't be touring until 2022. Planned stops include:
California Academy of Sciences
Berkeley Public Library
Stanislaus County Library
Arizona Science Center
New Mexico Museum of Natural History and Science
University of Iowa Museum of Natural History
University of Kansas Natural History Museum
Yale Peabody Museum of Natural History
Estherville Public Library
Independence Public Library
Artesia Public Library
Director's Letter
I am delighted to report that UCMP is firing on all cylinders. Our undergraduate and graduate students have been presenting at national and international meetings, including at SVP, GSA, and NAPC. Our collections staff, Dr. Pat Holroyd, Dr. Diane Erwin, and new comer, Dr. Ashley Dineen have been writing and administering grants, publishing, training students, and hosting visitors. The care of the collections, in all its dimensions, is in wonderful hands.
Our education and outreach team, led by Dr. Lisa White, currently has six grants, including a large NIH grant with Dr. Anna Thanukos, principal editor of the Understanding Evolution (UE) and Understanding Science (US) websites, to develop an evolution-based escape room for public museums and libraries. The team has also received an IMLS grant to modernize and enhance UE and US online. Lisa was also recognized at the recent SVP meeting in Australia for her NSF-funded collaborative grant on broadening participation in field-based sciences. Dr. Jessica Bean has been spear-heading our Understanding Global Change initiative, where she has added a rich, and well received, pedagogical component to a template modeled on UE and US. She is collaborating with Howard Hughes Medical Institute to further the pedagogical work.
But our most exciting news is that Dr. Jack Tseng and Dr. Juan Liu have accepted Berkeley's offers of tenure-track and adjunct Assistant Professorships, respectively, in vertebrate paleontology. Both are currently Assistant Professors in the School of Medicine and Biomedical Sciences, University of Buffalo. They begin in July 2020, and will be a most welcome boost to our program, including our field program, as we finally replace the irreplaceable Tony Barnosky. We will give you a fuller overview of Jack and Juan in our next Newsletter. And so, as I approach the end of my 10th year in UCMP, I want to offer a special thanks to the UCMP staff, a group of outstanding women, for the crucial roles they play in making UCMP as effective as it is.
New Pages in UCMP History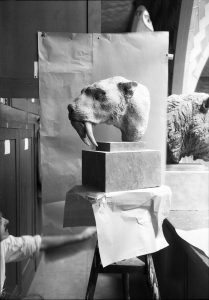 On April 5, after almost eight years of work, UCMP staff alum Dave Smith "went live" with his online "not-quite-a-biography" of California sculptor William Gordon Huff. What began as mere curiosity about the man turned into something of an obsession. His multi-page feature explores Huff's connections to UCMP but is primarily a thorough examination of all Huff's artwork, from simple sketches and small medallions to historical plaques and monumental sculptures. Huff's history can be found here.
Dave has also written about UCMP field expeditions from the early 1900s, notably Annie Alexander's 1901 expedition to Fossil Lake, Oregon, to collect Quaternary mammal and bird fossils and the 1905 Saurian Expedition to the West Humboldt Mountains of Nevada to collect Triassic ichthyosaur fossils. Links to the Saurian Expeditions from 1901, 1902, 1903 and 1905 from the UCMP History are listed here.
World Premiere of the Bearded Lady Project Feature Film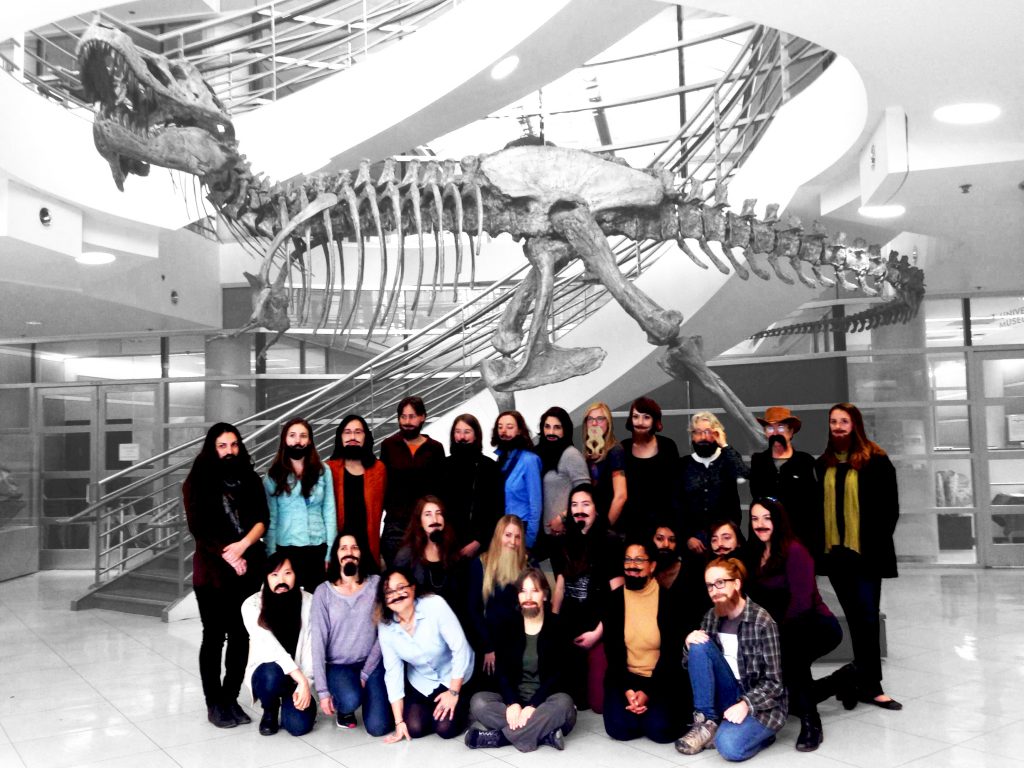 The Bearded Lady Project—the brainchild of paleobotanist Ellen Currano and filmmaker Lexi Jamieson Marsh—aims to challenge tenacious gender biases in the sciences, specifically paleontology. In 2014, Ellen and Lexi teamed up with fine arts photographer Kelsey Vance and director of photography, Draper White, and began travelling around the country and abroad to photograph, film and interview female paleontologists and paleoscientists in the field and their labs to highlight the work they do and share their journey of how they got to where they are now.
The project consists of two parts: (1) a feature film celebrating the unsung achievements of the many paleontologists, who happen to be women, revealing the obstacles they faced because of their gender; and (2) a photography exhibit that—with a positive dose of wit—made short work of the burly bearded male stereotype that has dominated the professional landscape of field-going scientists.
A total of 15 of the Bearded Ladies are UC Berkeley paleontologists and are featured in nine of the 39 black-and-white portraits in the touring exhibit. The beautiful photographs—many of them taken out at their field sites in deserts, mountains, badlands and mudflats—were all shot on vintage large-format film cameras with the intention of taking the viewer back to the early days of paleontological field expeditions more than a century ago. Most historic photographs of Earth scientists often depict rough-looking, old, long-bearded white men, wielding pick axes and shovels, loading fossils on mule trains; a stereotype that persists today and that the Bearded Lady Project aims to address and change.
On Thursday August 22, 2019, Cindy Looy had the honor of hosting the world premiere of the full-length Bearded Lady Project feature film at the Lawrence Hall of Science. More than 100 attendees saw the film that prominently featured our very own Carole Hickman and Lisa White. It was impressive to see how moved many in the audience were by all the deeply personal stories shared by paleontologists and paleoscientists in the film. The documentary was followed by a lively panel discussion, led by Leslea Hlusko with the Bearded Lady Project founders Ellen Currano and Lexi Jameison Marsh, UCMP senior museum scientists Pat Holroyd and Ashley Dineen, and UC Davis paleoscientist, geochemist, and past President of the Geological Society of America Dr. Isabel Montañez as well as Lisa White and Carole Hickman from UCMP.
Through this unique photo series and film, the Bearded Lady Project has provided a platform and strong sense of community for women in the paleosciences, allowing them to share their stories, many of which are very relatable and were shared for the first time. Learn more about the Bearded Lady Project.
Collections Updates
Saving the UCMP Mexican amber collection: IMLS to the rescue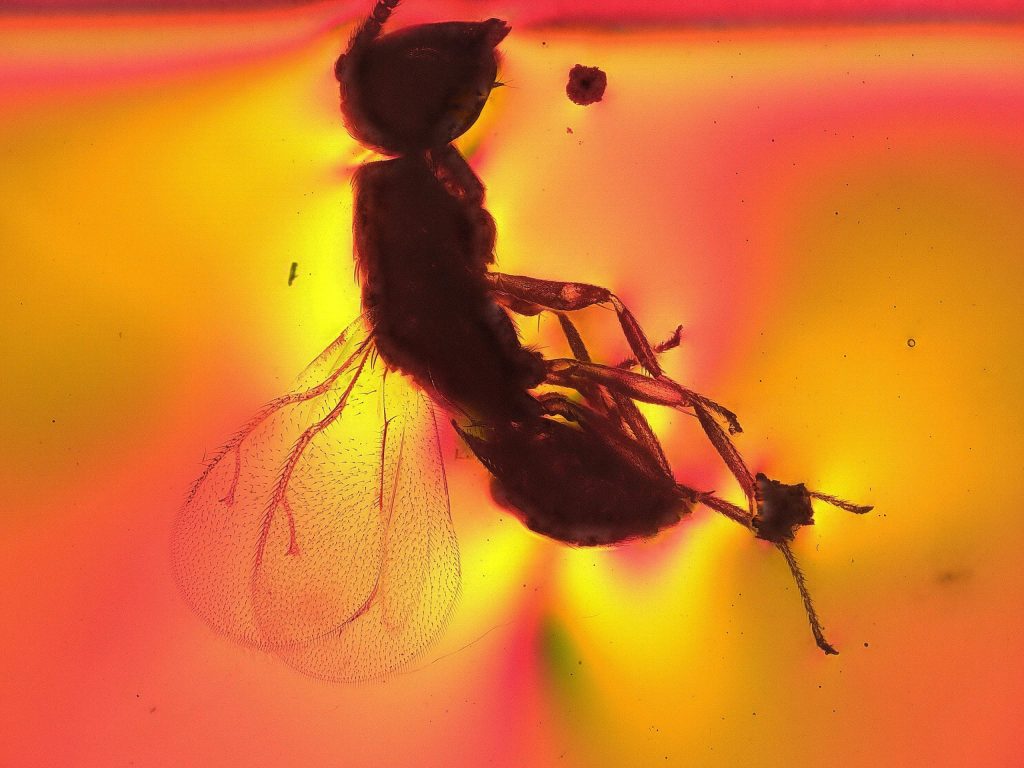 Brittle and fractured from their decades-long improper storage in cardboard slide holders, the UCMP amber collection from Chiapas, Mexico, comprised largely of insect inclusions collected by Frans Blom, is being rehabilitated thanks to a $47,496 grant from the Institute of Museum and Library Services (MA-30-18-0083-18) to Diane Erwin (PI). This grant has provided support for one graduate and three Berkeley undergraduate students, giving them the opportunity to work hands-on with natural history specimens and contribute first-hand to the conservation of this historically important collection. During Spring 2019 Jaemin Lee (grad student), Cameron Deptula and Matthew Yu (Team Resin) assisted Erwin with the embedding of 660 specimens in clear epoxy resin, while Viviana Gonzalez worked with the amber archives, entering archive document metadata and uploading over 960 PDFs to UC Berkeley's DocuBase system. These documents will be made web-accessible by linking them with the UCMP Archon Amber Files online finding aid. We were also excited to host Ana Lilia Hernández Damián, a student from the National Autonomous University of Mexico (UNAM), as a new "Team Resin" member for two weeks in September to participate in the project.
Calaveras Project funding extended
Thanks to Mark Goodwin, a one-year $120,000 extension was approved to supplement the recently completed two-year agreement between the UCMP and the San Francisco Public Utilities Commission (SFPUC). The additional funding will support undergraduate and graduate student research positions in UCMP to complete preparation and curation of an assortment of fossils, including mollusks, shark teeth, whales, and marine mammal bones collected from the Late Miocene Temblor Formation during construction of the new Calaveras Dam in southern Alameda County.
Staff Updates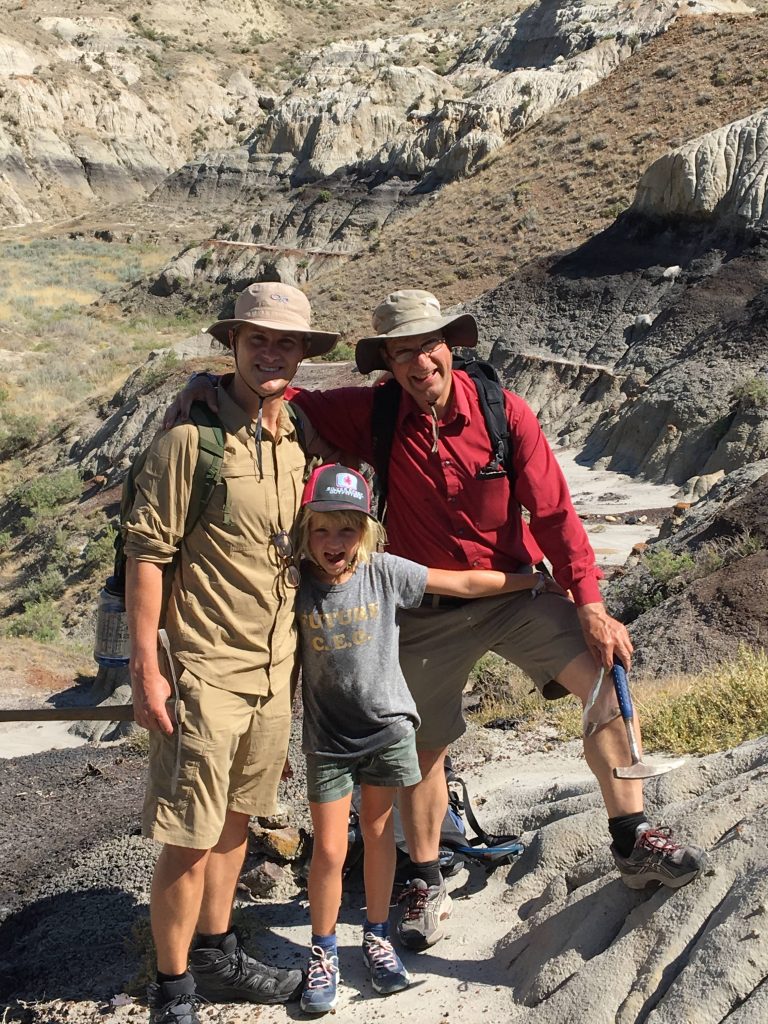 Mark Goodwin returned to the Upper Cretaceous of Montana, stopping first at the farm of Dan and Lila Redding to review some microvertebrate localities in the Judith River Formation with UCMP alum Greg Wilson (U. of Washington) and his graduate student Luke Weaver. They also investigated new Judith River sites near Fresno Lake outside of Havre, Montana. Mark and the crew headed to Jordon where he met up with David Evans (Royal Ontario Museum). Mark, Dave, and Greg visited many Hell Creek Formation sites over the next week. Highlights were relocating quarries from 1902 of Barnum Brown's, including where the first Triceratops skull from Montana was collected and the holotype locality of Tyrannosaurus rex. A couple of pachycephalosaur skull localities were tracked down and mapped into stratigraphic position relative to the K-Pg boundary. Mark next headed to Ekalaka, Montana, where he was an invited speaker at the Carter County Museum's annual Dino ShinDig. Mark returned to Rudyard where he met up with UCMP Director Charles Marshall and Friend of UCMP's Kevin Hartz and his daughter Maeve for a tour of the Judith River badlands on Redding Farms for a couple days. Finds included numerous dinosaur bones, tyrannosaur teeth, a partial pachy dome, and amber!
The UCMP congratulates Cristina Robins (formerly a Senior Museum Scientist managing the Calaveras project) and Adiël Klompmaker (formerly a postdoctoral scholar in the Finnegan Lab) on their new positions at the Alabama Museum of Natural History. Recent highlights of their joint research on often-understudied squat lobsters were published in a September 2019 issue of the Zoological Journal of the Linnean Society (see Berkeley news). In the article they provide a snapshot of thriving reef communities in Central Europe 150 million years ago when lobsters and crabs flourished in coral reef environments were at their peak of diversity.
Student Updates
Congratulations to the UCMP graduate students who finished in the spring and summer of 2019! We wish them all well in their new positions: Dori Contreras (Looy Lab, now Curator of Paleobotany at Perot Museum); Elizabeth Niespolo (Renne Lab, now postdoctoral scholar at Cal Tech and Assistant Prof. at Princeton in 2020); Emily Orzechowski (Finnegan Lab, now postdoctoral scholar, Department of Integrative Biology); Ashley Poust (Marshall Lab, now postdoctoral scholar at the San Diego Natural History Museum); Camilla Souto (Marshall Lab, now lecturer in the Department of Integrative Biology and Smithsonian Deep Time Fellow, January 2020).
This fall the UCMP also welcomed three new graduate students: Reilly Hayes and Jen Wagner in the Looy Lab and Tara Lepore in the Hlusko Lab.
Student highlights and recognition
Larry Taylor continues to direct the UCMP Paleo program for community college students serving hundreds of students each semester. Larry presented UCMP Paleo at NAPC in Riverside, and he and Lisa White submitted an NSF REU proposal with the California Academy of Sciences to expand the program. Larry's research, tracking whale migration through fossil barnacles, was published in the Proceedings of the National Academy of Sciences.
Tanner Frank of the Marshall lab made five trips to collect fossil fish from a diatomite quarry near Fernley, Nevada. With the guidance of Dr. Michael Bell and several volunteers, friends and staff of the UCMP, Tanner brought back nearly 200 fossils of sticklebacks and killifish in order to study the rate and tempo of an ecological replacement event that occurred in the Miocene between these two kinds of fish. The fine layers of diatomite at the site allows for a high temporal resolution of a phenomena called lake invasion. The composition of diatoms may also allow him to study associated environmental factors with the help of Lisa White.
Sara ElShafie received an Outstanding GSI Award in Spring 2019 for teaching Evolution and Herpetology.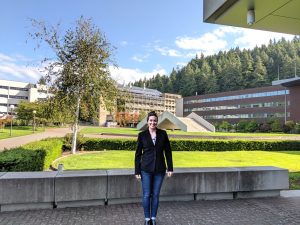 Graduate students Mackenzie Kirchner-Smith and Ixchel González-Ramirez spent a month working in the Paleobotanical Collections of the National Museum of Natural History (NMNH) in DC as part of the NSF-sponsored Pteridophyte Collection Consortium project (PCC). They digitized more than 700 pteridophyte specimens from the Paleobotanical Figure and Type Collection. The digitization process included taking photographs of the specimens and building databases that include their taxonomy, locality, geochronology, and all the references that depict and/or describe them. These fossils cover a wide taxonomic and temporal scale and were collected across 28 different states.
Tesla Monson, who completed her PhD in 2017 as a member of the UCMP, is excited to start a tenure track position as Assistant Professor of Anthropology at Western Washington University in her home state of Washington. At Western, Tesla will continue her teaching and research on the evolution of mammalian skeletal and dental variation, life history, and reproductive ecology with a focus on primates.
Friends of UCMP
Benefactor
Suzanne F.S. Berry
Bill Clemens
Steve and Barbara Morris
Anonymous Donation
Patron
Luis Abdala
Monica Albe*
Harry & Arline Fierstine
Robert Glass
Stephen Hoffman
Rebecca Jabbour *
Stuart Kortez
Mattias Lanas
Todd Olson *
Joan H. Pennell
Judy Scotchmoor *
Bruce Townley *
Cecelia Tung
Anonymous Donation
Sustaining
David K. Johnson
Miki Lane
Marguerite Matthews
Gina Schatteman
Donor
Elena Duvernay
Julie Hammerness
Casey Mullins
Lance Powell
*Alumni
Save the Date!
UCMP Short Course
Date: March 7, 2020
Save the date of March 7th for the UCMP Short Course on Pleistocene megafauna: fame and fate. Leading researchers will share current thinking on the evolution and extinction of large mammals over the past 100,000 years.
Cal Day
Date: April 18, 2020
Save the date for Cal Day 2020 when UC Berkeley and the Museum of Paleontology welcome the Berkeley community to come see our latest research and fossil collections! See you there!