2019 Spring Edition
As spring is a time of change and renewal, the UCMP sends off Mark Goodwin and Erica Clites, while welcoming Ashley Dineen and the relaunch of our homepage. We redesigned the UCMP website in honor of the 25th anniversary of UCMP's online presence! When the UCMP entered the World Wide Web in 1993, only 100 websites existed and UCMP was one of only 2 museum websites. We thank Trish Roque, the UCMP web manager, for her time and effort spending more than a year planning and redesigning the website.
Spring and Summer Events:
July 8-10, 2019 NCSE Teacher Ambassador Summit at UCMP A workshop for professional development leaders hosted by the National Center for Science Education https://ncse.com
July 22-24, 2019 From Earth's History to Biodiversity: Tools for teaching with open science workshop at UCMP A 3-day workshop for educators on evolution, fossil distribution, and ecosystems https://www.esciencetools.org
Mark Goodwin Retires!
In the summer of 2018, after a UCMP career spanning 40 years, Mark Goodwin officially hung up his hammer. Growing up in Worcester ('Wusta'), Massachusetts, a life-long career all the way out in Berkeley, California, must have seemed inconceivable to the young Mark. But with serendipity and perseverance, it nonetheless came to pass.
Mark began his formal preparation as a vertebrate paleontologist as an undergraduate at UMass Amherst, majoring in geology and zoology. His museum experience also began at that time, volunteering in Amherst College's Pratt Museum with Margery (UMass) and Walter Coombs (Springfield College). This was followed by an internship in 1976 in the Smithsonian's Department of Paleobiology, rotating through the labs of Erle Kauffman, Frank Wetmore, Clayton Ray, Bob Emry, and Nick Hotton, and spending many hours in the fossil prep lab under Arnie Lewis. The following year, after one more semester at UMass Amherst, Farish Jenkins offered Mark a job in the Museum of Comparative Zoology at Harvard University, where he worked in the fossil prep lab with Bill Amaral, and in the vertebrate collections with Chuck Schaff. All three would end up as mentors, lifelong friends, and colleagues, also introducing Mark to fieldwork in Montana and Wyoming.
On the weight of this experience, Mark was hired by UCMP in the fall of 1978 as a Senior Museum Preparator (although Mark suspects he was really hired by fellow New Englander and Director, Bill Berry, on the basis of his thick Massachusetts accent). Mark was supervised by Howard Hutchison, completing his B.A. in the then Department of Paleontology. Bill Clemens invited Mark to join his field crew in the late Cretaceous Hell Creek Formation, and so began his long career in the field. In the following summers Mark would lead UCMP students and staff in the Judith River Formation in Montana, but still under Bill's guiding hand.
Mark would soon complete his Master's degree on the geology and paleontology of the Campanian Judith River Formation exposed near Rudyard, Montana, with Bill as his thesis advisor. Back at UCMP, Mark supervised the UCMP preparation lab, becoming an expert in molding and casting fossils. His interest in dinosaur growth and behavior deepened after discovering a pachycephalosaur skull in the Judith River Formation, and he is now a world authority on the group. Mark, in collaboration with Bill and Jack Horner, also became interested in Triceratops bone preservation. With the encouragement of UCMP Director David Lindberg, these interests led to a Ph.D. from UC Davis. The kid from 'Wusta' was now Dr. Goodwin!
When the UCMP moved from McCone Hall to the Valley Life Sciences Building (VLSB) in 1995, Mark proposed the "Own a Piece of the Rex" campaign to then-Director Jere Lipps and worked with the Museum of the Rockies (MOR) staff to obtain a copy of MOR 555, the same specimen that will be displayed in the Smithsonian's renovated dinosaur hall as our Nation's T. rex. Mark led the design and installation of the T. rex and pterosaur skeletons, supervising artists and model makers, undergrads and graduate students, and enjoying Chancellor Tien's opening of the exhibits.
Mark's responsibilities expanded when he was appointed Assistant Director of Research and Collections, supervising the collections staff and overseeing the growth and management of the UCMP collections in VLSB, Sather Tower, and the off-campus Dwight-Derby and Marchant sites, later replaced by the Regatta Building collections facility. Mark also created opportunities for undergraduate and graduate students in fossil preparation and curation through extramurally funded projects, including a CalTrans grant to deal with fossils from the fourth bore of the Caldecott Tunnel, and a grant from the San Francisco Public Utilities Commission (SFPUC) to manage fossils recovered at the new Calaveras Dam site.
During Mark's career in UCMP he worked nearly every summer in Montana with Bill Clemens and UCMP alums, staff, research associates, and students. He received NSF funding for digital investigations of pachycephalosaurs and international collaborative fieldwork in Ethiopia, which led to the discovery of Ethiopia's first dinosaurs. Mark's field studies also included participation on UCMP expeditions led by Bill Clemens to the North Slope of Alaska to prospect for late Cretaceous dinosaurs and mammals, as well as to the northern Negev desert of Israel with then-Director Jere Lipps.
Mark is a Research Associate of the Museum of the Rockies and the Royal Ontario Museum where his long-term collaborations with colleagues Jack Horner and David Evans continue. He is a Graduate Faculty Scholar at Northern Illinois University, and has two dinosaurs named after him.
As Mark transitions from a full time presence in the UCMP, UC Berkeley bestowed on him the title emeritus, a rare honor for a retired staff member, well deserved after 40 years of service under six UCMP directors. He knows where all the skeletons are buried in the UCMP and enthusiastically shares that history, as exemplified by his leadership of the Bill Clemens Oral History project. In retirement Mark, paleontologist, social activist, sports fan, and father of three children, (Ross, 32; Beth, 28; Graham, 27), all of whom "grew up" in the UCMP and in the field, plans to stay active in UCMP, and travel more with his wife Paula.
Director's Letter
At the heart of the UCMP collections are the career scientists who live amongst them, making them living entities. In this Newsletter we celebrate the retirement of 40-year veteran, Mark Goodwin (pronounced Maak), the departure of Erica Clites, and welcome her replacement Ashley Dineen (see pg. 4). Mark's career exemplifi ed what it means to work in and among the collections. He understood fossils, the sediment they were preserved in, fossil preparation, the management of large complex collections, the art of negotiation both on and off campus, fi eld work, and cutting edge research. He is also deeply embedded in SVP, serving for 25 years on SVP committees, including 21 years on the Government Affairs Committee, and as Chair of the Ad Hoc Fossil Repositories Committee and Collections Guidelines that played a major role in establishing Federal guidelines for fossil collecting in the United States. He brought stature to the collections and to UCMP, and we will miss him. However, we do expect to see Mark in and around UCMP for many years to come, so all is not yet lost. We also celebrate the contributions of invertebrate paleontology Senior Museum Scientist, Erica Clites, who came to UCMP over six years ago, initially hired on a two-year NSF grant to rehouse the remainder of the former USGS Menlo Park invertebrate fossil collection. Her ability to plan simultaneously on timescales of days, weeks, months, and years, as well as her ability to manage people, from undergraduates to volunteers, up to the Director, made her an invaluable colleague. Sadly for us, in late 2018, to be closer to her growing family, she moved back to Michigan where she is the Cooperative Invasive Species Management Area coordinator at the Six Rivers Land Conservancy. We were very excited to hire Ashley to replace Erica. She comes to us from a postdoctoral position with Peter Roopnarine at the California Academy of Sciences. Finally, I just want to call out Pat Holroyd, who really stepped up to the plate with Mark's retirement, and into the gap between Erica's departure and Ashley's arrival. She and Diane Erwin have been the anchors of our collections-based mission, and so raise a glass to them, indeed, to all who work among our community's collections.
Cal Day 2019
The UCMP had a whale of a time on Cal Day this past April 13th, 2019. The UCMP Prep Lab led by
Cristina Robins
shared some new discoveries unburied from the Calaveras dam site project with the San Francisco Public Utilities Commission. The prep lab undergraduate students put together displays showcasing whale skulls with a portion of the vertebral column intact, many more molluscs, and thousands of shark teeth, including one Megalodon tooth. [
Download the
UCMP
2019 CalDay coloring sheets
]
In the courtyard of the Valley Life Sciences Building with the Berkeley Natural History Museums, UCMP showcased several interesting fossils to explain taphonomy, the process of how organisms decay and subsequently fossilize. Our lecture series featured Professor Kevin Padian giving a talk connecting evolutionary biology and menswear, Sara ElShafie talking about more Fantastic Beasts and where to find them, and Cristina Robins sharing more from the Calaveras site.
The behind the scenes tours of the collections were as popular as ever, showcasing some beautiful plant fossils hand-picked by Diane Erwin and the recently published new species Pacific Mastodon (Mammut pacificus) that resides in the UCMP, and other large mammals from the Pleistocene, picked by Pat Holroyd. With another Cal Day in the books, we hope to see you next year!
What's New in the Collections
The NSF-sponsored Pteridological Collections Consortium (PCC) project to digitize nearly two million fossil and extant pteridophyte specimens, lead by Carl Rothfels, Diane Erwin, and Cindy Looy, is racing ahead. Project Manager Amy Kasameyer and Portal Manager Joyce Gross have been instrumental in the creation of the PCC website and the PCC portal. Over half a million records are already available in the portal, where they can be viewed via interactive maps, specimen images can be downloaded, and regional checklists produced, among a wide variety of other features. Portal link http:// pteridoportal.org/ and website link https://pteridophytes.berkeley.edu/ university-of-california-berkeley.
Pat Holroyd reports what a banner year 2018 was for publications featuring UCMP specimens! UCMP specimens appeared in more than 130 scholarly publications and on resources hosted on our site (e.g., Miomap and Faunmap). Those papers were found in more than 60 different journals, especially PeerJ, Historical Biology, Journal of Vertebrate Paleontology, Cretaceous Research, Journal of Human Evolution, and Journal of Paleontology.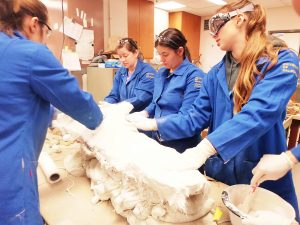 Calaveras Dam Update
After two years of hard work, the Calaveras Dam Salvage Paleontology Project is coming to a close. Although the active preparation may be completed, the thousands of fossils recovered will provide researchers visiting the UC collections with decades of work.
A few highlights:
10 semester-long GSR stipends
8 undergraduate students, 3 volunteers
3,000 undergraduate hours in the prep lab
3,000 graduate hours in the prep lab
4,000 staff hours in the prep lab
20+ whale skulls prepared
4,000+ shark teeth identifi ed
well over 10,000 invertebrate fossils
several broken sledgehammers and quite a bit of glue.
Staff Updates
Welcome to Ashley Dineen! The UCMP is happy to welcome Ashley Dineen to the position of Senior Museum Scientist overseeing the invertebrate collection. Ashley was most recently a post doc at California Academy of Sciences with Peter Roopnarine where she created and modeled several high-resolution marine food webs spanning the Triassic, Jurassic, and Cretaceous of Europe. This project was focused on examining how the abrupt biotic reorganizations of the marine realm (i.e., Permo-Triassic and end-Triassic mass extinctions), as well as episodes of rapid diversifi cation, changed the structure and function of ecosystems in the Mesozoic. Ashley received her BS, MS, and PhD in Geosciences from the University of Wisconsin- Milwaukee, and her broad research interests focus on paleocommunity structure and functional diversity dynamics during and after major environmental disturbance (e.g., climate regime transitions, mass extinction). She has completed fieldwork in numerous international localities, including China, Italy, Argentina, and the Caribbean. Ashley was recently awarded a PS Norman Newell Early Career Grant, and is passionate about STEM education for girls and underserved youth, serving as a volunteer mentor and project leader at a Bay Area non-profit called Scientific Adventures for Girls since early 2017.
Curators in the Spotlight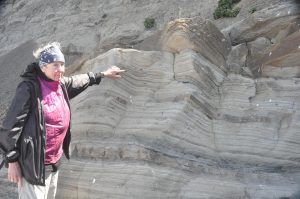 Carole Hickman reports on fi eldwork in 2018 along the southern Oregon coast as a participant in the Coaledo Project: An Integrated Study. In her role as molluscan paleontologist, she is part of a team of twelve geologists and geobiologists organized by John Armentrout in a groundbreaking restudy and analysis of Eocene rocks that are now part of the ancient accreted terrane of Siletzia. Preserved in a tropical deltaic setting, fossil molluscs, benthic Foraminifera, shark remains, and pollen contribute to testing a new model of sedimentary cycles and depositional environments. Results are being assembled in conjunction with detailed drone photos of inaccessible but extensive well-exposed seacliff sections of the Coaledo Formation. Collections of fossil molluscs from important new localities now have UCMP locality numbers and descriptions. They will be integrated with the historic UCMP collections and type specimens of species described by F. E. Turner. Turner's field work (1929–1935) was funded by UCMP benefactor Annie Alexander and published in 1938 by the Geological Society of America as a UCMP contribution.
Another UCMP connection to the project also includes the participation of Bruce Welton (PhD, UCMP 1979, Cretaeous and Cenozoic sharks of the NE Pacifi c). Collections from two new mollusc localities are significant to paleobathymetric interpretation, indicating deeper biofacies than previously reported.
Cindy Looy was also appointed to a 2-month visiting chair position at the department of Physical Geography at the Faculty of Geosciences, Utrecht University, the Netherlands, where she joined the palaeoecology research group of Professor Rike Wagner.
Student and Postdoc Updates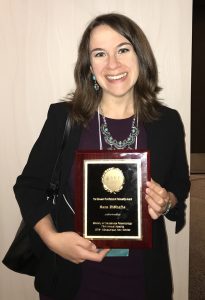 Newly-minted PhD Dori Contreras started a postdoctoral position in the Looy Lab on a multidimensional NSF sponsored project Inferring a total-evidence timeline of vascular plant evolution awarded to UC Herbarium curator Carl Rothfels and UCMP curator Cindy Looy.
Recent graduate Jeff Benca accepted a horticulturist position for the Amazon Spheres in Seattle, Washington. His work focuses on helping cultivate and maintain a diverse collection of tropical plants for Amazon's headquarters conservatory. He is continuing research in paleobotany and developing cultivation techniques for early-diverging seed-free plant lineages to aid in their ex situ conservation.
Postdoctoral scholar Adiël Klompmaker traveled to the Netherlands for a keynote talk at the international symposium Crustacea Through Time. After receiving a Lerner-Gray grant, he examined evidence of crustaceans in Cretaceous cold seeps from South Dakota using collections in the American Museum of Natural History in New York City. He also presented research in collaboration with undergraduate students on remarkable trends in crab size and shape through time at the GSA meeting in Indianapolis. See https:// ucmp.berkeley.edu/2018/12/extreme- competition-species-ocean-fl oor/ for a popular article on Adiël's research.
Sara Elshafie continues to be recognized nationally for her science communication work, and she was awarded the Mary Dawson Predoctoral Fellowship Award from the Society of Vertebrate Paleontology. Sara organized a symposium at the 2018 Society for Integrative & Comparative Biology called "Science Through Narrative: Engaging Broad Audiences" that produced a volume of manuscripts for the peer-reviewed journal Integrative and Comparative Biology. The volume includes papers written by both scientists and artists from multiple disciplines. Sara organized two talks with Glen McIntosh, Director of Animation for Industrial Light & Magic, who spoke about creating the dinosaurs for the Jurassic World films.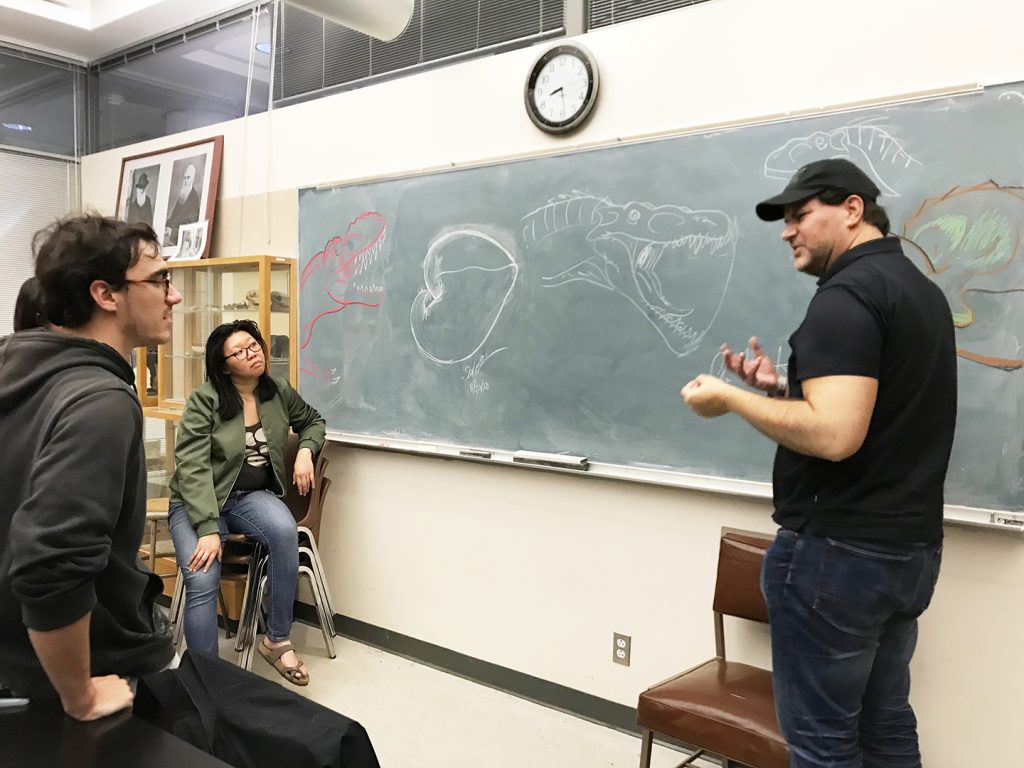 Friends of the UCMP
We would like to welcome the following new or renewing members to our Friends of the UCMP!
Benefactor
Suzanne F.S. Berry
Marc Carrasco *
William A.Clemens*
Maria Cranor *
Ellen Essigman
Zhe-Xi Luo* & Sharon Feng
Stephen & Barbara Morris

Sponsor
Peter & Amanda Docter
Sterling Nesbitt
Donald J. Pecko
Barry Roth*
Dr. Thomas J. White*
Patron
Douglas Clarke
Ladd Coates*
Robert Glass
Marian Gonzalez
Mark Goodwin*
Stephen Hoffman
Rebecca Jabbour*
Jere Lipps
Jenny McGuire*
Mehdi Mohtashemi*
Carol J. Munson*
Joan H. Pennell
Suzanne Rudnicki
Lisa D. White
Sustaining
Monica Albe
Pam & Ted Davalos
John & June Hopkirk
David K. Johnson
Cecile T. Weaver*
Donor
Dede Dewey
Jack*& Mary Stirton
Susumu Tomiya*
*alumni/alumnae
Publications 2018
2018 Publications are listed on this page. For our most up-to-date listing of publications from the UCMP, please visit our Publications page.