UCMP Represents at National Conferences
By Lisa White. All photos by Helina Chin unless otherwise noted.
UCMPers were a very visible presence at the 76th annual meeting of the Society of Vertebrate Paleontology (SVP). Held in Salt Lake City in October 2016, the meeting was co-chaired by UCMP alum Randy Irmis. Attendees enjoyed a welcoming reception at the Natural History Museum of Utah housed in the new Rio Tinto Center nestled into the foothills of the Wasatch Mountain Range above Salt Lake City. Members of the UCMP community presented thirteen talks and nine posters. Students presenting at the conference were partially supported by UCMP travel grants made possible by the generosity of UCMP donors. The UCMP also hosted a reception for UCMP alumni and friends.
From the Padian Lab, Ashley Poust gave a talk and Sara ElShafie and Mackenzie Kirchner-Smith presented posters on their respective research projects. Undergrads Savannah Blake (poster) and Ben Kligman, and alum Armita Manafzadeh (talk) also attended. From the Barnosky Lab, graduate students Eric Holt and Nick Spano shared research posters and recent alums, Allison Stegner and Emily Lindsey, shared highlights of their research in oral sessions. Postdoctoral Scholar Brian Rankin and collections assistant Lauren Fowlerpresented their ongoing work on Eocene mammals in the Uinta Basin and Wasatch Range with Pat Holroyd.
UCMP staff Mark Goodwin and Pat Holroyd were authors on several papers and Lisa White presented a poster on a developing website about the McKittrick tar seep fossils. Collections assistant Lillian Kennedy Pearson presented a poster together with Vince Santucci of the National Park Service on vertebrate paleontology resource monitoring at Pt. Reyes National Seashore.
At the Geological Society of America (GSA) annual meeting in Denver in September, members of the Marshall Lab (Lucy Chang) and the Finnegan Lab (Seth Finnegan, Adiel Klompmaker, Larry Taylor, Emily Orzechowski) presented in several sessions during the 4-day conference. Staff members Diane Erwin shared new details on fossil insects from Nevada and Lisa White, together with EPICC (Eastern Pacific Invertebrate Communities of the Cenozoic) partners, showcased a draft of the virtual field experience modules that will be part of the EPICC outreach materials. Postdoctoral Scholar Jessica Bean presented on the Understanding Global Change project.
Director's Letter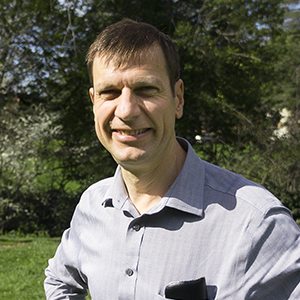 Happy New Year! I hope you all had a rejuvenating Holiday Season. Here at UCMP we await, with some anxiety I must confess, to the changes that 2017 will bring. At this point none of us know how the President-elect will affect National priorities or funding. But one thing is clear UCMP's mission to investigate and promote the understanding of the history of life and the diversity of the Earth's biota through research and education is going to be more important than ever. Had you asked me a year ago where I thought we stood nationally on the issues of climate change, I would have said that I think the war is won, especially in light of international agreement on carbon emissions. But now we need to double down again. Thus, our work on our soon-to-be-released web resource on Understanding Global Change (UGC), takes on a new significance. More locally, we are eagerly looking forward to a new Berkeley Chancellor, as we look for the return of strong leadership, especially as we brace ourselves for the next round of budget cuts and the new government. I am pleased to say that under the guidance of our most excellent interim Executive Vice Chancellor and Provost, Carol Christ, the campus has been in very good hands. She has long been a fan of the museums, and has been paving the way (for everyone on campus) for as gentle an adjustment to the campus budget deficit as could be hoped for this year, our permanent cut was only 4%, compared with 10% last year. But we have two more years of permanent cuts coming. Fortunately, for UCMP our endowments and gifts continue to grow, buffering us well from campus budget cuts. So, as we renew our commitment to the mission of UCMP and Cal, please accept my heartfelt thank you for your support, in so many ways, of UCMP! We are all greatly appreciative!
Sincerely,
Charles Marshall
The Bearded Lady Project
At both the SVP and GSA meetings, portraits from The Bearded Lady Project were unveiled and the women of UCMP featured prominently in the gallery of photos shown at the conferences. They include portraits of Carole Hickman, Pat Holroyd, Erica Clites, Cindy Looy, Lisa White, Diane Erwin and many of the female graduate students at the UCMP. All portraits by Kelsey Vance.
Faculty in the Spotlight
Congratulations to Cindy Looy who was granted tenure in 2016 and is now Associate Professor of Integrative Biology! Cindy had a busy fall semester co-teaching at the Gump field station in Moorea. At the GSA annual meeting in Denver, Cindy co-ran a symposium titled: Novel Approaches to Plant Evolution from Paleontological, Physiological, and Developmental Perspectives.
At the end of the 2016, Tony Barnosky accepted a position as Executive Director of Stanford's Jasper Ridge Biological Reserve. We congratulate Tony on his new role at Stanford and we are happy he'll remain connected to the UCMP as curator and Professor Emeritus.
Professor Emeritus David Lindberg reminded us that five UCMP alumni can be found at the Smithsonian National Museum of Natural History in Washington, DC where their careers are thriving. In the photo from left: Nick Pyenson, Curator of Fossil Marine Mammals (Ph.D. 2008), Christopher Meyer, Research Zoologist, Invertebrates (Ph.D. 1998), Karen Osborn, Research Zoologist, Invertebrates (Ph.D. 2007), Ellen Strong, Research Zoologist, Invertebrates (B.A. 1991), and Allen Collins, Zoologist, Invertebrates (Ph.D. 1999). Photographed in the Smithsonian's Kenneth E. Behring Family Rotunda. Go UCMP!! UCMP
Research Associate Julia Sankey and students at CSU Stanislaus published two papers in PaleoBios in 2016 on Mehrten (early Pliocene, Central CA) vertebrates and geology (see in Publications list).This work was supported by a $5 million dollar grant from the Department of Education to support undergraduate students in STEM. Sankey students were paid to do field, lab, and museum work (at the UCMP). She and Jake Brewer are also publishing a book on the Mehrten and Central CA fossil wildlife for the general public.
Recognition, honors and awards
Judy Scotchmoor, Assistant Director of Education and Public Programs Emerita was honored with the Pojeta Award from the Paleo Society in September 2016. The award recognizes exceptional professional or public service by individuals or groups in the field of paleontology above and beyond that of existing formal roles or responsibilities.
Emily Lindsey started a new position as the Assistant Curator and Excavation Site Director at the La Brea Tar Pits and Museum.
Allison Stegner began a new postdoctoral position in the at University of Wisconsin, Madison where she will be researching abrupt ecological change in the 21st century.
Susumu Tomiya accepted a new postdoctoral position in the Department of Anatomy, Des Moines University, Des Moines, Iowa.
Student Awards, Honors and Updates
UCMP graduate students continue to shine as they receive awards, honors, and recognition for their research and public service. Through earnings from UCMP endowments, we are pleased to support graduate student training, research and fieldwork. We offer our congratulations to recipients of the 2016-17 UCMP fellowships, research, and travel awards, and to the many other ways in which UCMP graduate students have been honored.
Jeffrey Benca received a UCMP Fellowship supported by the Annie Alexander Fund to continue experimental studies testing how lycopsids respond to elevated ultraviolet-B radiation exposure. His research is evaluating the plausibility of ozone-weakening as a major driver in the collapse of the Earth's terrestrial biota in response to the end-Permian Siberian Trap volcanism.
Dori Contreras' dissertation research continues to take her to New Mexico for field sampling and census projects in Cretaceous plant assemblages in the McRae Formation of New Mexico. In addition to support from UCMP, Dori also received the George D. Louderback Award, for outstanding scholarship, excellence in research and contributions to the Department Community.
Sara ElShafie received support from the Anthony P. Barnosky Fund to visit critical collections at the Field Museum of Natural History, the Smithsonian NMNH and the Denver Museum of Nature and Science in support of preliminary analyses of body size and ecology changes in fossil lizards and crocodilians during climate transistions. In the spring, Sara also organized a special artist talk from the Story Department at Pixar Animation Studios to discuss storytelling techniques and how they can be applied in science communication.
Tesla Monson received UCMP support to visit and survey the extensive extant primate collections at the Smithsonian NMNH for additional data collection on 10 Artiodactyla families. She presented part of her dissertation research at the International Congress of Vertebrate Morphology in Maryland. In 2016 she also received the Jerry O. Wolff Fellowship from the Museum of Vertebrate Zoology. Continuing her data collection, Tesla spent five weeks in Ethiopia looking at Pleistocene primate fossils at the National Museum in Addis Ababa.
Emily Orzechowski received a UCMP Fellowship (from the Annie Alexander Fund) and a Bill Berry Fund award to continue her research on controlled temperature and isotopic analyses of the gastropod Callinax biplicata for use in Quaternary paleotemperature and paleoenvironmental reconstructions in California. She was also honored with the Winifred Goldring Award from the Association of Women Geoscientists and the Paleontological Society in 2016.
Camilla Souto received a UCMP Fellowship from the Annie Alexander Fund to continue her research on irregular echinoids, Cassiduloida and Spatangoida. In summer and fall 2016 Camilla visited numerous museum collections in Europe including natural history museums in London, Paris, Leiden, Berlin and Vienna in support of her research. She also participated in the 3rd Latin-American Echonoderm Conference, where she presented on work with fellow Marshall Lab student Lucy Chang estimating echinoid diversity using data from large databases.
Nick Spano was interviewed for a Time magazine article/obituary: Remembering the Holocene Epoch (August 2016, http://time.com/4471327/holocene-epoch-end-anthropocene). He spoke about changes in climate and species variation that help to define the end of the Holocene and beginning of the Anthropocene.
Larry Taylor received support from the UCMP Kellog Fund to conduct isotopic analysis of modern barnacles from the California Academy of Sciences. This work is part of his dissertation research documenting the migratory behavior of mysticete cetaceans by reconstructing their migration routes through isotopic analysis of fossil coronulid barnacles.
What's new in the collections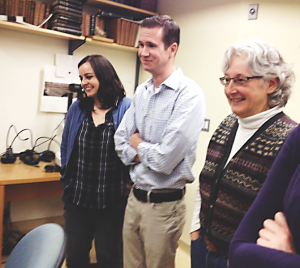 Diane M. Erwin met with other members of the NSF-sponsored Fossil Insect Collaborative Thematic Collection Network (FIC-TCN) for their annual meeting in early November at the Harvard Museum of Natural History and the Harvard Museum of Comparative Zoology in Cambridge, Massachusetts.
Diane presented to the group updates on the digitization of UCMP's fossil insect collections by the Berkeley Fossil Insect team, which joined the FIC-TCN as a Partner to an Existing Network in June, 2015 (http://bfip.berkeley.edu/).
Staff Updates
Erica Clites organized two events to highlighting collections projects in celebration of National Fossil Day. On October 11th 2016, UCMP hosted 40 people at our secure off-campus Regatta facility to exhibit the results of an NSF grant to rehouse the former USGS Menlo Park collection, as well as an IMLS grant to curate the McKittrick tar seep fossils. Representatives from Point Reyes National Seashore, current and former USGS employees mingled with museum staff, curators, graduate students and friends of UCMP over light refreshments. Students who worked on the project returned to see the completion of their hard work! Next we hosted on National Fossil Day, October 12, an open house for Cal undergraduates interested in learning more about the museum and potential future employment opportunities.
Mark Goodwin spent about three weeks in Montana doing fieldwork with colleagues David Evans (Royal Ontario Museum) and Greg Wilson (Univ. of Washington) in the late Cretaceous Hell Creek Formation in eastern Montana. Mark joined Greg and crew in Jordon, Montana, and relocated and confirmed the stratigraphic occurrence of numerous UCMP pachycephalosaur localities. The localities were georeferenced and prospected for new fossils. One of the highlights was the discovery of a baby Triceratops squamosal bone from the frill that covers the neck. Mark also joined Bill Clemens and his daughter and geologist Diane Clemens-Knott for five days in the Hell Creek Formation at Greg's camp. Mark and the Evan's crew also stayed at Dan and Lila Redding's farm along the Canadian border to prospect and map UCMP dinosaur localities in the Judith River Formation. Mark also penned a Memorandum of Agreement between the UCMP and the San Francisco Public Utilities Commission (SFPUC) to support the transfer, preparation and curation of fossils collected from the site of the SFPUC's new Calaveras Dam construction project. Numerous fossil whale skeletons, marine mammal bones and teeth, fish remains, shark teeth and mollusks from the Miocene Temblor Formation will be accessioned into the UCMP. This two-year project provides funding for two graduate students per semester and the summer, undergraduate assistants, a head fossil preparator/lab manager, and education & outreach activities.
Lisa White is PI on new one-year NSF Collections in Support of Biological Research (CSBR) grant to transfer the orphaned Kettleman Hills collection from San Francisco State Univ. to UCMP. Collected continuously by SF State students and faculty for more than 40 years, more than 9000 specimens are in the collection.
Ken Finger will oversee the rehousing of part of the USGS micropaleontology collection thanks to support from a Federal data preservation grant titled: Preparing the way for the transfer of the USGS Pacific Region's microfossil collections to the UCMP.
See-Through Dinosaur Skull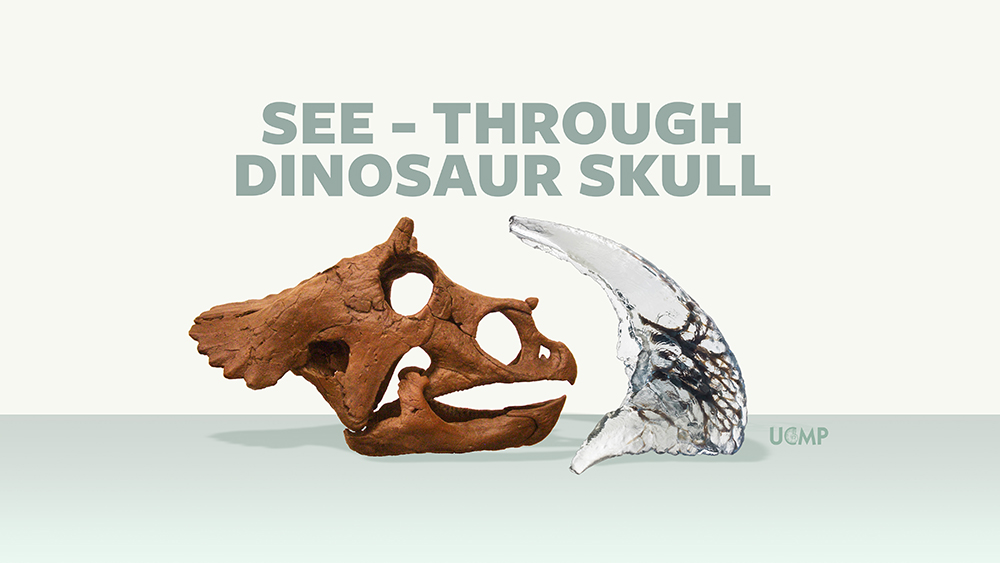 By combining high resolution computed tomography (HRCT) scanning and 3D printing, we now have an opportunity to bring to life for the first time the inner workings of the interior of the smallest and youngest Triceratops yet known from the UCMP collections. This 3D printed "see-through" skull, which we intend to put on display with the current Triceratops growth series in the Marian Koshland Bioscience and Natural Resources Library of the Valley Life Sciences Building, will be the first "see-through" dinosaur skull anywhere! Please support UCMP and the See Through Dinosaur Skull project thorugh the UC Berkeley Crowdfunding Intiative. Thank you! https://crowdfund.berkeley.edu/ucmp.
Friends of UCMP
We would like to welcome the following new or renwing members to our Friends of the UCMP
Benefactor

Suzanne Berry
Jon Charles Graff
Robert W. Kirby, Jr.
Ellen Essigmann
Zhe-Xi Luo* & Sharon Feng
Paul Polly
Sponsor

Don Pecko
Patron

T. Doug Clarke
Ladd Coates*
Phillip Englander
Robert Glass
Stephan Hoffman
J. Howard Hughes*
Rebecca Jabbour*
Joan H. Pennell
Leila Zaremba's 2nd and 3rd Grade classes at Cresmont School, Richmond, CA
Sustaining

Buff and Gerry Corsi
Helen Bernstein
Pam and Ted Davalos
David Johnson
Blake Edgar
Donor

Anders Truong*
Carolyn Schnurmacher
John E. Mawby*
Sarah Davis
Clemens Oral History Fund

Zhe-Xi Luo* & Sharon Feng
Donald L. and Margaret S. Lofgren
Catherine and James Palmer
P. David Polly
Diane Clemens-Knott and Jeff Knot
Elisabeth Clemens
William and Ryoko Clemens

* alumni