UCMP Alums Honored at GSA
Two UCMP alums received high honors at the Geological Society of America (GSA) annual meeting in Seattle in October.
Caroline Strömberg (PhD, Integrative Biology, 2003), Estella B. Leopold Associate Professor in Biology and Curator of Paleobotany in the Department of Biology at the University of Washington, received the Paleontological Society's Charles Schuchert Award. The award honors a member early in their career whose paleontological work refl ects excellence, quality and promise in the science of paleontology. The Schuchert award is among the most prestigious award an early career paleontologist can receive. We congratulate Caroline on the award which recognizes ground-breaking work on the origin and evolution of the grassland biome.
Sterling Nesbitt (BA, Integrative Biology, 2004), Assistant Professor of Geosciences at Virginia Tech, received the GSA Young Scientist Award (Donath Medal). The Medal is bestowed upon a scientist under the age of 35 for "outstanding achievement in contributing to geologic knowledge through original research that marks a major advance in the Earth sciences." In the citation by Shuhai Xiao, Sterling's prolifi c record in vertebrate paleontology is noted as providing insight on the origin and early evolution of dinosaurs after the Permian-Triassic mass extinction. His accomplishments in dinosaur paleobiology have helped reshaped thinking about macro-evolutionary patterns of diversifi cation, biogeography, disparity, morphology, and convergent evolution.
UCMP at GSA
Current UCMP students, staff, and faculty were also a very visible presence at the annual GSA meeting in Seattle. Members of the Finnegan Lab (Seth Finnegan, Adiël Klompmaker,Larry Taylor, Emily Orzechowski, Sara Kahanamoku- Snelling, and Josh Zimmt) and the Looy Lab (Cindy Looy, Ivo Duijnstee, and Jeff Benca) presented during the 4-day conference. Lisa White and her collaborators previewed the Kettleman Hills Virtual Field Experience (VFE) modules and Seth Finnegan, Pat Holroyd and Charles Marshall further highlighted progress in the EPICC project during a session on museums in the 21st century co-chaired by Lisa, Caroline Strömberg, Greg Wilson, and Liz Nesbitt. Project Scientist Jessica Bean impressed audiences with previews of the Understanding Global Change conceptual framework and integrated instructional approaches with partners from the Howard Hughes Medical Institute (HHMI). Students presenting at GSA, SVP and other professional conferences were partially supported by UCMP travel grants made possible by the generosity of UCMP donors.
UCMP at SVP
At the 77th Society for Vertebrate Paleontology (SVP) annual meeting in Calgary, UCMP participants (Pat Holroyd, Ash Poust, Sara ElShafie, and Lauren Fowler) reported on a range of topics from radiographic and histological examinations of how mammals grow to CT studies of how lizard regrow their tails to new isotopic records of climate change. On the outreach front, Lisa White demonstrated how research in past animal dispersal could be taught using an Earth-systems approach to engage diverse audiences.
Director's Letter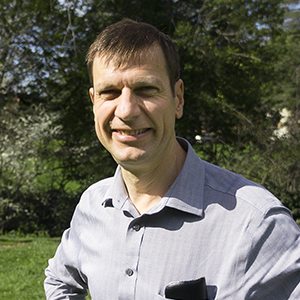 This issue of the UCMP Newsletter is dedicated to our wonderful graduates. When I moved to Berkeley I knew UCMP was strong, but I did not fully understand just how important our undergraduate and graduate programs have been, and continue to be, to paleontology.
Over my now eight years at UCMP, time and time again I have met or learned of paleontologists that I did not know had trained at UCMP. A remarkable number of scientists in programs at all types of institutions across the country have called UCMP home. And so this year, our graduates have been recognized nationally, with Sterling Nesbitt receiving the Donath Medal for outstanding young geologist under the age of 35 from the Geological Society of America, and Caroline Strömberg receiving the Paleontological Society's Schuchert Award for outstanding young paleontologist. Moreover, one of our past Miller postdoctoral candidates, David Jablonski was awarded the Paleontological Society Medal.
Our graduates have also this year published some wonderful books, including: The Giant Spike-Toothed Salmon and Other Extinct Wildlife of Central California by Julia Sankey and Jacob Biewer (my daughter loves this one); The Rise of Marine Mammals: 50 Million Years of Evolution by Annalisa Berta and James Sumich; Collecting Evolution: The Galapagos Expedition that Vindicated Darwin by Matthew James; and Origins of Darwin's Evolution by David Archibald. And last but not least, Denali National Park and Preserve Geology Road Guide by Capps, McLane, and Lucy Chang, our most recent PhD. The more I learn, the prouder I am of the impact everyone is having, and even more thankful for the privilege of serving as UCMP's Director.
Thank you all for what you do!
Sincerely,
Charles Marshall
Student Activities
Dori Contreras received the 2016- 2017 Claire Englander Award from the UCMP for "mentoring undergraduate students in the collections, and in undertaking a major role in representing UCMP collections and the work we do with the iDigBio community." She also presented at two conferences in summer 2017. First, at Botany 2017 (Botanical Society of America) Dori co-ran a symposium on Campanian- Maastrichtian floras on Laramidia, presented a talk, and co-authored a second paper. Second, she gave an invited talk about workflows at the Inaugural Digital Data in Biodiversity Research Conference, sponsored by iDigBio, the University of Michigan Museum of Zoology, the University of Michigan Herbarium, and the University of Michigan Museum of Paleontology in Ann Arbor, MI. We are also happy to report, Dori and her husband welcomed a baby boy, Andreas Marcel Contreras, on October 24, 2017!
Sara ElShafie continues to lead Science Through Story workshops developed out of a pilot seminar at UCMP with Pixar Animator Austin Madison in March 2016. On June 6, 2017, Sara was featured in an article on the UC Berkeley home page. She will be the primary organizer of a symposium, Science Through Narrative: Engaging Broad Audiences at the Society for Integrative and Comparative Biology (SICB) Annual Meeting in San Francisco on Friday, January 5, 2018. A series of manuscripts will be published based on the invited talks in the society's peer-reviewed journal in Spring/ Summer 2018.
Undergraduate student assistant Julia Anderson volunteered with the Natural History Museum of Utah in Grand Staircase-Escalante National Monument during summer 2017. Julia worked on the tyrannosaur, Teratophoneus, which has gained publicity recently due to its remarkable completeness. Later in July, she was field assistant to Isabel Fendley, a doctoral candidate in Earth and Planetary Sciences, in the Hell Creek Formation of Montana. They took samples for geochemical analyses across many coal deposits as well as the K/Pg boundary itself.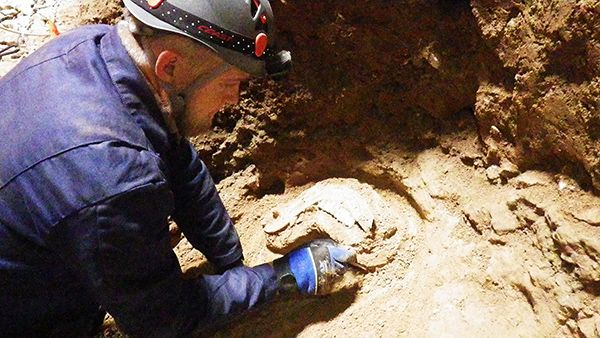 Barnosky Lab graduate students Eric Holt and Nick Spano joined Julie Mechean (Des Moines Univ) along with Barnosky Lab Alums Susumu Tomiya and Jenny McGuire at the Natural Trap Caves in Wyoming; a deep cave with an 85-foot drop monitored by the Bureau of Land Management (BLM). The exploration of this unique site yielded fossils of Pleistocene megafauna with viable genetic material that could provide valuable insight into continental migration patterns, population genetics and climate-driven community changes. Check out this UCMP blog post to learn more about their adventure.
Undergraduate student assistant Zev Brooks spent the summer at the Smithsonian NMNH with Scott Wing (plus some fieldwork in the Bighorn Basin) and he also presented a poster at GSA.
Lillian Pearson and Lauren Fowler exhibited at the Bay Area Science Festival North Bay Discovery Day in Santa Rosa on October 28th. It was a celebration of science for more than 2,000 people affected by the recent fi res and UCMP was happy to support the community through science.
Staff Updates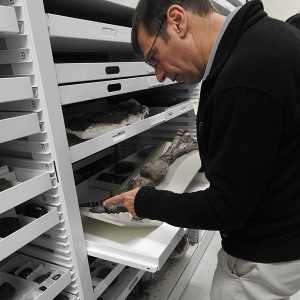 The EPICC TCN had it's third annual meeting, hosted by The Museum of the North at the University of Alaska in Fairbanks in September. UCMP Director Charles Marshall, and Museum Scientists Pat Holroyd, and Erica Clites met with EPICC TCN partners to discuss collaborative research and lay out plans for the coming year. Meanwhile, Assistant Director Lisa White was in Southern California with EPICC partners photographing marine terraces along the Palos Verdes Peninsula in preparation for a virtual field experience (VFE) module.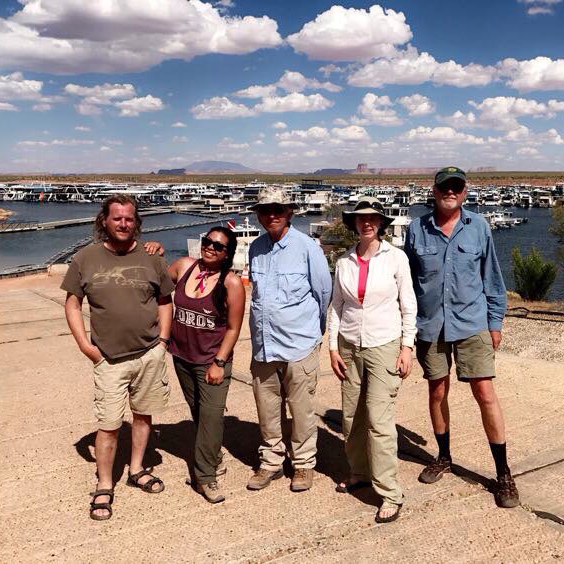 Erica Clites returned to Glen Canyon National Recreation Area in May 2017 to help train a new GeoCorps of America intern in the long-term monitoring of paleontological localities. Before coming to UCMP, Erica spent 2.5 years building a field monitoring program at Glen Canyon in cooperation with National Park Service Chief Paleontologist Vince Santucci, the Utah Geological Survey and scientists at other NPS areas. The group, pictured top right, spent a week visiting and documenting previously unknown localities discovered by professional photographer Andre Delgalvis along Lake Powell.
Pat Holroyd reminds us that with grant support from the NSF and IMLS, we are now serving data for 459,060 specimens from all seven continents and have 29,144 images in CalPhotos. More are still to come, and we are grateful for the support of these programs to give us the chance to share our museum's treasures with the scientifi c community and the public. Progress on these projects was made possible by a team of student assistants working on the Bitter Creek project. Although we are sad to see Saba Saberi, Lydia Linna, and Kathleen Tierneygraduate, we wish them well. We are happy to have Adelaide Cahill return this fall and will be welcoming new students to the project.
Additionally, Pat and Lisa moved approximately 9,000 specimens from the San Francisco State Kettleman Hills collection to the UCMP with support from the NSF Collections in Support of Biological Research grant. Over the summer, undergraduate student Alexis Williams and graduate student Larry Taylor began organizing for the rehouse project.
Diane Erwin attended the annual Society for the Preservation of Natural History Collections meeting held in June at the Curtis Hotel in Denver, Colorado. The meeting theme was, "The Next Generation in Best Practices," and presented a poster entitled, "Enhancing Public Access to UCMP's Fossil Insect Collections Through Digitization and Social Media," for the session on "Public Access to Collections." Her coauthors on the poster were Marwa Ibraheem El-Faramawi, visiting scholar from Egypt and UC Berkeley undergraduates Iyanna Hazzard and Lin Wang.
Over the summer, Adiël Klompmaker worked in the Miocene reef deposits on Cyprus and the Maastrichtian limestones in the Netherlands. While in Europe he examined collections at the Oertijdmuseum and Natuurhistorisch Museum Maastricht in The Netherlands; and the Naturhistorisches Museum Wien, in Vienna, Austria.
What's new in the collections
New cases for new fossils
Thanks to support from two NSF grants, UCMP was able to purchase much needed casework to house its growing collections. The eight three- foot high cases will house the SFSU Kettleman Hills collection and four four-foot high cases will house Dori Contreras' dissertation collection of plant fossils from the Turner Ranch in New Mexico, a site now known for producing the most diverse Cretaceous fl ora discovered thus far in North America.
Re-opening the Prep Lab

Assistant Director Mark Goodwin and Senior Museum Scientist Cristina Robins received fossils from the San Francisco Public Utilities Commission (SFPUC) Calaveras Damn project. Cristina started as the UCMP fossil prep lab manager in June 2017 for a two-year position. UCMP is working in partnership with the SFPUC to accession, prepare, and curate the fossils found at the Calaveras Dam site near Sunol. Many excellent fossils were obtained from the site and provide important paleoenvironmental data on the area. The collection includes vertebrate, invertebrate, and plant fossils preserved from the Miocene-aged rocks surrounding the Calaveras Dam construction site. The dust of disuse was traded for the dust of active preparation in the prep lab. The main vertebrate fossils being worked on are whale skulls. There are 17 skulls from the Calaveras site, with the largest over 4 feet long (1.2 m). They require many hours of meticulous concentration to painstakingly separate. Luckily, UCMP has funding from SFPUC for graduate and undergraduate students to work in the prep lab. Currently, Graduate student Ash Poust is working in the lab, with undergraduates Xena Ross, Peter Dangsangtong, and Sidhant Idgunji rounding out the workforce. Xena, Pete, and Sid will be returning next semester. Graduate student Mackenzie Kirchner-Smith will also join in Spring 2017.
New Prep Lab Manager
The UCMP was pleased to welcome Cristina to the UCMP staff this past summer. She is an invertebrate paleontologist by training and has a love for all fossils. She earned her PhD from Kent State University in 2013, working on fossil squat lobsters (sister group to hermit crabs; Jurassic-Recent). After a short stint as a curatorial assistant at the Florida Museum of Natural History, she became the project manager for the salvage paleontology project known as PCP PIRE (Panama Canal Project), an NSF-funded program to excavate the fossils from the construction zone surrounding the expansion of the Panama Canal. This was a collaboration principally between the University of Florida and the Smithsonian Tropical Research Institute.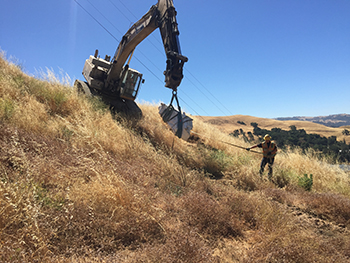 Friends of UCMP
We would like to welcome the following new or renwing members to our Friends of the UCMP
Benefactor
Suzanne Berry*
Bruce Lander *
Judy Scotchmoor* and Roland Gangloff*
Patron
Ladd Coates *
Robert Glass
Stephen Hoffman
John E. Mawby *
Todd Olson *
Joan H. Pennell
Sustaining
Fran Tannenbaum Kaye *
Donor
Ronald L. Felzer *
Marian Gonzalez
John E.B. Stewart *
Brian Swartz*
* alumni
2018 Fossil Treasures Calendar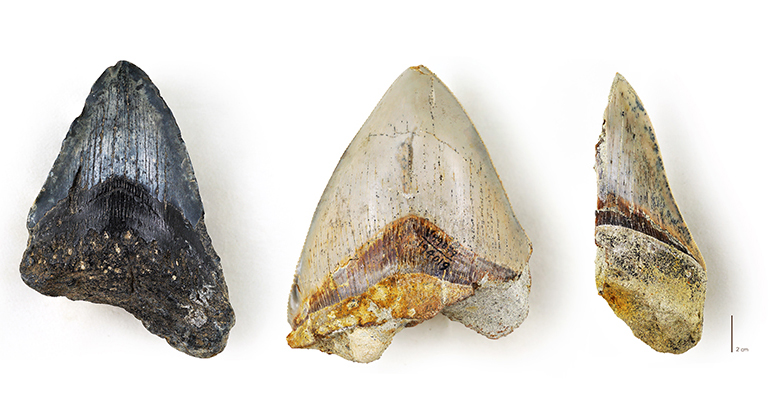 UCMP 2018 Fossil Treasures Calendar posters on sale!
This year the calendar is in poster form and is 24 x 18 inches (60.96 x 45.72 cm) and printed on 110 lb glossy stock.
$5 + shipping. Please contact Chris Mejia (cmejia@berkeley.edu) for yours today!
Quote on the poster "These serrated, triangular teeth belong to Carcharodon megalodon, an extinct marine predator related to sharks. The teeth range up to 17.5 cm (7 inches) in length. An early reconstruction of Carcharodon from its teeth suggested that this shark reached 30 meters (100 feet) in length. A revised estimate of the size of Carcharodon puts its length at 12 meters (40 feet) – about twice the size of the largest great white sharks of today! The teeth featured here are roughly 11.5 cm (4.5 inches) and are from Sharktooth Hill in Kern County, California. Today a desert in the Central Valley, 15 to 16 million years ago it was an inland sea filled with whales, sharks, seals and shells."