Conference Wrap-Up

Technical Program
Symposia
Workshops
Field Trips

North American
Paleontological Convention 2001
NAPC 2001 was dedicated to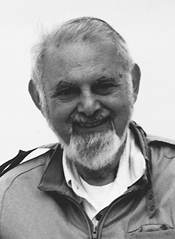 Ellis Yochelson
Paleontologist extraordinaire, concerned environmentalist, paleontological historian, and founder, supporter and strong advocate for the North American Paleontological Conventions, starting in 1969.
The North American, and indeed, the world's paleontological community thanks him for his vision and energy.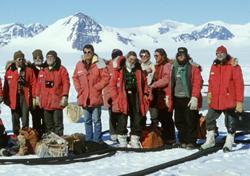 Photo captions:
Top: A portrait of Ellis taken on a field expedition to collect billion-year-old fossil "metazoans," Perth, Australia, 2000. Photograph by M.A. Fedonkin.
Right: Ellis (fifth from right) on an expedition in the Ellsworth Mountains, West Antarctica, in the 1979-1980 season, where the work focused on the Cambrian to Devonian rocks of the Heritage and Crashsite Groups. Ellis and John Pojeta described a wonderful Upper Cambrian molluscan fauna. The expedition's results were published in GSA Memoir 170 (1992). Photograph, taken at the expedition's base camp on the Minnesota Glacier between the Sentinel and Heritage Ranges, courtesy of John Pojeta.