Meet Christine Mejia
We would like to welcome Christine Mejia to UCMP! Chris will be working in the front office and will provide general support for our administrative needs. Chris comes to us from John F. Kennedy University School of Law in Pleasant Hill and we are delighted to have her on board.
From staff to graduate student
Many thanks and congratulations are due to both Colleen Whitney and Robin Walker as they "leave" UCMP and begin their careers as graduate students. Colleen joined UCMP in 1999 working on special projects and eventually becoming the UCMP Webmaster. As such, she upgraded the site substantially, added new features such as the UCMP news, and Mystery Fossil. She has also modernized and integrated the UCMP databases and provided a web interface that provides easy access to specimen data for both the research and education communities. Colleen has been accepted into the Masters Program at the School of Information Management and Systems here on campus, but will maintain her connection with UCMP by continuing her work on the UCMP database and on the Paleontology Portal project.


Robin started her work with UCMP at the front desk in 2004. She found a niche at the museum working on our archival materials, and thanks to a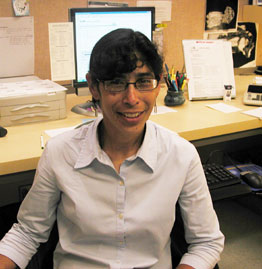 Above, new administrative assistant, Chris Mejia. Below, Robin Walker (left) and Colleen Whitney are both beginning graduate programs of study this fall. (top photo by Judy Scotchmoor; bottom photo by Kacey Ballard)