• Congratulations are due!

To Jere Lipps for his election to President of the Cushman Foundation for Foraminiferal Research, Inc. for 2001–2002.

To Dr. Healy Hamilton for her disseration, "Phylogeny and Evolution of River Dolphins." Healy will be joining the California Academy of Sciences as head of the Center for Biodiversity Research and Information.

To Dr. Tom Stidham for completing his dissertation, "The Origin and Ecological Diversification of Modern Birds: Evidence from the Extinct Wading Birds Presbyornithidae (Neornithes: Anseriformes)."

• A farewell and thanks to Axel Hungerbuehler and Simone Klutzny

Axel visited us some time ago, supported by the Welles Fund, to work on the taxonomy and biostratigraphy of our phytosaurs. He took such good care of them that we contrived to attract him back to combine his further research with curatorial duties. Anyone who has seen his meticulous reassembly of our disassociated phytosaur skulls (which look like they died by swallowing a hand grenade) will have only the utmost respect for his craft. And, as his future publications will show, he has managed to reshuffle the taxonomy and relationships of many of these animals as well!


The great added bonus was Simone. Her fascinating work on the development of mammalian skulls was a great topic of discussion and education for us all.


We must also thank them for being an instant "welcome wagon" for a great many visitors who stayed at their apartment while working in the collections—and always left with glowing reviews for their impromptu B&B. Axel and Simone are now heading for the wilds of Texas, where Axel will begin work on the Triassic faunas with Sankar Chatterjee at Texas Tech and Simone will continue her developmental work. We wish them the very best! — Kevin Padian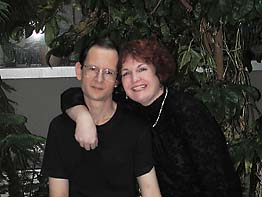 Axel and Simone. (photo by Judy Scotchmoor)
---
• Visitors to the Collections

The vertebrate and plant collections saw a lot of traffic in 2001. Museum Scientist Pat Holroyd reports a total of 95 visitors (these include, among others, researchers, companies doing records searches, and visiting paleontologists) to the vertebrate collections for the year, while fellow Museum Scientist Diane Erwin tallied 29 visitors to the plant collection. Visitors came from as far away as Brazil, Germany, Russia, Australia, Great Britain, Japan, and South Africa.


The Museum lacked Museum Scientists to oversee the invertebrate and micro collections so records of visitors to these two are scanty—at least 11 visitors are known to have used the invertebrate collection during the year.
Return to the Front page


January, 2002