The group departed for Alaska on July 8. Below, the group and their gear at the Anchorage airport.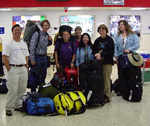 Each day, members of the team wrote a journal entry for the day. This update (photos and journal entries) was sent from the field on July 15, as the teachers reached the end of the first leg of their journey: road trip from Anchorage to Fairbanks. Read each day's journal entries to follow the group's progress
July 9: "After breakfast...we went on a rockin' walk around the rocks (the University of Alaska, Anchorage's fantastic rock garden) where we met Phil and a host of other residents with remarkable past lives." Read more...
July 10: "Today we began our drive up the Glenn Highway on our field trip to Fairbanks. As we began to pack the vans for the trip, we were greeted by a young velvet-antlered moose..." Read more...
July 11: "We awoke at drenched Glacier View Campground with just enough time to take down our wet tents before the rain began to pick up again..."Read more...
July 12: "...Driving through the spectacular Alaska Range we headed towards the fossil site on colorful Rainbow Mountain..." Read more...
July 13 & 14: "...After a brief briefing of the next few days' agenda, we all left for the University of Alaska Museum. At the museum we saw a wonderful collection of dinosaur stuff..."Read more...
On to Tales from Alaska, Part II...