About UCMP : UCMP newsletter
Cataloging-the-archives project reaches a milestone and looks to the future
Though the UCMP collections are mainly focused on the fossil relics of Earth's deep history, the institution also houses many "specimens" from the recent past. Because the collections date back to 1869 and beyond, they include many documents relevant to the history of California and of paleontological research — dig photographs, field notes, and a wide variety of material revealing fascinating connections between the process of science and its social and cultural milieu. However, this archival material had never been formally cataloged and was left in further disarray after the move from McCone Hall to the Valley Life Sciences Building in 1995. The Cataloging Hidden Special Collections and Archives grant from the Andrew W. Mellon Foundation aimed to change that.
Now, after three years of grant support, more than 80% of the archival material has been cataloged and is ready to reach a broader audience. One of the primary goals of the grant was to create online finding aids to allow researchers and other interested parties to easily search for and locate any of the thousands of items housed in the UCMP archives. This historical treasure trove includes detailed field notes, annotated papers and maps, original drawings, scientific illustrations, newspaper clippings, collections ledgers, photographic documentation of specimens and field sites (16 mm film, lantern slides, glass negatives, 35 mm slides, and prints), professional and personal correspondence, research notes, administrative documents, manuscripts, and more. Check it out for yourself.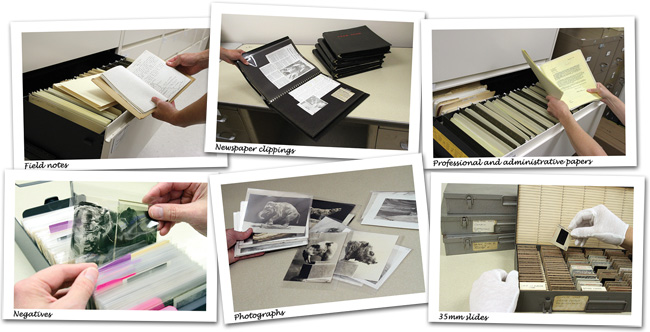 The project was eye-opening to UCMP workers because no one realized quite how many historical records had been squirreled away over the years, and they number in the thousands. For anyone interested in University of California history, digging into the archives was an exciting experience. You never knew what you were going to find next!
Museum staff and volunteer interest in the project manifested itself in several ways that went above and beyond the original requirements of the grant:
Most of the labor needed to create the finding-aids and rehouse archival holdings was performed by six graduate students,12 undergraduates, and two non-student volunteers. Graduate student support was provided by the Mellon foundation, while most of the undergraduates were hired through the University Research Apprentice Program (URAP), which provides students with opportunities to work on campus research projects for academic credit. We'd like to thank all the students and volunteers who worked on this project:
Though we've made significant progress in improving the accessibility and searchability of our archives, there is much left to do. Future work on the archive project will rely on URAP students and volunteers, and will aim to complete the online finding aids as well as to organize and consolidate all the cataloged material in designated storage areas. This project marks yet another new chapter in the storied UCMP history and one that bridges invaluable written and photographic material with our fossil collections providing a richer context of the UCMP for our users.
To learn more about the archiving grant, check out these links.