About UCMP : UCMP newsletter

UCMP participates in campus-wide initiative on global change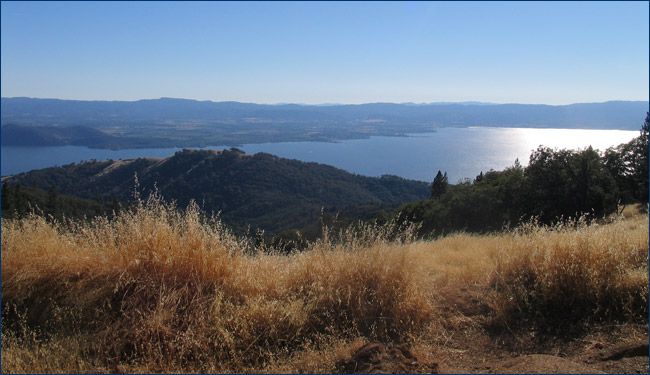 Sediment cores taken from Clear Lake, CA, may provide data that will help refine existing models used to predict biotic responses to future climate change.
Though it seems that most people agree that we can learn from history, what we can learn may not be fully appreciated if it does not extend beyond reminding us not to repeat previous mistakes. And how "history" is defined varies greatly and is usually much shorter in numbers of years than we at UCMP might prefer. For the campus-wide Berkeley Initiative in Global Change Biology project (nicknamed the BiGCB) however, the paleo perspective is not only alive and well, it is playing a pivotal role in an "integrated analysis of fossil, historic and current data to uncover new knowledge of California ecosystems responses to environmental change, which will enable predictions of future ecosystem changes."
Though planning and initial activities for BiGCB have been underway for some time, it is only recently that two large grants from the Gordon and Betty Moore Foundation (~$ 2.5 million) and W.M. Keck Foundation (~$ 1.5 million) have provided the support needed for a suite of projects that involves the participation of faculty members in eight departments and four of the Berkeley Natural History Museums on Berkeley's campus, including UCMP and IB faculty Tony Barnosky, Cindy Looy, and Charles Marshall and UCMP Curatorial Associates Roger Byrne and Lynn Ingram of Earth and Planetary Sciences.
Of particular interest to UCMP is one of seven funded research projects led by Cindy Looy that is examining how California biota responded to climate changes in the past, as this will help to inform predictions of biotic responses to future climate change. Previously, quantitative data of past changes have been restricted to a short time frame (the last century); however, the sedimentary record of Clear Lake (south of Mendocino National Forest in Lake County), can provide data that extend back at least 130,000 years, through the current interglacial, the last glacial, and into the previous, slightly warmer interglacial. By taking a core of these thick sedimentary layers, we will be able to generate quantitative environmental, climatic, and biotic data that will be highly informative for testing and refining existing models used to forecast biotic effects of global change. There will be a lot more information about this project and the BiGCB in future issues of the UCMP News!