About UCMP : News and events : UCMP newsletter

A bit of history

A bit of history catches up with UCMP Over the years, paleontology at Cal has moved around a bit on the campus. From 1931-1961, both the Department of Paleontology and the Museum were housed in the Hearst Mining Building along with the collections and exhibits. The next move was to the Earth Sciences Building (now McCone Hall) and then here to the Valley Life Sciences Building. On June 6 of this year, a bit of that history was returned to UCMP.

Following the move to McCone, the hand-painted, wood sign designating the location of the department and museum was taken down and "saved" by then graduate student Ed Wilson, who took it with him to the Los Angles County Museum of Natural History. Ed later passed it on to George Kennedy (curator of Cenozoic invertebrates at the LACM),who looked after it for decades, but also recognized that it really belonged to Berkeley. This past June, at the Western Society of Malacologists meeting at the USGS in Menlo Park, George presented the sign to Jere Lipps so that it could be returned to its rightful home. After 47 years, the sign remains in good condition and is now back where it belongs.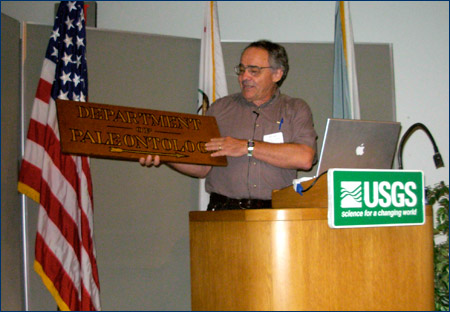 Jere Lipps sees the return of the Department of Paleontology sign that disappeared from the Hearst Mining Building 47 years ago.