Who deserves the credit for introducing Annie Alexander to the wonders of paleontology? It wasn't John C. Merriam. It was Annie's friend Martha Beckwith. While the two women were on a 10-week visit to Crater Lake in 1899, Martha piqued Annie's interest in geology and fossils. It was also Beckwith who encouraged Annie to audit classes at the University of California in Berkeley. Annie took her first paleontology class with Merriam in the fall of 1900 and almost immediately fell in love with the subject. Before long, Annie began to fund some of Merriam's expeditions and accompany him and other paleontologists into the field to collect fossils.1
The 1901 Fossil Lake Expedition
by David K. Smith, with major contributions by Professor of Geology Connie Soja, Colgate University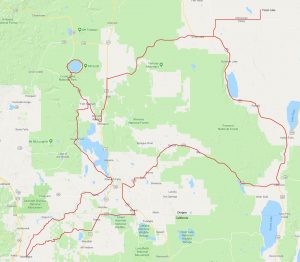 In February of 1901, Merriam invited Annie to join him and his wife on an expedition to Shasta County but she declined, preferring instead to organize her own independent collecting expedition. In April, Annie discussed this idea with Merriam and he proposed two possible options: (1) to join a party climbing Mt. Hood and then to meet Merriam later in the John Day region of central Oregon or (2) to take a party to Shasta County in northern California to collect Triassic vertebrate fossils. It was the latter option that appealed to Annie, however, just three weeks later Merriam urged Annie to consider another plan that would instead take her to Fossil Lake, a desert region in central Oregon where large quantities of Quaternary fossils — primarily birds and mammals — had been found.2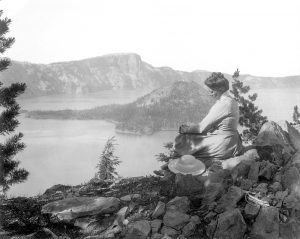 Since Annie would be collecting on behalf of the University, Merriam provided the expertise: Herbert W.F. Furlong, a 29-year-old student who worked as a preparator for Merriam, and William B. Greeley, a 21-year-old student. An African American fellow named Ernest was hired on as the wagon driver and cook. Since it was improper for a lone woman to travel with a group of men, Annie invited a teacher friend, Mary E. Wilson, to join her on the expedition.3
Furlong advised Annie on all aspects of the trip preparations — wagon, horses, provisions, kitchen gear, etc. It was decided that the expedition would set out from Yreka in northern California so Furlong went up two weeks early to procure the horses. Even before setting out, Annie fully intended to return from Fossil Lake via Crater Lake, wanting to see it again after her trip there two years prior. A 14-year-old boy named Willis, probably from the Yreka area, somehow attached himself to the expedition and traveled with the group.4
The six-person expedition left Montague, just east of Yreka, on May 30 and headed northeast. They passed near present-day Dorris on US-97 and turned east, crossing what is now the Lower Klamath National Wildlife Refuge to Merrill, Oregon. They traveled roughly north to Olene and then followed the route of present day OR-140 to Dairy. Here the group left the OR-140 route and traveled a fairly direct path to Bly, bypassing Beatty. From Bly they had hoped to cross over the mountains to Summer Lake but reports of snow forced them to take a long detour east to Lakeview, again following today's OR-140.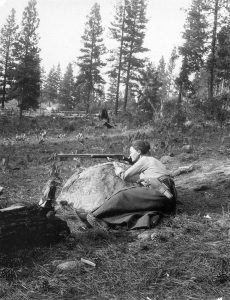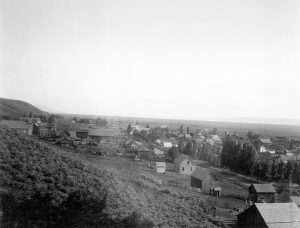 From Lakeview the group traveled NNW along what is now US-395 and OR-31 through Paisley and Summer Lake to Silver Lake. In Silver Lake they recruited the local fossil expert, George Clayton Duncan, to guide them out to the fossil beds east of Christmas Valley. Fossil collecting had been going on since the late 1870s but there were still fossils in abundance. Annie described their activities in writing to Martha Beckwith:5
We have been to Fossil lake and brought out about 300 pounds of fossils. More than we expected after learning how many parties had been in there on the same errand. … Our collection consisted mostly of Hipparion [an early horse] bones. Besides these were a few camel and elephant bones, rodents and birds. I found over one hundred perfect bones but a good part of them were knee joints of a variety of shapes. They may prove to belong to more animals than we think for but that remains to be seen. The lake proper that is the old bed of a lake that once existed is about ten miles long by two broad. We spent five days collecting, going west the first day, north the next and so on. The fifth day we spent riding about the country outside of the lake limits. The bed for the most part is blown quite free of sand leaving the fossil bones, generally fragments, perfectly exposed, but the best ones I found — a horse's hoof, teeth, and five bones belonging to the fore leg I dug out of the sand — just enough stuck out to show something was there. It was hard work but exciting.6
7
When through collecting, Furlong and Greeley left the group and rode north to see if they could determine how the John Day fossil beds related to Fossil Lake's. When the pair returned, the expedition began the trek back to California by way of Crater Lake. The group probably headed west from Silver Lake and crossed over the Fremont Mountains to Klamath Agency, just west of US-97. From there, they followed what is today's OR-62 through Fort Klamath to Crater Lake. They camped there for several days, climbing peaks along the crater's rim and boating on the lake.8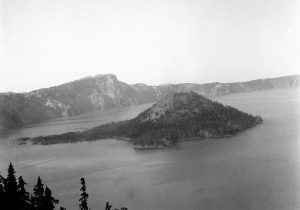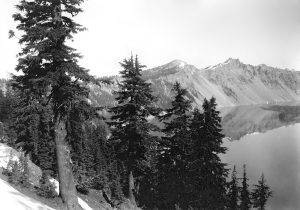 During one hike, Annie lost a camera over a cliff; fortunately, she brought two. She had bad luck with cameras. The following year, on an expedition to Shasta County, she lost another when a fire swept through camp.9
Greeley had to make an early departure from Crater Lake in order to start a teaching position he'd been offered. The remaining members of the expedition backtracked to Fort Klamath, and then headed south to the northwest end of Upper Klamath Lake. Annie, Mary and Furlong took a boat across the lake to Klamath Falls while Ernest and Willis took the wagon and horses around it. From there, they followed the Klamath River into California and passed through Ager on their way back to Montague, arriving on August 13, almost 11 weeks after their departure.10
The Scrapbook
In the UCMP archives, right alongside Annie Alexander's Saurian Expedition of 1905 scrapbook, is a second scrapbook chronicling the 1901 Fossil Lake Expedition that was put together by Mary Wilson. This one contains more photographs than Annie's but far less text. What text there is provides a day-by-day accounting of the expedition's travels as well as some of each day's highlights. Mary wrote few captions so one is left to make inferences about who's who in the photographs. The scrapbook is not in great condition so in an effort to reduce the need for further handling, the text was transcribed, the photographs scanned, and a pdf document was created (see the link below).
There are some unresolved questions regarding the Fossil Lake scrapbook, such as how did the scrapbook come to be at UCMP? Did Mary Wilson take the photographs? In the photographs, who's who? After conferring with Professor Connie Soja, I have made some best guesses.
Scrapbook at UCMP: In looking closely at the handwriting in the scrapbook, Connie determined that the words written across the top of the first page — "Notes by Mary E. Wilson" — were made in a different hand, that of Annie Alexander. One possibility is that the scrapbook was presented to Annie by Mary as a gift and that Annie wrote the "title" as a reminder of who put together the keepsake. If this was the case, perhaps both scrapbooks came to UCMP at the same time following Annie's death in 1950.
Photograph origins: Mary Wilson could have taken the photographs but there is no mention of her doing so or even having a camera with her on the expedition. Annie Alexander took two cameras with her on the expedition. One was lost when it went over a cliff at Crater Lake, but in a letter to her friend Martha Beckwith, it is clear that she used the second camera for most of her photography. In a Fall 1901 letter to Martha Beckwith, Annie wrote "I'll send you some of the photos I took while at Crater Lake. They might be a great deal better but the films I over exposed." Many of the Crater Lake photographs in the scrapbook are overexposed so I believe that the majority, if not all, of the photographs in the scrapbook are Annie's and that she had prints made for Mary who then used them to create the scrapbook.
Who's who: Identifying Ernest, the only African American on the expedition, was easy, but figuring out who was Greeley and who was Furlong was not. It helped to know that Greeley was 21 and Furlong was 29 at the time of the expedition. In addition, a photo of Furlong from the 1903 Blue and Gold Yearbook revealed that he had a long, straight nose and long ears. On page 11 of the pdf is a photograph of a man standing next to a Native American; the man's nose and ears suggest that we're looking at Herbert Furlong. A younger-looking man with an aquiline nose shows up in a few photographs and I believe this to be Greeley. I don't think that the 14-year-old Willis is recognizable in any of the photographs. Distinguishing Annie from Mary wasn't too hard — Mary was a bit heavier than Annie and kept her hair in a bun on top of her head; Annie's bun was at the back of her head. Mary also had a sun hat shaped something like an inverted basin that made her easy to spot.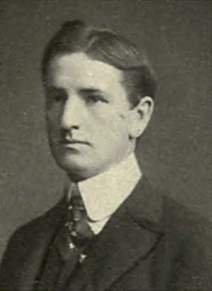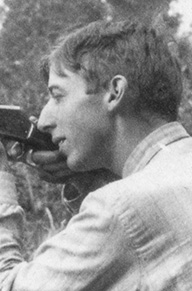 View the pdf of the 1901 Fossil Lake Expedition
Read about Annie Alexander's Saurian Expedition of 1905 to the West Humboldt Mountains of Nevada
A fairly large collection of Alexander correspondence and other related documents are held in the UCMP archives. See the online finding aid.
The Participants
MARY ELIZABETH WILSON (1869-1949)
Mary Wilson was born in Helena, Montana, in September 1869 to Enoch Henry Wilson (1829-1890) and Joanna Halsted McIntire (1844-1921). She had one older brother, Arthur B. Wilson (1865-1929). Sometime prior to 1880 it appears that Enoch and Joanna divorced, with Joanna taking Mary and her brother to Oakland, California. Mary graduated from Oakland High School in 1887, then headed east to attend Smith College where she became president of her Senior Class. She graduated with a bachelor's degree in 1892, then returned to Berkeley to earn a Master of Leadership (in Education) degree four years later.
Mary taught English in San Francisco at Miss Murison's School (probably where she was at the time of the Fossil Lake Expedition) until the 1906 earthquake, which destroyed the school. She then crossed the Bay to teach at the Anna Head School for Girls at 2538 Channing Way in Berkeley. Moving to the East Bay, Mary looked after her aging mother until Joanna's death in 1921. Mary never married.
When Anna Head retired in 1909, Mary purchased the school and ran it for 29 years until her own retirement in 1938. The Head School later merged with the Royce School and became today's Head-Royce School, now in Oakland.
As if running a school wasn't a big enough challenge, Mary was involved in many other things. She was a member of:
The Smith College Society of Northern California (president from 1915-1918)
The Fortnightly Club (president from 1922-1924)
The Berkeley Town and Gown Club (president in 1925)
The Women's Club of San Francisco
The National League for Women's Service in San Francisco
The Pacific Coast Association of Collegiate Alumnae (vice president from 1912-1915)
The Young Women's Christian Association
The Claremont, Mount Diablo, and Orinda country clubs
She translated two books on child development and was active in the American Association of University Women and National Association of Principals of Schools for Girls (as president)
Mary was awarded an honorary degree — Doctor of Humane Letters — by Smith College in 1931
Mary died in Oakland on March 5, 1949, one year and nine months before Annie Alexander. That same year a scholarship fund was established in Mary's name by Smith College.11
HERBERT WILLIAM FIELD FURLONG (1872-1940)
Herbert Furlong, older brother of Eustace, was born in San Francisco on March 14, 1872. He moved to Berkeley to attend the university and while a student, became a preparator for John C. Merriam. Herbert participated in at least four of Merriam's fossil collecting expeditions: two to the John Day fossil beds of central Oregon, one to Fossil Lake in central Oregon, and one to Shasta County.
Herbert graduated from UC Berkeley in 1904. In his junior and senior years at Berkeley, Herbert was a member of both the Winged Helmet, a junior honor society established at UC Berkeley in 1901, and Phi Sigma Delta. He was a member of the Artist Club and served as Secretary and Treasurer of the English Club, the latter being established in 1903.
Outside of paleontology, Herbert had contact with two participants (not counting his brother Eustace) in the 1905 Saurian Expedition while at Berkeley. Malcolm Goddard overlapped with Herbert at Phi Sigma Delta in 1904. The 1903 Blue and Gold Yearbook puts Herbert on the Reception Committee for the Junior Promenade (November 29, 1901) along with Edna Wemple.
A year after graduating, Herbert married Martha Bowen Rice (1881-1974) and they were to have two children, Houghton Field Furlong (1907-1979) and Marjorie Jane Furlong (1908-1983).
Herbert took a job at the Pacific Commercial Museum in San Francisco. The Museum was a "public institution organized for the purpose of facilitating commercial relations among the countries on the Pacific Ocean." Herbert did not stay at the Pacific Commercial Museum for long. In 1910 he and his family were living in Pleasanton. Ten years later they were living in Oakland where Herbert was an engineer in the agriculture industry. In 1930 the family was back in Berkeley and Herbert was "self-employed." Shortly thereafter, the family relocated for the last time, settling in Santa Barbara. Herbert died there on August 9, 1940, at the age of 68.12
WILLIAM BUCKHOUT GREELEY (1879-1955)
William Greeley was born on September 6, 1879, in Oswego, New York. Not a lot is known about him. He was living with his family at 1701 Euclid Avenue in Berkeley while he was a student at the university. After college he got into forestry and lumber.
William served in the U.S. Army during WW I, achieving the rank of Lieutenant Colonel.
He married Gertrude Maxwell Jewett (1878-1970) in Berkeley in 1907. They were to have one daughter and three sons. Not long after the birth of their first child, the Greeleys moved to Missoula, Montana, but relocated to the Washington, DC, area around 1911. Sometime before 1930 the family returned to the West Coast, settling in Seattle, Washington. William died in Port Gamble, Washington, on November 30, 1955, at the age of 76.13
Sadly, there is no information about the camp cook and wagon driver Ernest, nor the boy Willis, not even their last names.