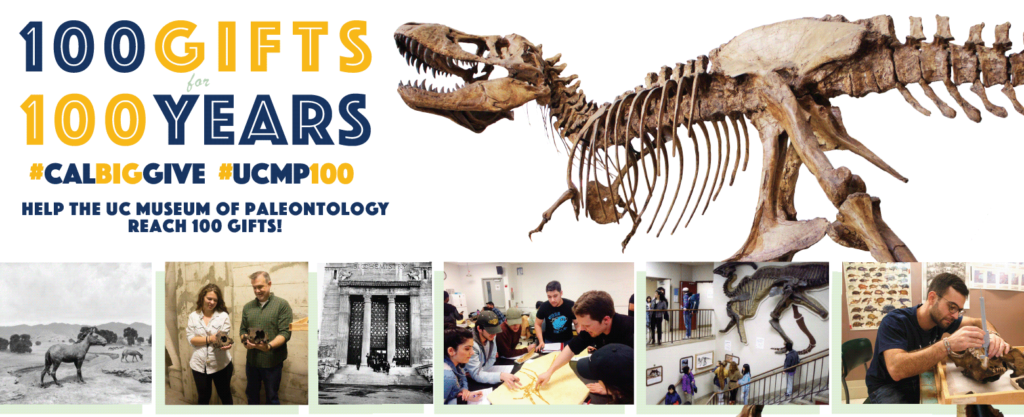 The UC Museum of Paleontology turns 100 this year! As part of this celebration, we'd like your support to help us reach 100 Gifts to celebrate our 100 Years, with the goal of making a significant contribution to our Education and Outreach Fund. Your gift to this fund will support expansion of our education and outreach efforts, helping us to reach broader, more diverse audiences
On March 14, 1921, the museum was officially founded when the campus accepted a generous sum from our benefactor, Annie Alexander. Her endowment has helped keep us going for 100 years. Now we want to build upon that legacy, looking towards our next century with a special focus on serving diverse audiences through education and outreach.
Over the last hundred years, the UCMP has become a leader – not just in the field of paleontology, housing the largest fossil collection associated with a university, but also in science education. We were a pioneer in providing free, educational web resources, establishing our home page all the way back in 1993 . Later, UCMP launched the award-winning websites: Understanding Evolution in 2004, Understanding Science in 2008. We've most recently added Understanding Global Change in 2020. Just this past year, the combined number of unique visits to these sites reached over 14 million views!
We are also taking our outreach in new directions with projects to bring evolution-themed games to rural libraries across the country and bringing community college classes to campus (both virtually in irl!) for specimen-based lab experiences.
Your gift during this drive will help us sustain and expand such programs. If you'd like to give, follow the link here: UCMP Education and Outreach Fund.
Follow us @ucmpberkeley on Facebook, Twitter, and Instagram with the hashtags #UCMP100 and #CalBigGive for updates on our BigGive progress!