The Education and Outreach team has been busy creating interactive resources for educators and teachers. We invite you to explore some of our most recent projects: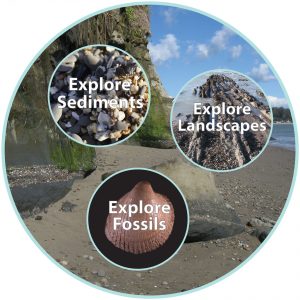 EPICC virtual fieldwork experiences (VFEs) provide opportunities to virtually visit classic paleontological field sites along the Pacific coast and to explore images and data from specimens that have been collected there. VFEs can combine high resolution and 3-D pictures for exploring an outcrop, images of fossils (snails, clams, sand dollars, and others) in place and in museum collections, geological maps and satellite views, and much more.
Developed in collaboration with HHMI Biointeractive, this web tool charts the development of a scientific idea or investigation.
This interactive module allows students and educators to build models that explain how the Earth system works. The Click & Learn can be used to show how Earth is affected by human activities and natural phenomena.