Working in a paleontology prep lab as an Anthropology major who leans towards cultural analysis was something that seemed out of left field for me. I was sitting in the corner of a lab that was strewn with rocks and fossils that I didn't know yet were fossils for my job interview, and I was asked to give more detail on my experience in art. I didn't really expect it to be something that would be so important to my job here at the Museum of Paleontology, but my experience outside of the "hard sciences" really lent itself to a lot of situations that I did not anticipate.
From the first day, I constantly had to reach into my proverbial tool box of mismatched skills to make the labor there easier. I had to paint even strokes of white gesso for labeling specimens with catalog numbers and write incredibly small to fit the series of numbers that indicate which specimen it is in the daunting, and continuously growing Excel sheet. Just recently, I got to experience molding and casting a specimen, and it brought me back to the days where I had to create sculptures for a studio art class. I learned that when Cristina, my boss, said "It's like a three-dimensional puzzle," when describing how to fit broken fossil pieces together, never to doubt how accurate she is with describing a job. Not that I did in the first place.
The understanding of space in art was really quite similar to fitting fossils together, looking at an array of pieces that you initially think are just a hodge-podge of fragments and starting to see how they all connect is very much like putting together a composition in a frame. There is something to be said about how art teaches someone to look at a bigger picture, and when working with puzzle pieces that required two hands to lift and place in position, it was a BIG bigger picture.
I'm writing this piece as a testament to the reality that science is not a field that needs a single kind of mind. I often think of the growing cultural divide between STEM, social science, and liberal arts, and it is disheartening to see the disparaging narratives being constructed about all of them. The place where I work is a space where many different kinds of people come together and work towards a common goal; how to fit a humongous whale cranium piece where it's supposed to go and not get your finger crushed.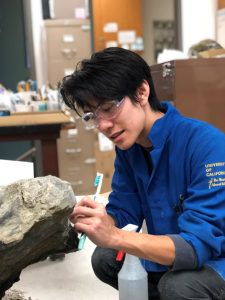 I think that there is an increasing need for diverse kinds of people working towards the same thing, not just in Paleontology, but also in every single space of labor and research. I learned that in the lab, sometimes we just aren't able to finish a project, and someone else will take one look and figure out the issue with a glance, and that's okay. When we as academics and researchers try to carry the world on our shoulders, it's hard to see the bigger picture which includes many pieces that are truly too vast to carry on our own.