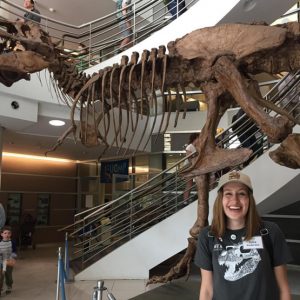 Throughout my whole life I have known that I would make my passion my career someday. However, the road to success in vertebrate paleontology can be a rocky one (no pun intended), sometimes without direction or opportunity. Fortunately, the University of California Museum of Paleontology seeks to help aspiring scientists, such as myself, obtain hands-on experience in the field of paleontology! My name is Julia Anderson, and I am a senior undergraduate student, actively seeking my place amongst the paleontologists I aspire to be. For me, working in the UCMP paleontology preparation lab has given me the insight and skill set to succeed not only in fossil preparation, but in my own life as well.
In this blog entry, I will detail the top five things that I have learned in the past year, working in the UCMP fossil prep lab, in hopes that other aspiring paleontologists will learn from both my mistakes and my successes!
1. Never sweep someone else's work station!
The best lessons learned are by making mistakes. Well, guess what? In the fossil prep lab, I make A LOT of them! One mistake that particularly sticks in my mind is when I swept the work station of a grad student working in our lab. She was assembling a section of skull from an extinct whale and was working with some very messy tools. Looking to clean up, I came over with a broom and dust pan, and made the station spotless! However, once she came back, I understood my mistake. In my haste, I had swept away tons of tiny bone fragments!
The lesson I learned, which is one that every prep lab assistant must learn at some point, is that every fossil is important, no matter how small. At the UCMP, we care about every fragment of fossil that comes into our lab!
2. Turns out, you don't have to stop solving puzzles after you've grown up.
Have you ever solved a puzzle that is not only 3D but 15-20 million years old and does NOT have a known solution? Well I will tell you, it is quite difficult! In the fossil prep lab, most of the fossils we take in are in need of repair. However, even though we may know the organism the fossil came from, we never know for sure what it looks like. The delicate bumps and curves that make up vertebrate skeletons or the shells of invertebrates are unique to each organism. It is up to us, to solve our fossil puzzles as best we can, to catch a glimpse of the animals lost to time.
3. If you're frustrated and angry, it helps to take it out on a large chunk of sandstone.
Most of the fossils that come into the prep lab are not only broken, but often embedded in very hard sandstone. Most of our daily work involves vigorous hammering and chiseling in an effort to release the fossils from their cemented tombs. If ever I've had a bad day, I know I can always take out any frustrations in the most productive way possible: BREAKING ROCKS!
4. The best time to think is during a good sweeping of the dirtiest floor on campus.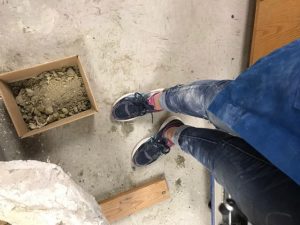 You may have guessed where the dirtiest floor on campus is by now: the paleontology prep lab! At least two times a day, the lab must be thoroughly swept, because of the sheer amount of rock and dirt that gets moved around. I have yet to find a problem in my day to day that can't be solved with a good sweeping of the prep lab floor!
5. Paleontology is a science built on passion.
All of the physical, manual, and intellectual labor done throughout the rooms and corridors of the University of California Museum of Paleontology is built on an immense passion for the study of paleontology. Every researcher who walks through the museum's doors possesses a love for what they do, and a burning desire for knowledge about the deep history and evolution of organisms. Throughout my time working in both the museum and the preparation lab, I have thrived on the passion that these researchers bring, and I hope that many more aspiring paleontologists to come after me will have this fortune as well.