One of the exciting projects we worked on in the prep lab was the assembly of the remains of a whale skull, known as "Sandbox Whale". The project, from its plaster jacket beginnings to the finished product, relied on various skills that we have learned in the prep lab. I find that most of our projects, like the Sandbox Whale, require creativity and patience.
The opening of the rigid plaster jacket required the use of wet rags to loosen the jacket so we could rip it open. This is a clever method of removing jackets that does not involve using a saw; the plaster weakens and can be opened without damaging any fossil material underneath.
The jacket-less specimen revealed the fragile fossil pieces. Carefully, each piece was removed from the jacket. Then, using visual clues based on the rock and fossil type, the whale bones were pieced back together like a puzzle. Finally, each piece was glued back together by butvar, a viscous polymer that takes time but firmly holds the pieces together. This consolidation process yielded a mandible (jaw) and a rostrum (snout). The process of removing a piece and then glueing it back together may seem counterintuitive; it is easy to lose tiny fossil pieces, and the pieces do not always fit together perfectly. However, it removes excess rock and reveals more of the fossil, allowing length measurements and other data to be taken.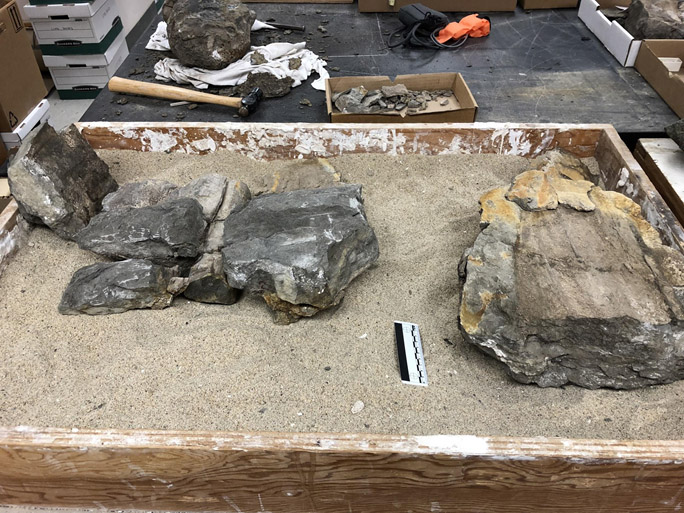 The mandible and rostrum were placed safely in a sandbox, and was named accordingly, hence the name "Sandbox Whale". The naming gives importance to the project and separates it from the thousands of other fossils we have labelled with just numbers. Also, it improves our organization of fossil pieces so the project proceeds more efficiently. With the most of our fossil visible, the length of the mandible fossil was recorded with string and a ruler. For each of the five mandible pieces, fossil depth and circumference were measured. The recorded information is diagnostic; it provides scientists a chance to learn more about the identity of this whale species and how this whale lived. Sandbox Whale is just one example of how these fossils that are sent in from the field are turned into useful information that contributes to paleontology as a science!