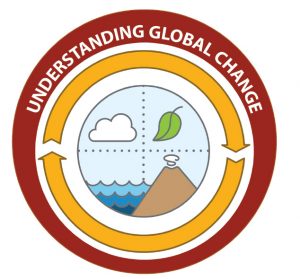 Understanding Global Change
FREE Workshop and Materials for High School Science Educators
April 28 & 29, 2018, 10:00am – 4:00pm
Valley Life Sciences Hall, UC Berkeley
Space is limited! Registration closes April 20, 2018 or earlier if fills.

To register, please contact Jessica Bean jrbean@berkeley.edu.
The University of California Museum of Paleontology is hosting a teacher professional development program to support the teaching of the global change topics. We are recruiting 15 teacher leaders to implement the Understanding Global Change resources that support the integration of Earth systems into high school curricula, and disseminate these materials to local school districts. Teacher participants will be paid a $200.00 stipend for the weekend and for sharing resources with their colleagues during September-October, 2018. Topics will include climate change, sea level rise, local mitigation efforts, and human drivers of change.
Scientists and educators will introduce teachers to UCMP global change resources in development with Biological Sciences Curriculum Study (BSCS) and the Climate Literacy and Energy Awareness Network (CLEAN), including materials from the California Academy of Sciences. There is no cost to attend the workshop and participating teachers will receive support materials and a $200.00 stipend.
Please bring your own lunch!