Reconstructing biotic interactions is crucial to understand the functioning and evolution of ecosystems through time, but this is notoriously difficult. Competition in deep time cannot be readily seen except for overgrowth of one organism by another under the assumption that both were alive at the same time. Parasites usually do not preserve because they are soft-bodied and tend to be small so that they are not spotted easily. The most abundant evidence of biotic interactions comes from the study of predators and the traces they leave. In the marine fossil record, drill holes in a variety of shelly organisms made, in part, by carnivorous snails are ubiquitous and become increasingly common toward the present. The oldest recognized predatory drill holes are as old as ~750 million years and found in micro-organisms. Some quarter billion years later in the early Phanerozoic, brachiopods and other small shells show some drill holes now and then. Starting in the Cretaceous and into the Cenozoic the percentage of shells, primarily mollusks then, with a predatory drill hole increases. This rise coincides with the appearance and diversification of snails such as members of the Naticidae and Muricidae families. Today, these snails use acids and enzymes to weaken and dissolve part of the shell followed by the removal of the affected part by many rows of razor-sharp teeth. This is a very laborious process because the drilling speed is only 0.01–0.02 mm/h!
These predatory drill holes, already recognized by the Greek philosopher and scientist Aristotle over 2300 years ago, have been studied by paleontologists for over 100 years, but an increasing number of studies have been published since the 1980s. One aspect that was completely unknown until recently is the size of these drill holes through time. From some individual modern driller species, it is known that larger specimens produce larger drill holes. This is no surprise because the drilling apparatus grows with age. However, whether this is true too when modern driller species are combined was an unresolved matter. Modern drillers are found among many families of gastropods, but some octopuses, insects, foraminifera, nematods, and other micro-organisms also can bore into their prey. It was very exciting to see that there is a significant positive relationship between driller size and drill-hole diameter. Why so? This relationship can now be leveraged to infer trends in the relative size of predators through time by studying the size of drill holes in shells. This is particularly useful because the identity of drillers is poorly known prior to 100 million years ago. Additionally, predator-prey size ratios can be estimated as well when both drill-hole diameter and prey size are measured.
Due to the increasing body of literature over the last ten years and renewed search into older literature, I expanded an existing database regarding data on drill-hole size by a factor nine and added prey size where possible. Finally, there was enough data to look at possible trends throughout the last 500 million years! But no trend showed up for the size of drilled prey shells, primarily brachiopods and mollusks. Conversely, an obvious rise is evident in the drill-hole diameter as the median hole increased as much as an order of magnitude from 0.35 to 3.25 mm. Combining these two metrics yields the percentage of the shell area that is drilled, which is a measure for predator-prey size ratios here. These ratios show a quite spectacular increase of medians from 0.05% to 3.5% over the last 500 million years. These results imply that predators became larger while their prey did not, which is further supported by the fact that putative early Phanerozoic drillers are statistically smaller than late Phanerozoic gastropods that have modern representatives that do drill. Furthermore, these results back an important tenet of the escalation hypothesis, that predators have become more powerful over evolutionary time.
We think that these increasing predator-prey size ratios can be explained by substantial changes on the sea floor. Although prey size did not change, the meat content of drilled shell did. Brachiopods were the dominant prey prior to 250 million years ago. These animals contained little meat in their shell, certainly much less than the mollusks, which became more abundant in the last quarter billion years and dominate drilled prey shells. Another major change is that the density of prey increased through time as suggested by independent studies. Thus, drillers did not only obtain more food per shell, but also may have encountered more prey items! Both factors may have contributed to the evolution of increasingly larger predatory drillers. A last factor that may be important is predation among predators, which can lead to higher predator-prey size ratios according to ecological models. Evidence for increased predation among predators is supported by the fossil record as drillers themselves become drilled more frequently starting in the Cretaceous – early Cenozoic. A larger size of drillers may have also helped as a defense against shell-breaking predators such as crabs and fish that became more common throughout the Phanerozoic. This study exemplifies that long-term biotic interactions can be reconstructed and highlights the importance of such interactions in ancient marine ecosystems.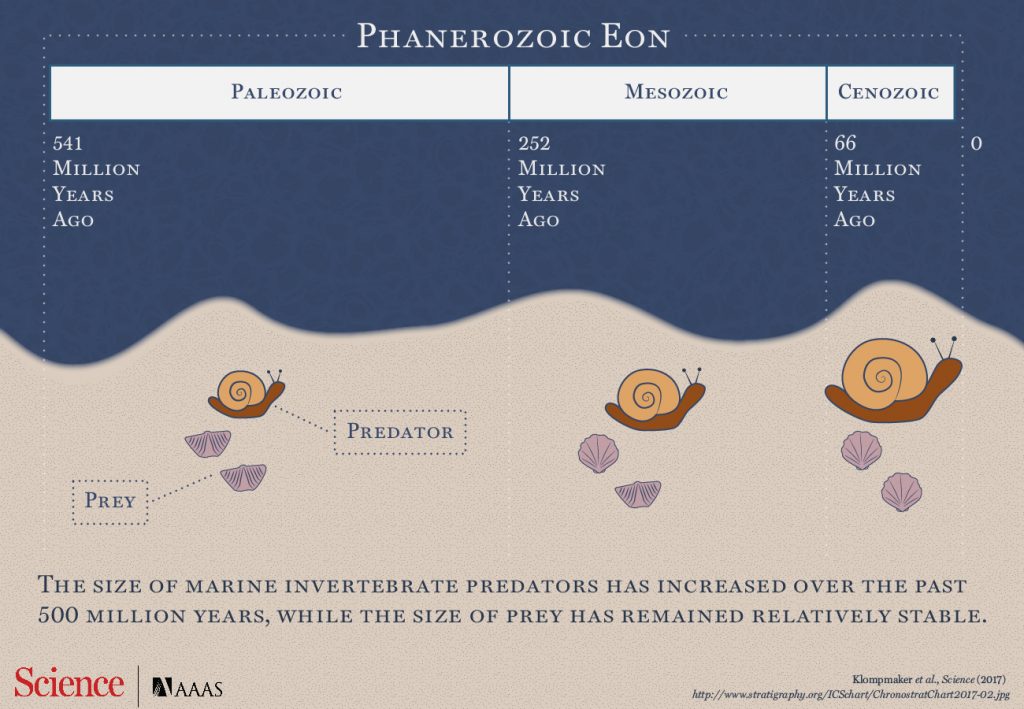 This research would not have been possible without the many case studies of colleagues on which the database hinges and fruitful collaborations. This study was presented at the annual Geological Society of America meeting with financial support from the UCMP and was published this June.
Klompmaker, A. A., Kowalewski, M., Huntley, J. W., & Finnegan, S. (2017). Increase in predator-prey size ratios throughout the Phanerozoic history of marine ecosystems. Science 356 (6343): 1178–1180.