It is widely recognized that major groups evolve at different rates, in their own evolutionary trajectories. Some evolve fast and are very diversified while others evolve slowly and may never experience an explosion of diversity throughout their trajectory. One of my research interests is understanding the pace of morphological evolution through time, and the organisms selected to investigate this topic are the irregular echinoids.
Commonly known irregular echinoids include the sand dollars (clypeasteroids) and the heart urchins (spatangoids). They are called "irregular" because they evolved morphological innovations that depart from the "regular and pentaradial symmetric" type, seen in the sea urchins. Most of these innovations evolved convergently in different groups and are mostly adapted for their infaunal (i.e., burrowing) life style. For instance, irregular echinoids usually have a flattened test with thin spines that are more adapted for burrowing. They also evolved petals with specialized tube feet for breathing, their anus moved away from the apical disk possibly to avoid waste released near the petals, and they lost the Aristotle's Lantern as adults and feed on the detritus in the sediment. Finally, irregular urchins have an anterior-posterior polarity and are said to have a secondary bilateral symmetry (the larvae has primary bilateral symmetry). Irregular echinoids evolved during the Mesozoic Marine Revolution and these morphological modifications are just a small part of their interesting evolutionary history! In addition, they live worldwide, their fossil record is excellent, and the major groups display very contrasting evolutionary histories.
Besides the sand dollars and heart urchins, there are three other groups of extant irregular echinoids: the holectypoids, echinoneoids and cassiduloids. One of the reasons you have probably never heard about them is that they are rare. My research focuses on the cassiduloids (Figure 1; some known as lamp urchins). Cassiduloids probably originated in the Cretaceous and reached a peak of diversity in the Eocene, when they composed about 40% of all echinoid genera. After the Eocene, their diversity declined sharply and today only about 30 species are known. Although their fossil record is very species rich, the cassiduloid morphology appears to be quite constrained. Few novelties evolved throughout their long evolutionary trajectory (as opposed to the heart urchins), and the species found today are mostly endemic and restricted to certain kinds of environments (e.g., mostly warm waters and with coarse grain sediments).
The classification of the cassiduloids is very controversial, and it has been shown that they may not compose a monophyletic group. Therefore, the first step of my research is reconstructing a time-calibrated phylogeny of the cassiduloid echinoids that will allow me not only test the relationship within the group but also to understand how the major cassiduloid groups relate to the other irregular echinoids. In addition, a phylogeny will allow me study the evolution of major innovations within the group, their rate of morphological change, and their patterns of biogeographic distribution through time. Because of the rarity and poor preservation of the cassiduloids in museum collections, I am focusing on the morphological data. Most of the characters analyzed focus on the plate patterns of the test, which can be seen in well preserved fossils, and I am also obtaining micro-computerized-tomography (i.e., 3D) images of extant specimens at the Lawrence National Berkeley Laboratory to find novel characters that are difficult to see with stereo-microscopes (Figure 2).
Many of the specimens included in my analyses are deposited at the UCMP and at the California Academy of Sciences. However, most of the extant cassiduloids are very rare and restricted to one or two scientific collections; and some are known only for their type specimens. To analyze such taxa I often have to visit these collections. After analyzing the specimens deposited in the Bay area museums, last summer I started exploring specimens deposited elsewhere.
My first stop was Australia (Figures 3–4). The Australian Museum in Sydney and the Melbourne Museum were chosen not because of the diversity of cassiduloids present but by the uniqueness of the species found there, both in the invertebrate and paleontological collections. One of advantages of visiting collections instead of asking for loans is the surprises we often find. For instance, I found a misidentified specimen in the Australian Museum whose species was known only by its two co-types. This specimen not only provided me with more information on the morphological variation of this species but also increased its known geographic range. I also had great surprises on the Melbourne Museum, where I could analyze two specimens that they had recently obtained and therefore were not present in their database. Besides analyzing cassiduloid species I had never seen before, I also met Frank Holmes, an amateur paleontologist who works in the Melbourne Museum and shares my passion for the cassiduloids. Frank has described cassiduloid species and we had great discussions over an undescribed Paleocene cassiduloid he is working on!
My next and final stop was the Smithsonian Institution National Museum of Natural History (NMNH) in Washington D.C. (Figure 5). Visiting their echinoderm collection was one of my dreams as an undergrad, not only because this collection houses the great majority of specimens I have always needed to analyze, but also because of the great researchers who have worked there, such as Theodore Mortensen, Elisabeth Deichmman, and Porter Kier. Their echinoderm collection is divided into three collections: the dry collection and the paleontological collection are housed in the main building in Washington D.C., and the wet collection is housed at their Museum Support Center in Suitland, Maryland (Figure 5). So I often travelled back and forth between these collections and focusing on the cassiduloid was not hard at all. There were just so many of them!!!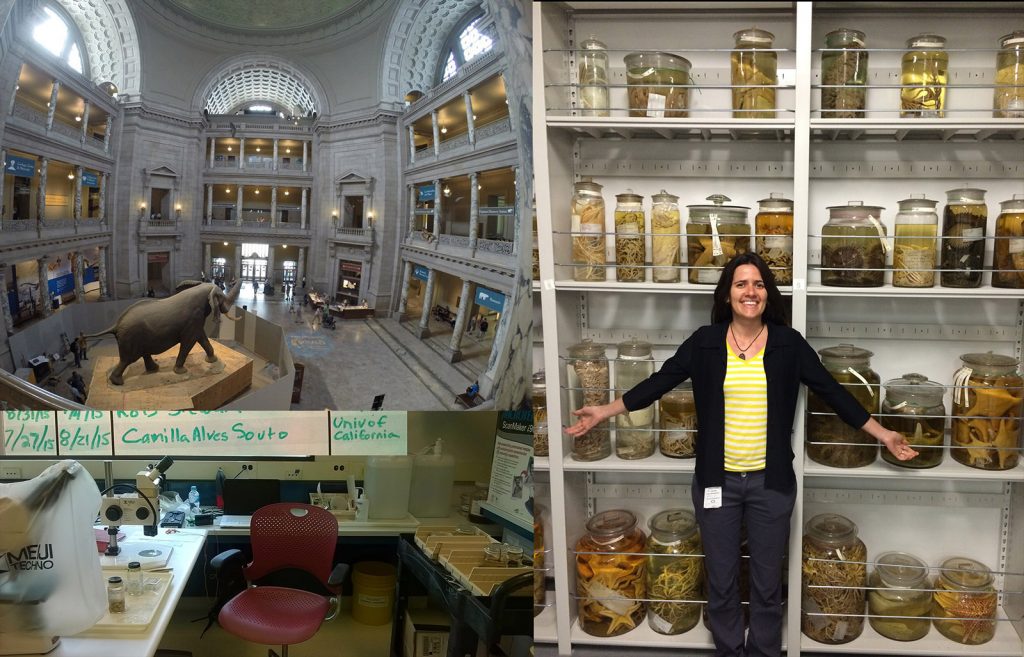 The NMNH echinoderm paleontological collection in particular surprised me for having its own room! The Springer room is dedicated to Frank Springer, an amateur paleontologist who donated a significant  echinoderm specimens (most of which are crinoids, Frank Springer's favorites) and literature to the NMNH. The preservation of many fossils in the Springer room is superb and captures a great level of detail. The cassiduloid collection, for instance, is very diverse and is composed of fossil specimens from all over the world. This abundance is probably a result of Porter Kier's work on the "Revision of the Cassiduloid Echinoids". For most of the species, I could even choose five or more of its best specimens, a privilege I have never had in any other collection.
The Springer room also has one of the best libraries on echinoderm paleontology in the country, together with Porter Kier's jacket, and a book of signatures which has recorded all history of visits in the room. Among these, I found the signature of the UCMP director Charles Marshall (Figure 6)!
At the end of my journey, I analyzed 47 cassiduloid species (eight extant and 39 fossils; about 150 specimens, including 13 type specimens). All this data was integrated into a morphological matrix, and the phylogenetic analyzes will be performed when I analyze all specimens chosen.