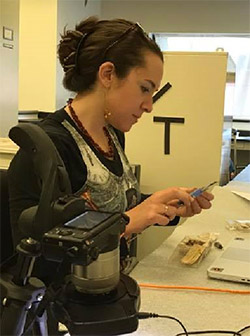 I am very grateful to have received a UCMP Graduate Student Research Award via the Barnosky Fund in April 2016. I used these funds to collect pilot data from major natural history museum collections around the country for my dissertation research.
My research investigates responses in fossil animal communities to climate change over long time intervals. We need historical data about the affects of climate change on animals in the past in order to anticipate these affects on animals in the future. I focus on reptiles because we already know that climate affects the appearance and habits of reptiles today. We do not yet understand how this relationship affects the evolution of reptiles over long periods of time. I am examining the fossil record of reptiles in North America through the Paleogene, a period that lasted from about 66 to 23 million years ago (Mya). The planet experienced major warming and cooling during this time, and North America has an excellent fossil record spanning the same interval.
Over the last year, with support from UCMP funds, I sampled fossil collections at the Field Museum of Natural History in Chicago, IL; the Smithsonian National Museum of Natural History in Washington, D.C.; the Denver Museum of Nature and Science in Denver, CO; the Boulder Museum of Natural History in Boulder, CO; and the American Museum of Natural History in New York, NY (Fig. 1). I measured and photographed 330 fossil lizard and 150 fossil crocodylian specimens, representing over a dozen intermontane basins in the Western Interior of the U.S.
I also made a surprising discovery at the Denver Museum: a fossil lizard specimen showing distinctive signs that the tail broke off and had started to grow back. This is the earliest evidence of tail regeneration in a fossil lizard. It suggests that armored lizards were evading predators by dropping and re-growing their tails as early as 50 Mya.
Over the next year, I plan to sample several more museum collections to complete my dataset. I will run statistical analyses to examine patterns of response to climate change in reptile communities over a span of more than 40 million years, and compare these results to documented changes in reptile communities today.
Thank you to the UCMP for supporting my research!