Through a crowdfunding initiative with UC Berkeley, the UCMP would like your support in creating the first ever "see-through" dinosaur skull!
UCMP is a leader in paleontological research and with your support of this project, museum paleontologists will further explore how dinosaur skulls grow and develop as they change size and shape.
With this crowdfunding project, UCMP hopes to raise enough funds to CT scan, volume render and 3D print the first ever see-through dinosaur skull, starting with our baby Triceratops, the smallest and youngest Triceratops skull ever found.
After CT scanning the bones, medical imaging software renders the internal vascular network and cranial sutures visible inside the bones. This kind of analysis will potentially help UCMP paleontologists better understand how our small baby Triceratops, the size of a dinner plate, expands to food-truck size of nearly 9-feet long as an adult! Once the CT scans of the bones are completed, we will 3D print and assemble the individual printed "bones" into a see-through baby Triceratops skull. This new skull will join our Triceratops growth series exhibit in the entrance of the Marian Koshland Bioscience Library, Valley Life Sciences Building, one floor above the UC Museum of Paleontology.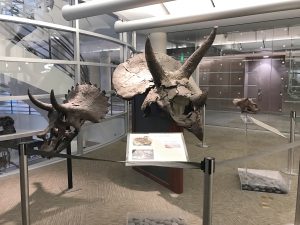 Please consider donating! Visit our crowdfunding page, https://crowdfund.berkeley.edu/ucmp, where you will find more information about this research, more awesome photos of the Triceratops skull and 3D printed see-through casts.
Of course, with your donation comes perks: a Thank You Shout Out in our UCMP newsletter, Digital Poster of our Triceratops, special behind-the-scenes tours of UCMP and Sather Tower, an up-close look at the original baby Triceratops skull – plus a unique opportunity to join UCMP paleontologists on a dinosaur dig in Montana!
Again, thank you for your support and check back for project updates!