The 2016 Cal Day, held on April 16, 2016, was my first time experiencing Cal Day and I was also the one planning it. Cue scary music! Thanks to the UCMP community for pitching in their time and efforts, it went off without a hitch and was fun experience all around.
As a newer member of the UCMP community, I only knew about CalDay through photos and the well-documented newsletter postings by my predecessor Dave Smith. Annually on Calday, the campus opens up to the public and shares all the research and project activities being done by each department. The UCMP offered up many activities for UC Berkeley alumni, students and the Bay Area community gathered to enjoy a fun day of exploration and learning at the campus open house.
The science on display in the Valley Life Sciences Building is one of the biggest draws to visitors on campus. The unifying theme among the Berkeley Natural History Museums this year was "Our Changing Planet," a theme that touches upon the concept of global climate change. Many wonder what studying fossils tells us about global climate change. Common questions include can unearthed fossils from rocks beneath our feet really tell us anything about why rain and snow is still showing up in present day April? The answer is yes! And was the focal point of many of the activities and presentations put on by UCMP staff and students – how fossils and deep time inform the future.
At the UCMP on Cal Day, we offer a limited number of exclusive tours of our collections to visitors who arrive early enough to get the coveted tour tickets. Because of the nature of collections, only small groups can be taken through the stacks. The tours were lead by the museum scientists, and they discussed everything from giant ammonites to 3-D printed models of fossil skulls.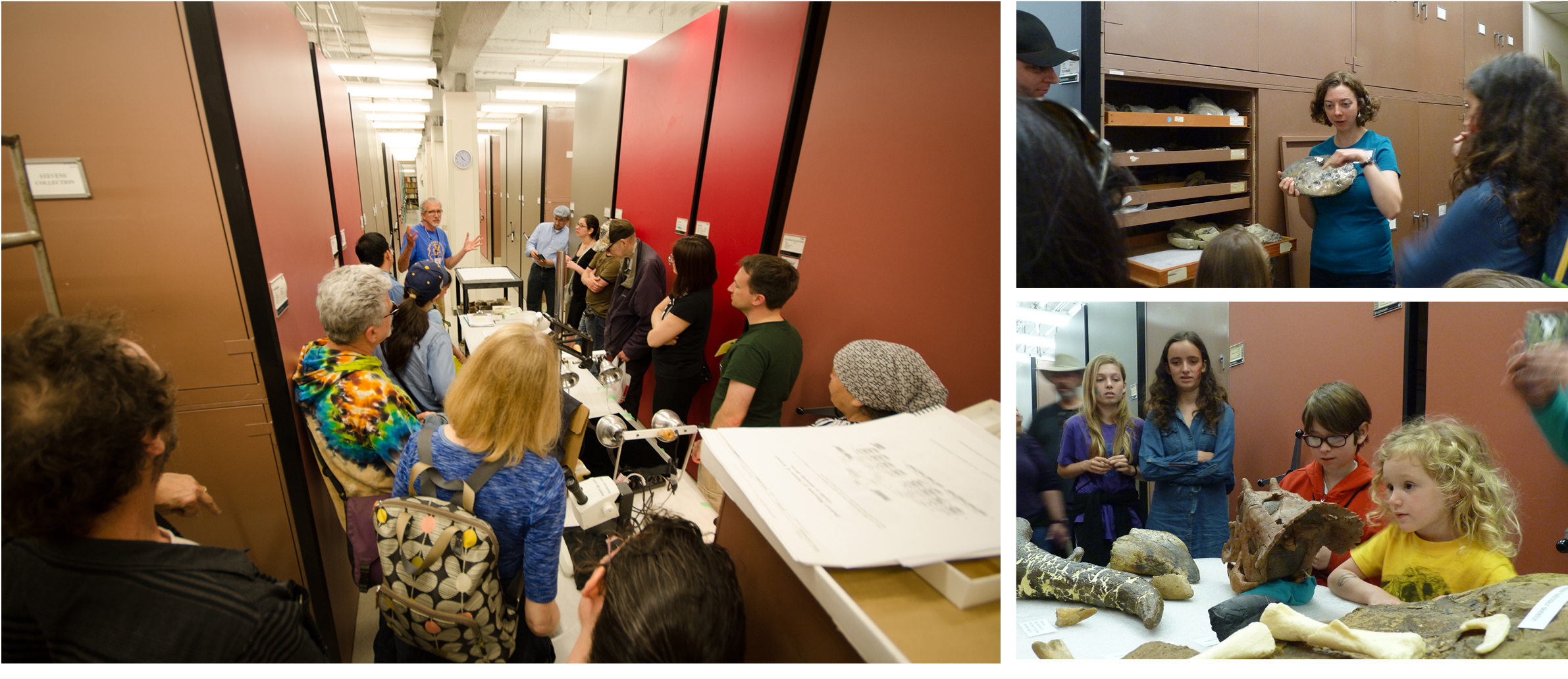 In front of T. rex and friends, UCMP debuted new shirt designs for the year with T. rex rocking sunglasses as well as Bothriocidaris eichwaldi, an echinoid beautifully illustrated by May Blos, a staff illustrator of UCMP between 1965 – 1973. Also available were tote bags featuring images of the Pleistocene McKittrick Fossil Collection! New this year was the debuted selfie booth. Please check out our t-shirt page to get yours! (http://www.ucmp.berkeley.edu/support.php). We also had visiting Children's Book Author Illustrator Hannah Bonner come and sign copies of her book "When Fish got Feet, When Bugs got Big and When Dinos Dawned" after her talk.
Fun with Fossils was held on the 3rd floor of Valley Life Sciences and still sparks the magic of discovery with children (and their parents too!). While digging through small sections of matrix, they encountered shark teeth and tiny bones or larger animals. The icing on the cake is a receipt of their very own Junior Paleontologist certificate!
In the VLSB Courtyard, UCMP shared an array of fossils illustrating evidence of changes in taxa over time. The fossils on display include species living at a time when changing climate events lead to an extended ice age and eventually extinction. Also on display were marine fossil invertebrates that matched with the live marine invertebrates on display with the live kelp forest display put on by Integrative Biology. Fossils we featured included giant barnacles, brittle sea stars, sea urchins and corals. On the megafauna side, we had a casts of proboscideans, ancestors to our modern day elephants. In addition, we had the top half of a mastodon skull as well as a cast of a baby mammoth, with UCMP grad students discussing how studying their teeth tell us about the what food was available at the time.
Past the courtyard, we had a variety of speakers from the UCMP and IB communities who shared their how their research relates to global climate change in the lecture halls. UCMP museum scientist Pat Holroyd and UCMP Director Charles Marshalls presented as well as visiting professor Julia Sigwart.
Finally in our "Fishbowl" meeting room, UCMP staff and students shared fossils from the ongoing McKittrick restoration project, the digitizing fossilized insects from the Stewart Valley and research regarding the mass extinction of plants at the end of the Permian done by the Looy Lab; all that speak to "Our Changing Planet."
Cal Day at UCMP would not have been possible without the help of the UCMP community! Thank you!