Learning in the Field
The 2016 UCMP Spring Field Trip was my first foray into exploring the world of paleontology in the field. Curators/professors Seth Finnegan and Cindy Looy brought 10 graduate students, postdocs, and a few beguiled tag-alongs like myself to various localities throughout central and southern California and Nevada. Field trips like these are important learning opportunities for future paleontologists and geologists, and a way to use practical skills in the field and see fossils in a greater geological context. The group engaged in a number of data collection and field measuring exercises such as noting the thickness of strata and various stratigraphic and lithologic changes
While reflecting on the trip, graduate student Nick Spano said, "It was super fun and from the perspective of future paleontologists it's always good to go out into the field, and it was definitely a transformative experience. The fieldwork aspect gives us a hands-on opportunity to see where the stories in the textbook come from and it's a humbling experience."
This simple map shows our trip itinerary where we logged about 1,115 miles. Trip stops included the Kettleman Hills, Furnace Creek, Ibex Hills and Sperry Wash, Camp Wash, Chicago Pass, Emigrant Pass, China Ranch, Noonday Mine, Bat Mountain (southern Funeral Mountains), Rowland's Reef (near Lida, NV), Owens River Gorge, Sierra Nevada Aquatic Research Lab, Convict Lake and Mono Lake.
Field Trip Starts:
Saturday: We drove through the Coast Ranges via the US-101 South to Los Gatos Creek County Park (Fresno County) where we set up camp.
Sunday: The Kettleman Hills
The next morning we set out to explore the Kettleman Hills together with professor Nick Swanson-Hysell's (Earth and Planetary Sciences) Stratigraphy and Earth History class. The sediments that form the hills are Pliocene to Pleistocene in age. During the Pliocene the San Joaquin Basin was a narrow marginal marine basin with a narrow connection with the Pacific Ocean in the north. Sea level fluctuations and tectonic activity resulted in major changes in salinity and temperature, resulting in extinctions of marine invertebrates, and a stepwise transition from shallow marine to fluvial depositional environments. Later that day the Tehachapi Pass took us to other side of the Sierra Nevada Mountains where we camped in Red Rock Canyon State Park.
Monday: Death Valley here we come!
The third day we drove north on Hwy 395 north via Olancha in Owens Valley and across the Darwin Plateau, into Death Valley National Park. Overlooking Panamint Valley, we made a stop at the spectacular Father Crowley Vista Point, before crossing over via Towne Pass to Death Valley – not the park, but the Valley proper. After some time at the Furnace Creek Visitor Center, we met up with Torrey Nyborg from Loma Linda University. Torrey took us nearby into an eroded gully that cut through Pliocene-age fluvial-lacustrine deposits. Besides well-preserved bedding surfaces, including ripples and mud cracks (Jeff for scale), we also saw several fossilized tracks of camels, large cats, and birds. After a short visit to a very windy Zabriskie Point, we set-up camp just southeast of the park in Shoshone were we witnessed an incredible sunset with lenticular-shaped clouds.
Tuesday: The Meso- and Neoproterozoic Ibex Hills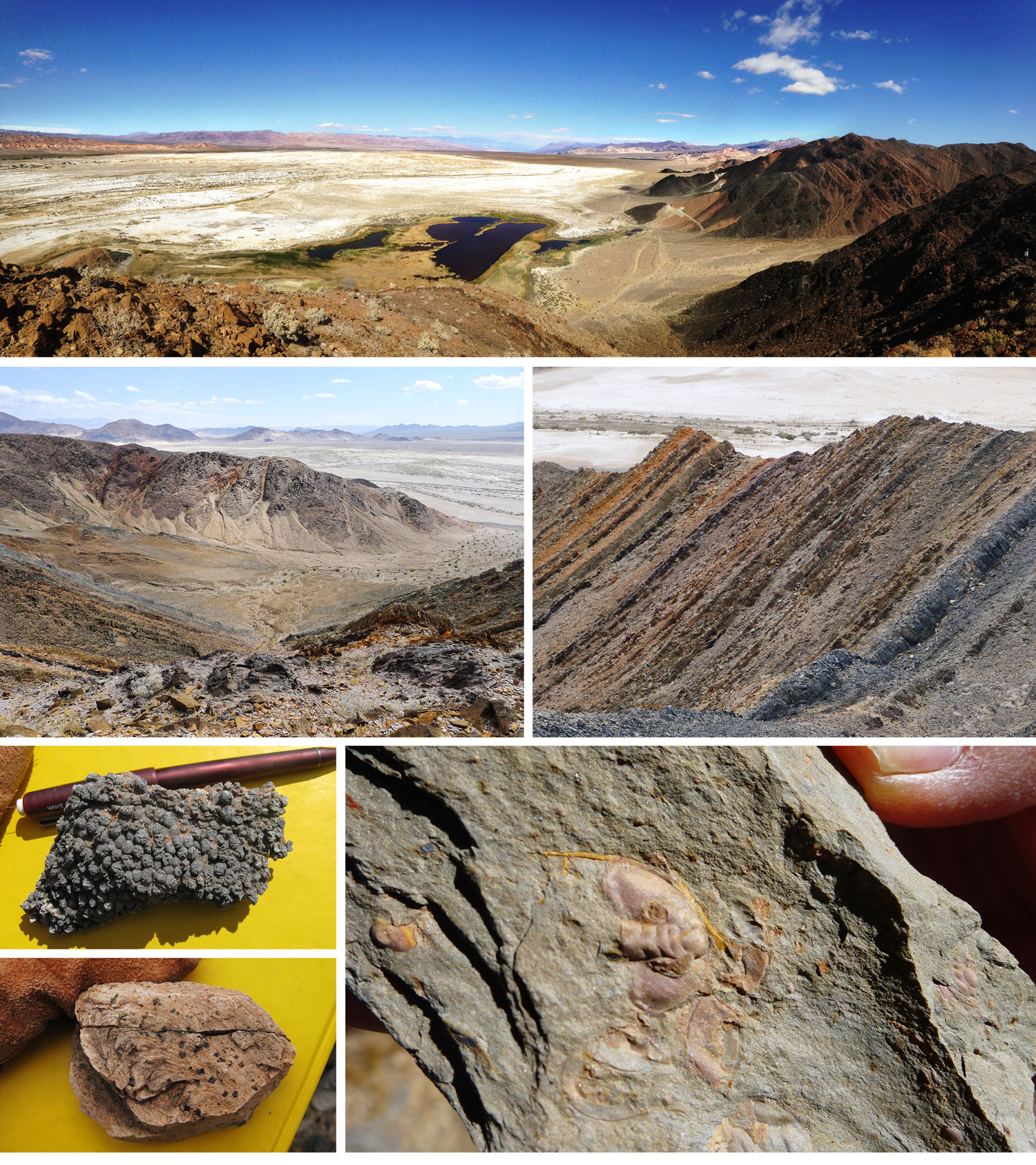 The next morning we reunited with Nick's group for a joint exploration of the southern part of the Ibex Hills. The four formations visible there are Mesoproterozoic to Neoproterozoic in age, and data collected in these formations figure prominently in Snowball Earth models. Our six-truck caravan kicked up a large dust cloud on the ten miles of dirt roads to Saratoga Spring where we dismounted for our hike from old to younger sediments – starting in the Crystal Spring Formation (older than 1080 Ma). This first section includes various types of stromatolites, and has volcanic intrusions near the top. It is unconformably overlain by the Horse Thief Springs Formation (~770-740 Ma). Next on our menu was the Beck Spring Dolomite Formation with sediments that alternate between carbonate and sililiclastic sediments, packed with interesting features including microbial mats, large ooids, breccias and rip-off clasts. The Kingston Peak Formation that followed is siliciclastic-dominated, and includes sediments that indicate the low-latitude Snowball Earth glaciation (breccias) and tell-tales of conditions that caused the ensuing rapid deglaciation (cap carbonates). Just before sunset, on the way back to our campsite, we jumped 600 million years ahead in time and concluded the day with a visit to the Pleistocene Lake Tecopa that boasts spectacular yet puzzling soft-sediment deformations.
Wednesday: Pahrump-a-pump pump and the Carbonate Factory
The formation had many marine invertebrate fossils embedded in the mudstone. Common interpretations for these Neoproterozoic sections demonstrated by the carbonate sediments with algal features and Kingston Peak suggested extensive glaciation of tropical carbonate platform as part of significant and repeated climate events.
We end the warm day with well-deserved date shakes at a China Ranch, a hidden oasis in the Mojave Desert.
Thursday: Bat Mountain and the Lost Burro Formation
We drove along highway Location?? to get to our next destination: The Lost Burro formation in Bat Mountain, the southern range of the Funeral Mountains in Death Valley. The day starts with Seth and Cindy described the task of measuring the changes between strata going up the outcrop. The students devide into teams and log the fossil-rich section which shows a transition of carbonate reefs to more open marine settings.
I joined the field trip in hopes of seeing the super bloom in Death Valley. Super bloom refers to the massive blooming of flowers occurring in spring 2016 due to the excess water associated with El Nino weather patterns. Wild flowers basically carpet the valley and add bright and beautiful yellows, pinks and purples to the otherwise green to red colored rock formations and alluvial flood plains that make up the valley. At every locality we visit there are different plant blooming; we counted more than 40 species.
Friday: We officially left the desert.
We headed to a little place, Rowland's Reef, surrounded by some short shrubs, wildflowers and Joshua trees in different states of bloom. Seth and Cindy discussed the rock formations and the occurrence of archaeocyathids, cup-shaped marine invertebrates related to sponges. Their presence indicated we were in the Late Cambrian. We also happened upon a rascal stromatolite, likely left behind from another trip as Bureau of Land Management locations do not allow for fossil collecting without a permit. As the day grew warmer, we encountered some local wildlife, rattlesnakes, who readily let us know we were treading on their turf.
Next we visited the Owens River Gorge, a formation of compelling and incredible beauty created by a river downcutting through a tuff, a layer of compressed ash. The ash was deposited after one giant volcanic eruption about 760 thousand years ago (check date) We then made our way to our next location SNARL, the Sierra Nevada Aquatic Research Lab. SNARL is located in the Long Valley Caldera at the base of some moraines – rocks and land pushed out of place by glaciers. In addition to the breathtaking scenic views, it also offered another treat: natural hot springs. After so many days of hiking exposed outcrops, the hot water collected in the springs was a nice respite.
Saturday: Soda water and Sea Monkeys at Mono Lake
Our last and final day together we ventured out to see the other bodies of water in the Mammoth Lake area. First was Convict Lake and followed by Mono Lake, a highly interesting body of highly alkaline water salted soda water. When snow and ice melt, the run off and dissolved minerals from the Sierras collects at Mono Lake and have contributed to the formation of Tufa towers in the water. Not having a natural outlet, the water itself is salty and full of minerals. This allows only certain types of organisms to live there, including planktonic algae, brine shrimp (also known as Sea monkeys) and alkali flies.
After a delicious lunch at the Burger Barn in Bridgeport, CA, everyone headed back towards the temperate Bay Area. Next year, we head south again towards Anza Borrego near San Diego. See you then!