At the time we got involved in what has now become for us – the South Africa project – one of us (Tesla) was soon-to-be a second year graduate student, and the other (Marianne) was about to start her senior year as an undergraduate student here at UC Berkeley.
We began working together in the UC Museum of Paleontology (UCMP) during the summer of 2013, making our way through a massive project and cataloguing exceptional fossil material collected during the UC Africa Expedition of 1947 and 1948. This is the story of that project and the journey that followed.
The UC Africa Expedition
A bit of background for those who may not be familiar with this aspect of UC Berkeley history… as World War II ended, a massive research expedition, dubbed The UC Africa Expedition (UCAE) was just beginning to pick up steam on Berkeley campus. From 1947-1948, the extensive research endeavor became an influential force across numerous fields of study.
During this time, the Expedition also attracted plenty of media attention, resulting in dozens of newspaper articles that were published while the expedition was underway. There were two separate branches of the expedition: the northern branch (led by Wendell Phillips) and the southern branch (led by our very own Charles Camp, director of the UCMP from 1930-49). In addition to all of the fossil material that is now housed in the UCMP, the UCAE brought back an enormous amount of material that, to this day, spans a wide range of libraries, museums, and other repositories on the UC Berkeley campus.
The list below gives you an idea of the amount and diversity of non-fossil materials collected by the expedition and stored outside of the UCMP:
The Museum of Vertebrate Zoology has many mammal specimens that were collected during the UCAE by Thomas Larson, ranging in size from bats and elephant shrews to large antelopes.
The Phoebe A. Hearst Museum of Anthropology has large amounts of archaeological and ethnographic material, ranging from stone tools to stools, many of which come from the Ovambo people in South Africa. Faunal and archaeological materials collected at the Middle and Late Stone age excavation sites are also stored at Hearst.
The Music Library has a series of recordings of local traditional music from South Africa, recorded by famed ethnomusicologists Laura Boulton and Hugh Tracey.
The Bancroft Library holds many photographs documenting the life of Charles Camp and his family during the expedition. The library also has many photos of local people and their traditions, as well as the landscapes on which they lived.
The UC Botanical Gardens received seeds and living plants that were collected by Robert Rodin, and some of those living plants perpetuate and can still be visited in the African section of the garden.
The University and Jepson Herbaria also have a considerable number of specimens, as well as Robert Rodin's field notes and correspondences. A complete list of everything collected can be found in his preserved field notes.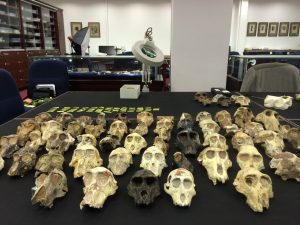 Following our curatorial and historical work with this collection, we narrowed our focus to the Plio-Pleistocene fossil assemblage. For a more extensive historical account of the UCAE, and faunal and locality details for the Plio-Pleistocene fossil assemblage, see our recently published paper in PaleoBios (Monson TA et al. 2015).
As we turned our attention to the Plio-Pleistocene assemblage, two undergraduate students who were involved in the curatorial process took on independent projects. Sandy Gutierrez examined the ostrich eggshells and quantified interspecific variation in shell characteristics. And Bogart Marquez, emphasizing the bovids, studied the faunal composition of the different caves in order to make inferences about deposition, taphonomy, and predatory behavior in and around the caves. Both Sandy and Bogart presented their results at the Society for the Advancement of Chicanos and Native Americans in Science (SACNAS) conference in Spring 2014.
We also dug into the primate material with the goal of assessing the alpha-taxonomy of the UCMP specimens. This part of the assemblage includes specimens that have been very influential throughout the historical course of monkey taxonomy, and many are still quite controversial. We tag-teamed the project, with Marianne working through the mandibular material as part of her honors thesis and Tesla examining the cranial material. Two then-undergraduates in the Hlusko Lab also worked with the primate material: Kevin Roth examined the juvenile craniodental specimens and Sandy Gutierrez looked at the postcranial material.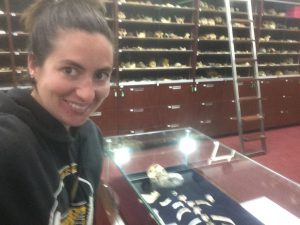 The whole group (Tesla, Marianne, Sandy, Bogart, and Kevin) presented our results during a UCMP Fossil Coffee seminar back in Spring 2014 and at the American Association of Physical Anthropologist (AAPA) meeting in April 2014. Fortuitously, our Fossil Coffee presentation was attended by Dominic Stratford, a visiting South African geoarchaeologist from University of the Witwatersrand in Johannesburg, South Africa. Dominic has become an invaluable collaborator on the multiple monkey projects that evolved out of our initial work in the UCMP and that are still ongoing. These projects led us (and our advisor – Leslea Hlusko) on the next leg of our journey. In summer of 2015, we journeyed to South Africa to collect more monkey data, a trip graciously funded by a grant from the Palaeontological Scientific Trust and two Desmond C. Clark fellowships from the Human Evolution Research Center at UC Berkeley.
South Africa
Data Collection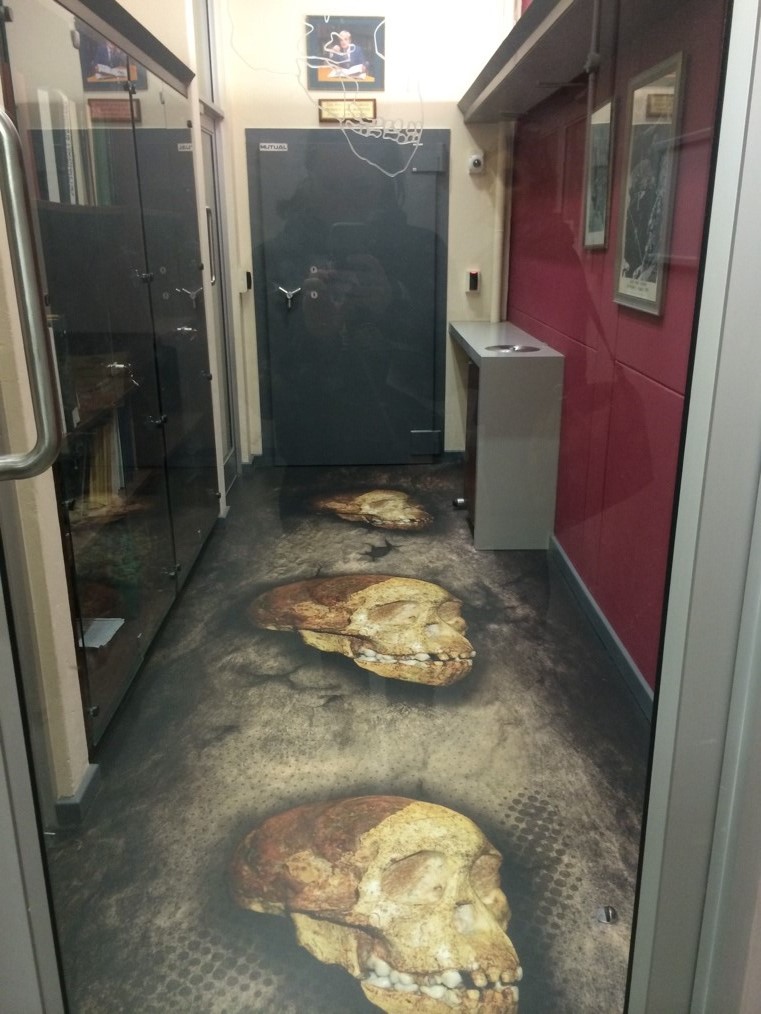 During our time in South Africa, we studied monkey cranial and dental specimens at University of the Witwatersrand in Johannesburg and at the Ditsong Museum of Natural History in Pretoria. While it was an incredible experience and opportunity, we couldn't help but feel like some of the days stretched on forever – we were in the museum for nine hours at a time, and some days it felt like all we had to eat was chicken, chicken, and more chicken…. which, according to Dominic, actually qualifies as a vegetable in South Africa. Tesla had to tape her thumbs, followed by her index fingers, followed by almost every other finger, to prevent caliper burn, and Marianne had to squint out of one eye for two weeks straight. (But we made sure to take semi-frequent jellybean breaks to preserve our sanity, thanks Leslea!) It may not have felt like it while we were squinting at calipers and working through the burn, but the amount of data collected made the long hours very worthwhile. Not to mention that we were in good company while at University of the Witwatersrand, since original South African hominid fossil material, including the Taung child, Malapa and Sediba, were displayed (complete with spotlights!) in the vault where we were working.  Yes, that's correct – a vault. We were stationed in the Hominid Vault at the Evolutionary Studies Institute, a very serious room fully equipped with a 6-foot vault door with rotating handle, locked by a 4-inch key that looked a hundred years old. Serious business indeed.
When we weren't measuring and photographing monkeys, we got to take tours of some of the famous cave sites, and wow were they incredible! We also got to meet paleoanthropologist Ron Clarke and see the "Little Foot" hominid remains, which are still in the process of being prepared – an opportunity that has only been offered to only a handful of people in the world. Hey, it pays to be a paleontologist!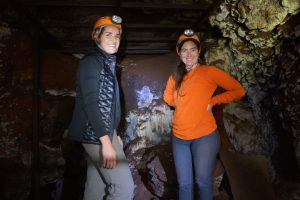 In the evenings while we were in Pretoria, we ate our delivery dinners (mostly chicken) on the floor of Leslea's room, and sometimes it was in candlelight because of this odd, but normal "it's just a part of life here," load-shedding phenomenon that causes small-scale city blackouts. This was only one of the quirks of South Africa that we encountered. Some others included…
No picture on a restaurant menu was ever actually replicated in person. Dishes served were a surprise every time!
The GPS had a fondness for telling us to "Turn left at unknown road", as if that's helpful.
On more than one occasion we had to let baby goats get out of the road before we could continue on our way. Ok, that last one wasn't so bad… 🙂
Exploring Africa
Following all of the hard work of data collection, we finally got to explore South Africa. We set off – with Tesla driving on the wrong side of the road, in the wrong side of the car, and with the clutch on the left – to our rental at "Zonk Lake", which was a lone cottage on a tiny lake. So, we basically rented a lake. It's not often you get to take a romantic vacation with your labmate…

During the couple of days that we were in the Drakensberg region, we went out to enjoy the natural beauty of the landscape as well as the San petroglyphs of Giant's Castle. We were also able to see our study organisms in their (not so) natural habitat when we ran into chacma baboons in a park area while out for a hike. On a more serious note, it was an honor and a privilege to tour the Apartheid Museum and the Nelson Mandela Memorial while we were in KwaZulu-Natal, and we highly recommend it to any visitors in the area.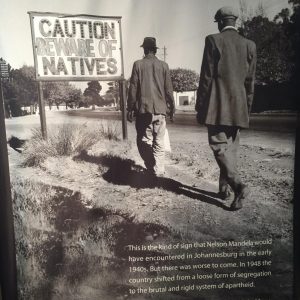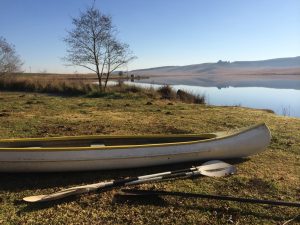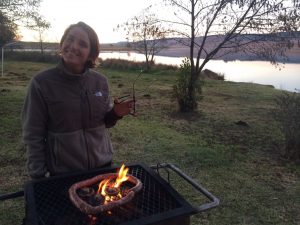 During the evenings, we caught Marianne up on the childhood media she never had, pulling from the random assortment of VHS cassettes that someone left on the shelf of our Zonk cabin: Casper, Mask of Zorro, Daredevil – all the greats. We also went kayaking in the early morning, and had true South African "braai" (AKA barbeque) in the evenings. You know what they say — when in South Africa…
After Zonk Lake, we left early for the nine-hour drive to Kruger National Park. Luckily, awesome street signs and plenty of bad jokes from Tesla dotted our journey. When we finally made it to Kruger, we quickly loaded up on snacks, brewed our coffee at 5:30 in the morning, and set out to drive through the park. The first thing we saw was a rhino (spotted by Tesla). We had heard that some people never see anything, so the mood was gleeful right way.
Then, maybe 20 meters down the road past the rhino, we saw an elephant (spotted by Marianne). The day just got better after that. We saw giraffes, lions, hippo, impala, hyena, kudu, crocodiles, warthogs, TONS of birds, baboons, buffalo, zebra, mongoose, and many other cool critters – including loads and loads of baby animals. Oh the babies!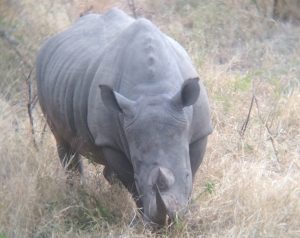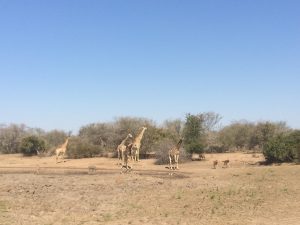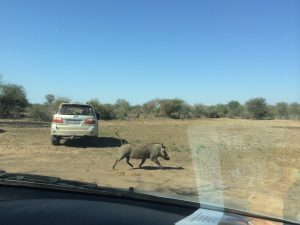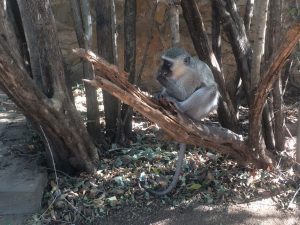 Overall, our trip was really productive, and we had a really excellent time. We collected lots of data, generated many hypotheses we're currently testing, and raised questions that we are working to answer. We will both be presenting at the AAPA meeting in April 2016 on some of our findings from the data collected on this trip. We also got to know each other really, really well and we're both happy to say, we'd go on another data collection trip to Africa together anytime!