On June 15, UCMP Curator and Integrative Biology Professor Tony Barnosky met with Governor Jerry Brown, Executive Secretary of the UN Framework Convention on Climate Change Christiana Figueres, and California climatologists at the Los Angeles County Museum of Natural History to discuss global warming and the consequences of failing to deal with it.
At a press conference following the meeting, Brown expressed his desire to reduce California's greenhouse gas emissions by 40 per cent over the next 15 years and spoke of legislation mandating that 50 per cent of the State's electricity come from renewable sources by 2050.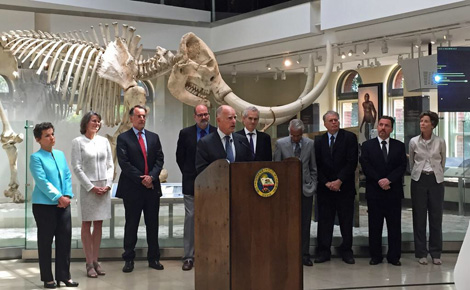 At the end of November, representatives from some 195 countries will gather in Paris for a UN Climate Change Conference in the hope of forging international agreements to limit greenhouse gases and combat climate change.
See past blog posts dealing with Tony's involvement with climate change issues.