It's April 18, 2015, and I am sitting in a room at the Charles Motel in Truth or Consequences, New Mexico, the same apartment-style room that I have stayed in during the past four years of field work. Time sure has passed by quickly; from my first paleontological dig as an undergraduate at Texas State University-San Marcos under Dr. Gary Upchurch, to my ambitious inaugural self-guided field trip as a first-year graduate student at Berkeley, to last year's even longer field excursion, and finally to this short trip with my advisor, Cindy Looy. What keeps bringing me back to this area is an exceptional Late Cretaceous flora in the Jose Creek Member of the McRae Formation—this flora is the foundation of my dissertation work.
I am interested in the functional diversity (the range of plant ecological strategies) of Cretaceous forests in warm-wet climates. Cretaceous floras often contain a mix of plants that are no longer seen in association today. The Jose Creek assemblage, for example, includes both palms and redwoods. These non-analog communities can be difficult to understand from the perspective of community ecology, because we cannot make inferences about their ecology based on similarities in taxonomic composition with modern floras. The difficulty of understanding past communities is compounded by the paucity of fossil deposits preserving a "snapshot" of a forest in relative growth position. This is precisely why the Jose Creek deposit is so unique—it contains a flora preserved in a volcanic ash airfall. During my 2013 field season, we traced a single-horizon ash layer for approximately 1.2 km (see previous blog). Such an extensive deposit makes reconstruction of the forest, including lateral variation in forest structure, possible. Because the volcanic ashes are fine-grained and deposited rapidly, the plant parts (leaves, fruits, flowers, seeds, cones, etc.) are very well preserved. I am using morphological features of these plant fossils—and an explicit ecological and spatial sampling scheme—to reconstruct the forest. My ultimate goal is to evaluate the ecological diversity of the community, and to understand how forests in warm-wet climates have changed since the Late Cretaceous.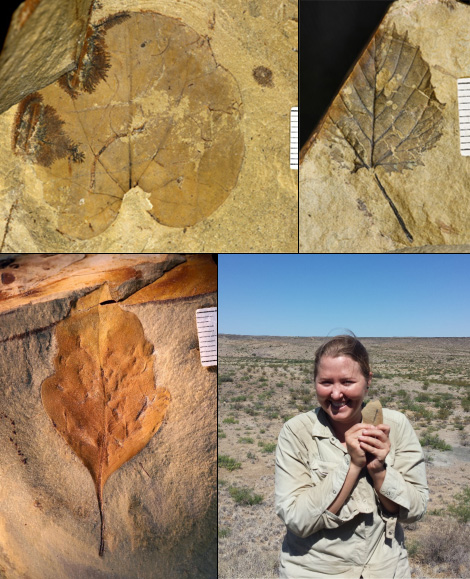 This is what brings me to Truth or Consequences this April—a continuation of my quest to describe this incredible flora. This trip is a short one—only four days—with two simple missions: (1) "cherry picking" well-preserved leaf specimens to use for trait measurements (for inferences of their ecology), and (2) hunting for cones to finish a whole-plant description of an extinct redwood that is abundant in the deposit.
Last June's trip (2014) was more intensive. I drove to New Mexico with two undergraduates—James Buckel and Negin Sarami—and recent IB graduate/Looy Lab veteran, Stephanie Ranks. We spent two weeks working at the site, establishing new collecting quarries and re-sampling the 12 small exploratory quarries from the previous year, effectively doubling their size. All in all, we have now established 17 quarries that span the length of the exposure! We successfully employed a new data collection method in the field, which had several advantages over the previous year. During the 2013 collecting trip, we collected and brought back to the UCMP all of the specimens excavated from each quarry. This generated a large amount of material very quickly—the maximum that our extra-long SUV could carry. In contrast, during the 2014 trip we looked at all our excavated specimens, comparing them with a leaf morphotype guidebook of over 120 different leaf types that I created from the previous collections. Using the book as a guide, we were able to record the number of occurrences of each morphotype, as well as their percent cover of the rock surfaces, without having to bring every specimen back to the museum. Of course, we did collect the specimens that were very well-preserved or that represented new morphotypes. By adopting this method in the field, we were able to collect far more data than would have been possible by only making collections and still bring back a full load of really nice specimens to the museum.
The flora has proven to be extremely diverse, with new morphotypes being found every day. The variation in morphotype composition from quarry to quarry also suggests a very structurally diverse flora. This is an incredible site to work, never a dull moment! I am really looking forward to the next big trip, and consider myself extremely lucky to receive the support of so many organizations, especially the UCMP and its amazing community of researchers, staff, and donors. Now, back to the field site before I lose any more daylight—Cindy and I still have a day of "wow" moments ahead of us before we return to Berkeley!
Organizations that have generously supported this work include:
— UCMP Graduate Student Award, University of California Museum of Paleontology, 2013 and 2014
— Geological Society of America Graduate Student Research Grant, 2014
— Integrative Biology Graduate Research Fund, 2014
— Sigma Xi Grants-in-Aid of Research, UC-Berkeley Chapter, 2014
— Mid-American Paleontological Society (MAPS) Outstanding Student Research Award, 2013
— GRAC Research Funds, UC-Berkeley Integrative Biology Department, 2013