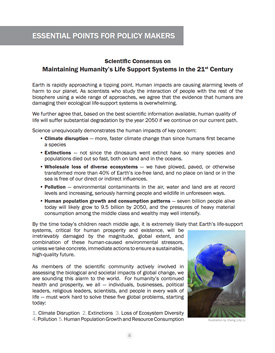 Over a year ago in a May 30, 2013, blog post, we reported on Professor of Integrative Biology and UCMP curator Tony Barnosky's presentation to Governor Jerry Brown of a statement about global environmental problems and what people must do to ensure the health of the planet. That statement was written at Brown's request after the Governor had heard about a Nature paper that Barnosky had coauthored with his wife, Stanford professor of Biology and UCMP research associate Elizabeth Hadly, and several other scientists in June 2012 (Nature 486:52-58). Brown wanted to use the statement as a powerful tool with which to help him shape environmental policy, and it has done that. Furthermore, the statement which has now been endorsed by over 3,300 people (mostly researchers) around the world, has influenced environmental policy well beyond California's borders. Read the complete statement on the ConsensusForAction website.
Governor Brown presented copies of the statement to President Obama and Chinese President Xi Jinping. Since then, California and China have agreed to jointly develop green technologies and to reduce greenhouse gases. California, Oregon, Washington, and British Columbia have signed a pact to use ideas set forth in the statement as the basis for making energy and environmental decisions. The statement has been translated into several other languages and has found its way into the hands of politicians around the globe. Members of Nepal's parliament have signed the statement and intend to address climate change when writing a draft for their new constitution. As Hadly put it, "We never could have guessed the reach this paper has had."
In the July 24, 2014, issue of Nature (Nature 511:402-404), a news feature praises the work of "information advocates" Barnosky and Hadly.