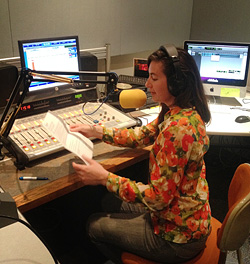 UCMP and Department of Integrative Biology graduate student Tesla Monson, a second-year graduate student in the Hlusko Lab, is the host of a new talk show, The Graduates, on KALX Berkeley, kalx.berkeley.edu! KALX is a UC Berkeley and listener-supported independent radio station and an ideal platform for The Graduates, a show featuring Tesla interviewing UCB graduate students about their research. Debuting on Tuesday, April 8, at 9:00am, The Graduates will air every other Tuesday, from 9:00 am to 9:30 am on KALX Berkeley, 90.7 FM.
Tesla's first two interview subjects are UCMP graduate students. On April 8, Ashley Poust will discuss dinosaurs and early mammals, and on April 22, Jenna Judge will talk about deep-sea marine biology. Stay tuned!
Audio podcasts of all The Graduates interviews are available on iTunes.