Most Earth scientists have vivid memories of their first geological field trip, but how many can say their first experience was as a high school student on a trip led by 15 professors, professional scientists, and college students?
Thirty lucky students from the Bay Area, El Paso, and New Orleans were selected to participate in a ten-day, geology-of-California field trip that started along the San Andreas Fault at Pt. Reyes National Seashore and ended at Yosemite National Park. Led by UCMP Assistant Director Lisa White as part of the METALS (Minority Education Through Traveling and Learning in the Sciences) program, the trip was supported by an NSF collaborative grant between San Francisco State University, University of Texas El Paso, and the University of New Orleans. High school students recruited from each of the participating cities came together on June 10-20, 2013, for a fast-paced field trip led by faculty, graduate students, and educators associated with those universities.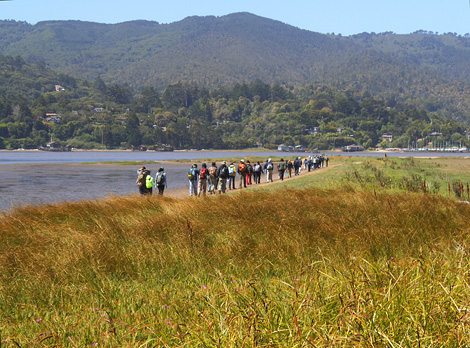 Lisa said, "Having directed the program for four years, my expectations for the student participants grow higher each year, and I am never disappointed. We create opportunities for the students to not only learn in a field setting but also to compete for awards by demonstrating an understanding of key concepts, making rock and fossil identifications, and producing outstanding field interpretations. The students, many of whom have spent little time outdoors or at the coast or in the mountains, have fun testing their endurance and enjoying learning in a natural setting."
The overriding goal of the METALS program is to raise awareness about the geosciences and to increase the numbers and diversity of students choosing academic paths in geoscience and related careers. What better way to showcase Earth science than through fun and exciting field work?