Tuesday morning, February 12, 2013, Dori Contreras and Cindy Looy woke before dawn to catch a cross-country flight to Washington, DC, for a two-week visit to the Smithsonian's National Museum of Natural History (NMNH). Originally, Cindy was going to attend a biannual workshop of the Evolution of Terrestrial Ecosystem Program. However, after Dori obtained a Sigma Xi grant to study a fossil leaf collection housed in the NMNH's paleobotanical collections, they teamed up and turned it into a joint research excursion filled with an array of activities.
Dori: My main goal was to collect data for a study on the leaf characteristics of early flowering plants from a warm wet climate approximately 100 million years ago. And just to clarify, what I mean by "data" is photographs — lots and lots of high-resolution photographs of individual fossil leaves preserved in rock. The specific fossils that I was interested in come from the Fort Harker locality in Kansas. They were collected over a roughly 30-year period (1860s through 1890s) as a part of the US Geological Survey's explorations of the geology of the Western Interior of the United States.
I wasn't exactly sure how many specimens I would find in the museum "stacks," which consist of rows and rows of floor-to-ceiling cabinets filled with drawers of fossils. Based on Leo Lesquereux's publications from the late 19th century, I was expecting somewhere around 100 specimens. However, after two days of opening wooden drawers I located just over 300 Fort Harker specimens! Many have never been figured or mentioned in publications, and most have not been reevaluated in over 100 years.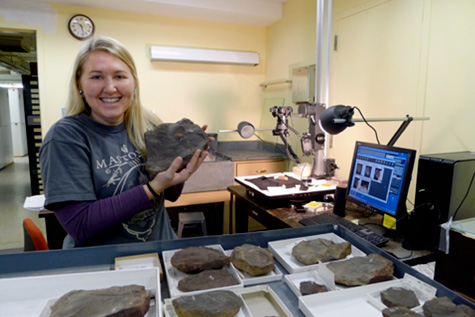 I knew that it would be a major task to photograph them all in the detail needed for study, so I went right to work. The museum's imaging room had an impressive setup of top-notch, stand-mounted cameras connected to computers for remote shooting. Most of my time was spent carting specimens back and forth between the stacks and imaging room and doing nonstop photography. The trickiest part of imaging for data collection was getting the lighting angle and brightness just right to pick up the three-dimensional (and often obscure) features of each leaf. At least magnification wasn't an issue — the resolution of the camera I used was so high that a microscope was not necessary!
Ultimately, I was able to photograph almost every specimen in the collection, totaling a whopping 50 gigabytes of images. Now I look forward to the next tasks: naming and organizing all those files, followed by detailed measuring of key ecological leaf characteristics for each specimen. Luckily ,a new Undergraduate Research Apprentice Program (URAP) student just joined "Team Contreras." We hope this study will provide insight into the structure and function of plant communities in warm, wet climates during the early radiation of flowering plants.
Cindy: Last year, members of the NMNH's Evolution of Terrestrial Ecosystem Program received good news from NSF: their Research Coordination Network proposal, "Synthesizing deep time and recent community ecology," was funded. This means that over the next five years a group of paleo- and "extant" ecologists will meet semiannually to study the assembly and disassembly of biological communities in the past and present. Attending this winter's edition of our meeting series was my main goal of this museum trip. Our workshop consisted of three days of presentations, data gathering and subsequent analyses in a friendly and inspiring atmosphere.
It is always a treat to return to the NMNH, smack in the middle of the National Mall in DC. From 2004 to 2008 I worked as a research fellow in the Paleobiology Department of this bigger sister of the UCMP and being at the NMNH always instills a special feeling. It could be the 325,000 square feet of exhibition space, the 20,000 daily visitors from all over the globe, or the 126,000,000 documented specimens in the museum's collections. Perhaps it is the illusion of being in the "center of the world," with the close proximity of the NMNH to the White House. But still, I know how lucky I am to be at the west coast equivalent of the NMNH. The UCMP public exhibits may be primarily online, but with the Department of Integrative Biology, the UCMP boasts something that the NMNH lacks altogether and something that presidential fly-bys can never compensate for: a pack of fabulous graduate and undergraduate students!
Outside of the meeting I had plenty of time to catch up with friends and work with former colleagues. Fellow-paleobotanist Bill DiMichele and I spent quite a bit of time in the museum's paleobotany collections. During the past 20 years, Paleozoic paleobotanists from the NMNH (Bill DiMichele, Dan Chaney, and Serge Mamay) have intensively sampled latest Pennsylvanian, Early Permian and Middle Permian sites in Texas. More than 360 collections of compression fossils were assembled using sampling strategies appropriate for the reconstruction of plant communities. Bill and I pulled out numerous conifers for morphotyping. We are trying to get a grip on how diverse early Permian Euramerican forests were, and how seed-plant dominated assemblages changed through time. Working our way through all the cabinets took quite some time, but that's nothing compared to all the imaging and measuring that still needs to be done. Ah well, that's what is great about being a scientist: the work is never completed. Every question answered raises plenty of new, interesting questions.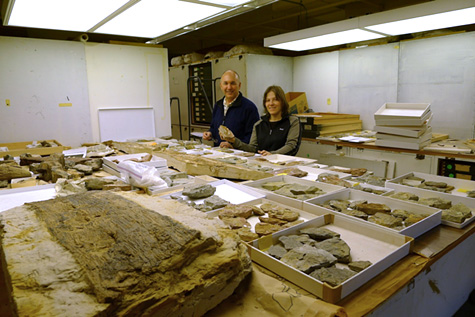 Both: Additionally, we got to present our work to east coast paleontologists and geologists at the annual Penn-Smithsonian Geobiology Symposium. It's always good to foster cross-talk on the continental scale and represent the paleontological force that is the UCMP!