Two graduate students in Tony Barnosky's lab, Emily Lindsey and Kaitlin Maguire, recently received the good news that they were the recipients of prestigious awards.
Emily had this to say about her Fulbright grant: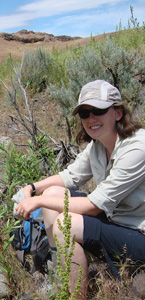 "I received a Fulbright award to travel to Uruguay from March to December, 2013 (the academic year for the Southern Hemisphere). I will be working with colleagues at the National Museum of Natural History in Montevideo, where we will be putting together a database of Pleistocene fossil mammals for the South American continent — where the localities are, what taxa are found there, etc. This dovetails nicely with an NSF grant that Tony Barnosky (and I and several South and North American colleagues) received in December to radiocarbon-date several hundred bones of South American Pleistocene mammals to incorporate into such a database."
Kaitlin on receiving a Louderback Fund award:
"I am surprised and honored to receive the Louderback Fellowship. I plan to use the award to study diet change in Miocene horses of Oregon using stable isotope analyses. This award recognizes graduate students for their research and service to the UCMP. George D. Louderback was a geology professor and Dean of the College of Letters and Science at UC Berkeley in the early 1900s and I am happy to join the long list of esteemed UCMP graduate students and alumni who have previously received the fellowship."
Our congratulations to both!