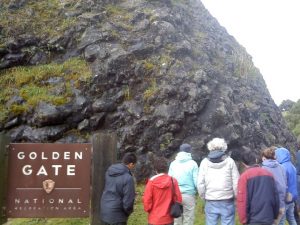 Point Reyes and the surrounding area in Marin County is a beautiful place to visit and learn about local geology, paleontology, botany and zoology. Marin County contains large outcrops of the Franciscan Complex rocks. These rocks, mostly Cretaceous in age, are a mélange of rocks that originated to the west and accreted to the California coast as the Pacific Plate subducted beneath the North American Plate.  The Franciscan Complex includes metamorphics, chert, greywacke, shale and pillow basalts. The pillow basalts formed on the ocean floor 100 to 200 million years ago, thousands of miles to the west at a spreading center or a hotspot.
Point Reyes is on the western side of the San Andres Fault, a large fault system that runs along the coast of California. The geological layers that make up Point Reyes originated further south and are traveling north (about 1.6 inches per year) along the fault line.  The basement rock of Point Reyes is 350 to 450 million year old granite and the sedimentary rocks the granite metamorphosed. Overlying these rocks are a series of Tertiary sedimentary deposits including the Pt. Reyes Conglomerate, Laird Sandstone, Monterey Shale and "Drake's Bay Formation". This last formation, Miocene in age, has been subdivided into the Santa Margarita Sandstone, Santa Cruz Sandstone and the Purisima Formation. All three of these formations outcrop further south in the East Bay, Santa Cruz and at the San Gregorio Beach, respectively, providing evidence that Point Reyes is traveling north. The Purisima Formation outcrops at Drake's Beach where several whale fossils have been found by UCMP researchers along with several invertebrate fossils.
Photos courtesy of Nick Matzke, Jenna Judge, and Lucy Chang.
Please note that a collecting permit and official permission is required to collect, or even pick up, any vertebrate fossil or fossil fragment in any of California's State and National Parks. Other public lands, including city parks and open spaces, may have similar regulations. Best to check in with the appropriate land use office wherever your adventures take you to inquire where the best spots are to see fossils in the field and what is and is not permitted while hiking and exploring our fossil heritage in these natural preserves.