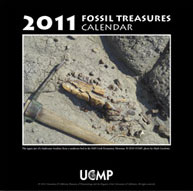 Yesterday was the first ever National Fossil Day and UCMP pulled out all the stops!
Come check out the new online exhibit, Fossils in our parklands: Examples of UCMP service and stewardship, featuring fossils in UCMP's collection from national and state parks in California, Nevada, Oregon, and Montana. The museum played a pivotal role in the creation of some of the featured parks and we're happy to highlight our shared histories.
Additionally, the 2011 UCMP Fossil Treasures Calendar is now available for purchase! Click here to take a peek at the stunning photos included in the calendar and to find out how to purchase it online. If you're in the area, you can drop by in person for a discounted price. Remember, proceeds help fund graduate student research in the field of paleontology.
Finally, have a look behind the scenes at our in-house celebration…
(Event photos courtesy of Nathalie Nagalingum.)