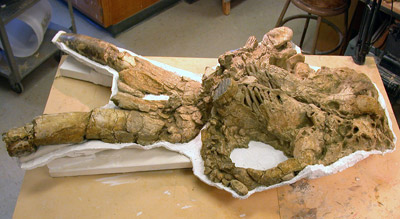 Museum visitors often ask if our fossils come in from expeditions to remote places. I tell them that some do, but many are found right here in California by local people or via construction projects. For example, our most recent addition to the collections is part of a mammoth along with some other Pleistocene-aged mammals. They were uncovered during the excavation of a storm water retention basin on the campus of Los Positas College in Livermore.
Our collection's next addition of Bay Area fossils will come from one of Northern California's biggest construction projects, in an area known to have fossils: the 4th bore of the Caldecott Tunnel. The tunnel is the major commute route through the Oakland/Berkeley Hills and less than 5 miles from UCMP. Part of the tunnel will run through the 9-10 million-year-old rocks of the Orinda Formation. We know fossils should be there. In 1936, camel foot bones were found during the construction of the tunnel's first two bores. When the third bore was built in the early 1960s faculty and students from UCMP and CalTrans workers found jaws of rhinos, horses, and camels. These days fossils are salvaged by qualified professionals as part of construction due to the California Environmental Quality Act. Paleontologists will be on site throughout excavation.
Construction on the 4th bore of the Caldecott began in February, and fossils have already been found. These will eventually join those found in 1936 and the early 1960s and become part of the UCMP collection. Stay tuned for more discoveries as the tunnel construction continues!
Find out more:
The paleontology of the Caldecott Tunnel project (including photos of Pat in the UCMP collection) at Inside Bay Area.
Official website of the Caldecott Tunnel project.