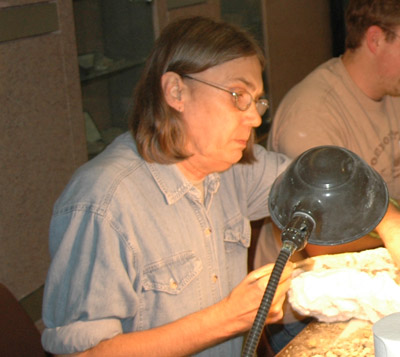 It is with great sadness that I report the passing of Dawn E. Peterson, who succumbed to brain cancer on June 29 at the age of 61. She was truly an extraordinary one-of-a-kind character – a bipolar, transgender, self-taught ostracodologist!
As a young man at the University of Minnesota, Don's mental disability surfaced and abruptly ended his first semester. The disorder led him to spiral downward into the darkest realms of life before settling down as a sculptor and marrying. His stepdaughter's death, however, deeply affected his ability to cope, and he could no longer masquerade in the life he had been living.
A "new Dawn" settled in San Francisco and volunteered at the California Academy of Sciences, where she assisted retired USGS paleontologist Louie Marincovich for several years. Having befriended the late Professor Fred Swain back in Minnesota, Dawn focused on ostracodes as a serious hobby, eventually delving into the professional community for reprints, advice, and resources. Soon after I joined UCMP in 2002, German malacologist Sven Nielsen asked me to look at the forams in the matrix sampled from Neogene gastropods collected in Chile, whereupon he connected me with Dawn, who was studying the ostracodes. Dawn offered to assist me and the museum any way she could, which she faithfully did for the next seven years.
Dawn was impoverished, living a minimal existence in one of the old hotels in San Francisco turned into government-funded housing for the mentally ill. Her cramped one-room dwelling included a desk with microscope, and dozens of flats of fossils and crates of literature. Paleontology was her savior, as it gave meaning to her life and it kept her busy. Her affiliation with UCMP brought her the happiness and fulfillment that had long eluded her. Her ability to work at a respectable level soon became evident, and she was acknowledged as a UCMP Associate Researcher.
In addition to her work on the Chilean Neogene fauna (Finger et al., 2007, Palaios 22), Dawn was close to completing her studies on ostracodes from a nearby urban lagoon (Lake Merritt), Galapagos terraces, and the Frasassi caves (Italy). In the meanwhile, she coauthored a paper on Cretaceous gastropods from hydrocarbon-seep carbonates in California (Campbell et al., 2008, J. Paleont. 82). UCMP also capitalized on Dawn's experience in preparing fossils (and sculpting) by having her skillfully work on the San Jose mammoth. Typical of her generosity of self, she arranged to have her body donated to the UCSF Medical School.
The UCMP community will miss Dawn greatly.