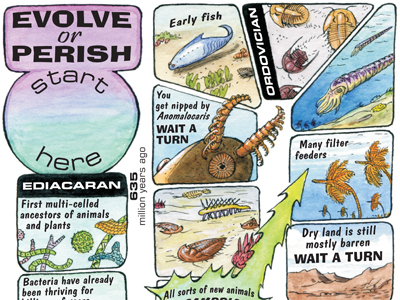 Evolve or Perish is a new board game – not from the makers of Monopoly, but from ETE, the Evolution of the Terrestrial Ecosystems Program, at the Smithsonian National Museum of Natural History. UCMP Faculty Curators Cindy Looy and Ivo Duijnstee designed the game in collaboration with illustrator Hannah Bonner. Hannah is well-known for her cartoon paleobooks When Bugs Were Big and When Fish Got Feet. The three enjoy collaborating — Hannah created the logo for Cindy's lab's web site, and she is currently consulting with her on a regular basis for her next book.
Evolve or Perish is similar to Chutes and Ladders. It begins 635 million years ago, with the first multi-celled organisms. Each square on the board represents 10 million years. On the path to the present, numerous fates await you: slip on an early animal and go back one square; land on the Cambrian Explosion and jump ahead; land on the largest extinction event the world has ever known and go back nine spaces. The game is populated by cute animals (the first four-legged animal wears a party hat!) and strange-looking plants (like Lycopods from the coal swamps of the Carboniferous). All of the beautifully drawn creatures represent real plants and animals, known from the fossil record; a taxa list helps you learn your Oxynoticeras from your Omeisaurus. As you move your game piece from the past to the present, Earth's major milestones appear along the way – you'll pass meteors, millipedes, and the rise of giant mammals. The first player to make it to the present day wins the game – but experiences a gross revelation about how some of Earth's first inhabitants inhabit us humans, too.
The game can be downloaded for free here.