Staff Updates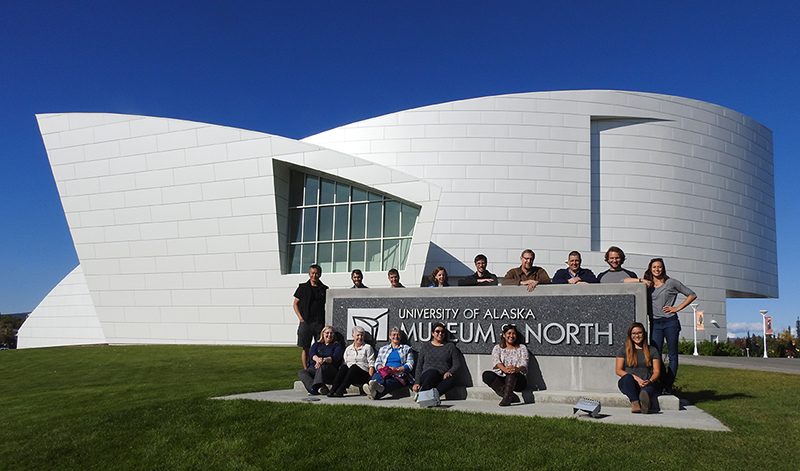 The EPICC TCN had it's third annual meeting, hosted by The Museum of the North at the University of Alaska in Fairbanks in September. UCMP Director Charles Marshall, and Museum Scientists Pat Holroyd, and Erica Clites met with EPICC TCN partners to discuss collaborative research and lay out plans for the coming year. Meanwhile, Assistant Director Lisa White was in Southern California with EPICC partners photographing marine terraces along the Palos Verdes Peninsula in preparation for a virtual field experience (VFE) module.
Erica Clites returned to Glen Canyon National Recreation Area in May 2017 to help train a new GeoCorps of America intern in the long-term monitoring of paleontological localities. Before coming to UCMP, Erica spent 2.5 years building a field monitoring program at Glen Canyon in cooperation with National Park Service Chief Paleontologist Vince Santucci, the Utah Geological Survey and scientists at other NPS areas. The group, pictured top right, spent a week visiting and documenting previously unknown localities discovered by professional photographer Andre Delgalvis along Lake Powell.
Pat Holroyd reminds us that with grant support from the NSF and IMLS, we are now serving data for 459,060 specimens from all seven continents and have 29,144 images in CalPhotos. More are still to come, and we are grateful for the support of these programs to give us the chance to share our museum's treasures with the scientifi c community and the public. Progress on these projects was made possible by a team of student assistants working on the Bitter Creek project. Although we are sad to see Saba Saberi, Lydia Linna, and Kathleen Tierney graduate, we wish them well. We are happy to have Adelaide Cahill return this fall and will be welcoming new students to the project.
Additionally, Pat and Lisa moved approximately 9,000 specimens from the San Francisco State Kettleman Hills collection to the UCMP with support from the NSF Collections in Support of Biological Research grant. Over the summer, undergraduate student Alexis Williams and graduate student Larry Taylor began organizing for the rehouse project.
Diane Erwin attended the annual Society for the Preservation of Natural History Collections meeting held in June at the Curtis Hotel in Denver, Colorado. The meeting theme was, "The Next Generation in Best Practices," and presented a poster entitled, "Enhancing Public Access to UCMP's Fossil Insect Collections Through Digitization and Social Media," for the session on "Public Access to Collections." Her coauthors on the poster were Marwa Ibraheem El-Faramawi, visiting scholar from Egypt and UC Berkeley undergraduates Iyanna Hazzard and Lin Wang.
Over the summer, Adiël Klompmaker worked in the Miocene reef deposits on Cyprus and the Maastrichtian limestones in the Netherlands. While in Europe he examined collections at the Oertijdmuseum and Natuurhistorisch Museum Maastricht in The Netherlands; and the Naturhistorisches Museum Wien, in Vienna, Austria.